Ozark Trail 20-Ounce Double-Wall, Vacuum-Sealed Tumbler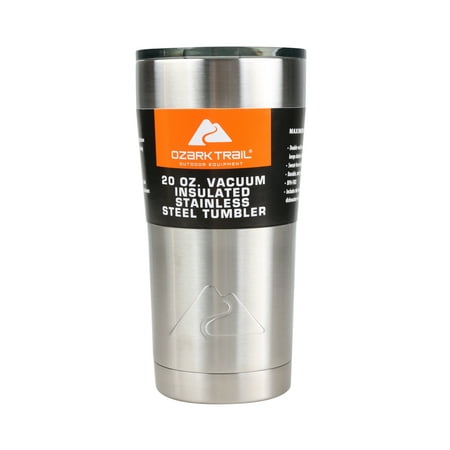 MSRP :

$7.74





Sale :

$6.74

Sold & shipped by Walmart
Product Description

Additional Information

Reviews
Product Description
20 oz. Vacuum Insulated Stainless Steel Tumbler
Additional Information
Ozark Trail 20oz Tumbler Teal
Reviews
johnetx
No Wonder This Is Sold Out!
I bought myself a 30 oz Yeti last year for my birthday, and while I've been super pleased with its performance, the $40 price tag still gnawed at me, as I try to be a bargain hunter when I can. Well a couple days ago I was in my local Walmart and found the 20 oz Ozark Trails tumbler and it was only $7.74 and looked exactly like the 20 oz Yeti. Seamless inside, exact same lid design, it looked perfect. So I bought it and used it for coffee a couple times since. Well, yesterday afternoon I told my sister about it and she said I should do an ice test. So I did, starting at 5pm , taking pictures at the start, then at 9 pm, 6:30 am, and again just after 5pm today. Walmart will only let me post 2 photos, so I'll show you the start which was when the tumbler was full enough so that I could just put on the lid, and the second photo shows the ice chunk left this afternoon, after 24 hours. The chunk is between racquetball and tennis ball size. I predict it would last til morning, but I'm satisfied with the result. I plan on buying more of these as gifts when they become available. By the way, my coffee was 135° still after more than 2 1/2 hours in the cup. Love it!
moniquelovescats
Fantastic tumbler
Everyone I know is sporting a Yeti and I was about to break down and buy one myself after hearing about them constantly. THEN I saw the time lapse video on Facebook comparing the Yeti and the Ozark Trail tumbler and I was sold. $8-$10 vs. like 50? That is a no-brainer. Well, of course everyone else in the world saw the video too and snatched these babies up. I signed up online to receive an email when they were back in stock and I purchased two of the 20oz. My husband and I love them. he works outside a lot and is just tickled that his ice does not melt in his drink cup after lunch in the 99 degree SC weather. He asked me last night to but him another in the 30oz size and I have no problem doing that when they are in stock. I plasti dipped mine in a purple color by watching a YouTube video and I love it.
Workinghard
Seriously amazing
After contacting RTIC to see if their cups were BPA free (a harmful chemical) and never got a reply I got my husband this 30oz cup after someone told me they had this and RTIC and it worked the same. btw this cup is BPA free and has a lifetime warrant. The coffee after an hour burnt hubbys lip his coffee was still that hot..3hrs later coffee is still warm (warmer then room temp) as if he poured it 10mins ago and still tasted fresh. I was so impressed I bought the 20oz for myself. I am in total love with this. I tend to drink a cup of coffee over a few hrs time and this keeps it perfect for many hours. I also tested it with warm soda and ice. 2hrs later the ice was barely melted and my drink was cold without be watered down. Will prob buy more thats how much I love these!!!
tinyvapor
Obsessed!
I purchased this based on a viral facebook thread comparing this Ozark Trail tumbler to a much more expensive company. At the time they were sold out everywhere but I managed to find one at my local walmart. Ever since thr first day I purchased this cup it has never left my sight. I've actually bought a few more as backups and gifts. It keeps my hot coffee/tea hot for many hours and same with my cold drinks. It absolutely blows my mind when I forget about my coffee and then come back to it three hours later and it's still just as fresh and hot as the moment I made it. I seriously recommend to anyone who is interested in purchasing one of these, to buy as many as you possibly can! This is my favorite cup on the planet and it will be yours too, I promise!
ATR4037
Equal to a YETI
The first thing I did was put this to a 47 hours ice test against my 30 oz YETI. The Ozark actually had a slightly bigger piece of ice left! There is no question that this is at minimum equal to the YETI at a quarter of the price! I have the 30oz, 20oz and the coozie! Awesome!!