Ozark Trail 20-Ounce Double-Wall, Vacuum-Sealed Tumbler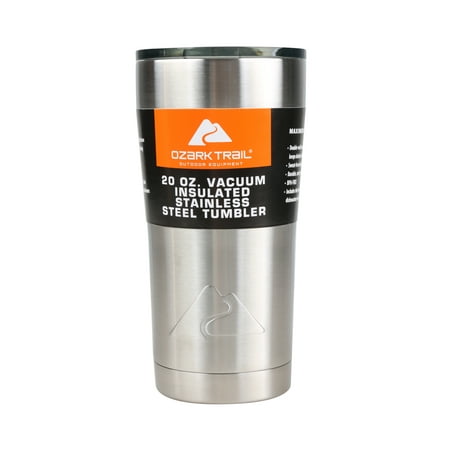 MSRP :

$7.74





Sale :

$6.74

Sold & shipped by Walmart
Product Description

Additional Information

Reviews
Product Description
20 oz. Vacuum Insulated Stainless Steel Tumbler
Additional Information
Product Features
Maximum insulation
Outdoor equipment
Lifetime warranty
Double-wall vacuum insulation keeps drinks cold or hot
Sweat-free design
Durable, rust-proof
BPA-free
Includes the shatter-proof and dishwasher-safe lid
Walmart.com
Reviews
johnetx
No Wonder This Is Sold Out!
I bought myself a 30 oz Yeti last year for my birthday, and while I've been super pleased with its performance, the $40 price tag still gnawed at me, as I try to be a bargain hunter when I can. Well a couple days ago I was in my local Walmart and found the 20 oz Ozark Trails tumbler and it was only $7.74 and looked exactly like the 20 oz Yeti. Seamless inside, exact same lid design, it looked perfect. So I bought it and used it for coffee a couple times since. Well, yesterday afternoon I told my sister about it and she said I should do an ice test. So I did, starting at 5pm , taking pictures at the start, then at 9 pm, 6:30 am, and again just after 5pm today. Walmart will only let me post 2 photos, so I'll show you the start which was when the tumbler was full enough so that I could just put on the lid, and the second photo shows the ice chunk left this afternoon, after 24 hours. The chunk is between racquetball and tennis ball size. I predict it would last til morning, but I'm satisfied with the result. I plan on buying more of these as gifts when they become available. By the way, my coffee was 135° still after more than 2 1/2 hours in the cup. Love it!
Great2BaForidaGATOR
Yeti-clone
Almost the exact same thing as the yeti tumbler. Lids are interchangeable measurements and function are exact same. I have both 30oz.&20oz. Did side by side test with yeti edition and results where they both kept ice fore 30 hours.
ATR4037
Equal to a YETI
The first thing I did was put this to a 47 hours ice test against my 30 oz YETI. The Ozark actually had a slightly bigger piece of ice left! There is no question that this is at minimum equal to the YETI at a quarter of the price! I have the 30oz, 20oz and the coozie! Awesome!!
moniquelovescats
Fantastic tumbler
Everyone I know is sporting a Yeti and I was about to break down and buy one myself after hearing about them constantly. THEN I saw the time lapse video on Facebook comparing the Yeti and the Ozark Trail tumbler and I was sold. $8-$10 vs. like 50? That is a no-brainer. Well, of course everyone else in the world saw the video too and snatched these babies up. I signed up online to receive an email when they were back in stock and I purchased two of the 20oz. My husband and I love them. he works outside a lot and is just tickled that his ice does not melt in his drink cup after lunch in the 99 degree SC weather. He asked me last night to but him another in the 30oz size and I have no problem doing that when they are in stock. I plasti dipped mine in a purple color by watching a YouTube video and I love it.
NjBOB
Tested And Performs Exactly To The Yeti
Just for kicks I performed an accurate test of this mug and a borrowed 0 ounce Yeti tumbler. Yes I had seen the reviews but had to confirm for myself. I used boiling water in the cups for a 4.5 hour period and used a scientific thermometer. Some notes: Any hot liquid poured into these will drop ten degrees instantly due to the cold mass of the steel so after pouring boiling water into both at 212 degrees, the instant reading of the water in the cups did drop to about 212. So preheating a cup could have value if you really plan on having your hot liquid lay around for a long period. Both mugs lose approximately 10 degrees per hour. Over a 4.5 hour period, at which time the water temp was about 162 degrees the difference of the liquid temp never deviated more than 1 degree between the two cups. There is absolutely no difference between the performance of these cups. None. Only difference is about 20 dollars! Tops are interchangeable between the two and actually both mugs measure the exact same outer and inner diameter Get four of these for the price of one Yeti