Ozark Trail 30-Ounce Double-Wall, Vacuum-Sealed Tumbler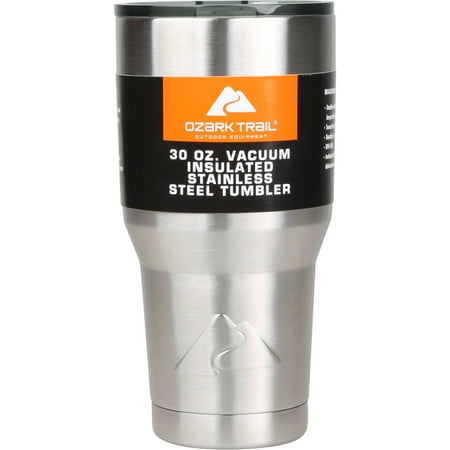 Sale :

$8.74

Sold & shipped by Walmart
Product Description

Additional Information

Reviews
Product Description
Enjoy your favorite beverage on the go with this Ozark Trail 30 oz, Double-Wall, Vacuum-Sealed Tumbler. It is ideal for a range of activities including hiking, camping, sporting events and commuting to or use at work. The durable high-grade, double-walled, stainless steel construction ensures that it can hold up to almost any task. Plus, the sweat-free design keeps it dry and easy to handle. This BPA-free tumbler has a shatter-proof and dishwasher-safe lid to prevent spills. It keeps drinks hot or cold for several hours and comes in several colors. Ozark Trail 30 oz Double-Wall, Vacuum-Sealed Tumbler is the perfect tumbler for any adventure.
Additional Information
Ozark Trail 30-Ounce Double-Wall, Vacuum-Sealed Tumbler:
Great for both hot and cold liquids
Ideal for a range of activities
Durable, made of high-grade, double-walled stainless steel
BPA free
Lifetime warranty
Reviews
Vmaldo
Needs new packaging
The cups are awesome! I love ozark tumblers. Needs new packaging I'm very unhappy about it.
BamaDrumm3r
Yeti...shmeti
If a business offered you basically the same product with one costing $40 and the other costing less than $10...which one would you buy? Not sure about you, but I'm going to save some money! The Ozark Trail 30-oz, Double- Walled, Vacuum- Sealed Tumbler is every bit as functional as the "name brand" $40 option on the market. I purchased two of these online for $9.74 each and had them shipped site-to-store ( because my local store is always sold out....good indication, right?). My wife and I love these and have used them daily since they arrived. I haven't put hot liquid in them, but they do stay cold all day. I would suggest personalizing your cup to make it easily recognizable at home or in public. I purchased a vehicle decal for my cup since they are made to be on vehicles out in the elements. I haven't had any issues with the decal peeling due to washing the cup. If you're willing to pay $40 for a cup...you might as well buy 4 of the Ozark Trail tumblers. You won't be disappointed!
CherishedMemories
Cup is GREAT; sticker on the lid is unacceptable
I ordered these tumblers because they are AMAZING! HOWEVER, with both this order that I had shipped to the store and the one preceding it that was shipped to my home the warehouse put the shipping stickers on the lids. The glue on the shipping labels was some of the toughest I have encountered. Even with goo-gone professional I could not remove all the remnants of the glue and it caused the plastic to then become hazy and scratched. Additionally, it smelled like goo-gone. Since I use etch the tumblers and then resell them, there is no way I could possibly have them looking or smelling like this. I had ordered this shipment to the store with hopes it wouldn't have the stickers. Fortunately, the store manager was INCREDIBLE and swapped out all of the cups for some that had been on the shelves. I just now have to return the ones I have at my house. While I would highly recommend these tumblers I would NOT recommend that they be shipped to one's home or store!
FLgirl
Great cup! Sticker on lid when shipped
Everything about this cup is wonderful and would recommend to anyone in the market for one. But what everyone has said about the shipping label is true which is why it is getting a 4 star rating instead of 5. I had mine shipped site to store to my local Walmart Neighborhood Market and Luckily, the label wasn't affixed too tightly and was able to come off almost clean. There was a tiny bit of adhesive residue that was left behind on the lid of the cup. I sprayed windex on the lid and had it soak for about 5 minutes. Then with the windex still on the lid, I GENTLY scraped of the adhesive residue with a butter knife and it came off with no problems. (There a a few minor scratches to the lid, but hardly noticeable unless you are looking for it). I only ordered one cup (in red) and it was packaged beautifully with bags of air to prevent dents and scratches. Not a ding or a scratch to be had on the cup at all. Very pleased with my purchase.
Donald
Ozark Trail insulated tumbler exceeds expectations
I am in and out my car frequently during the day and never seemed to find anything that would survive the Georgia summer heat to be cold and waiting on me when I got back in the car. Several friends and my adult children ranted about how great these cups that cost from $20-40 each were in keeping drinks cold but I couldn't bring myself to spend that much. I saw the reviews on the Ozark Trial brand at under $10 and purchased one. It has surpassed my expectations. Recently I left it in my car while I was inside for several hours on a day near 100°. When I returned the outside of the tumbler was extremely hot but the ice and liquid inside were still cold and frozen. I am sold and a believer! Am ordering my wife one today!