Affresh Dishwasher Cleaner Tablets, 6 count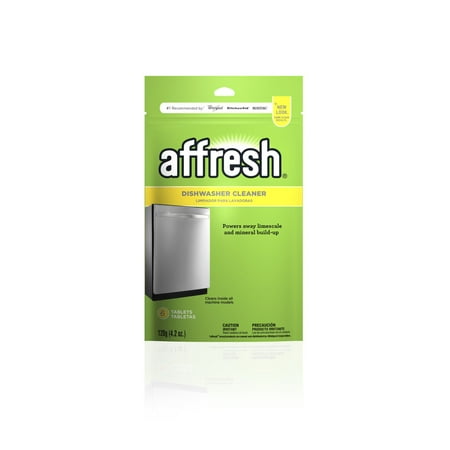 MSRP :

$6.99





Sale :

$5.97

Sold & shipped by Walmart
Product Description

Additional Information

Reviews
Product Description
Affresh Dishwasher Cleaner, 4.2 oz, uses environmentally safe ingredients to help remove the filming and spotting that occur over time in dishwashers. This kitchen cleaner gets rid of the residue that forms on dishware and inside of the dishwasher as a result of low-phosphate detergent used during the washing and rinsing cycles. Affresh Cleaner, 6 ct, eliminates the unsightly residue that has the ability to affect dishwasher performance. Affresh Dishwasher Cleaner, 4.2 oz is recognized by the U.S. EPA Design for the Environment, or DFE, as having a safer chemistry than other leading detergents. It also comes in a patented tablet form that releases its chemical formula during one wash cycle in order to refresh and cleanse your dishwasher. The kitchen cleaner uses a formula that also powers away minerals left over from hard water residue. Used once a week, affresh Dishwasher Cleaner, 4.2 oz, will keep your dishwasher and your dishes extra clean.
Additional Information
Product Features
Safe to use with dishware!
Powers away hard water mineral residue
Designed safer for you and the environment
Visit www.affresh.com/msds for complete Material Safety Data.
Other - 7
www.affresh.com
affresh® brand products are owned and distributed by Whirlpool Corporation.
®/TM © 2012. All rights reserved. Patent pending.
Reviews
TabooAngle30
UPC : 883049194356 - Affresh Dishwasher Cleaner Tablets, 6 count - PickPanda.com
Its never easy to scrub a dishwasher but someone has to do it. I scrub my dishwasher at least once a month but its never truly clean. I cant get all the little parts or into some of the parts. So even though it may look clean, it never truly is. That was always the case until I was introduced to Affresh dishwasher cleaner. OMGosh its so easy to use and it has made a huge difference in my dishwasher. My glasses havent looked so good since I bought them. They actually shine again. I kills me to know that even after spending at least an hour scrubbing my dishwasher it still wasnt clean. Affresh has made it so easy to clean. I can put the tablet on the bottom of the dishwasher if theres dirty dishes in it (yes it works with dirty dishes YAY) or if the dishwasher is empty, you just put the tablet into the soap dispenser and run a normal wash cycle. Its so easy to use and it makes your dishwasher like brand new. These tablets are so worth it. No more scrubbing the dishwasher for me. [This review was collected as part of a promotion.]
lazlomi
WOW!! This stuff is GREAT!!
My dishwasher didn't seem to be rinsing well enough and my dishes weren't clean all the way; having a slight film or soapy residue left on them after running a cycle. I had started washing my dishes TWICE. I think there was a lot of buildup in my dishwasher from the hard water at my house. Affresh Dishwasher Cleaner got rid of all the buildup and smell that was in my dishwasher. I actually used this in with my dishes when I ran a load and I'm proud to report that there is no more film left on my dishes. Everything was sparkling clean. It worked GREAT and I will be using this faithfully EVERY month now.
bookworm4587
Cleaned beyond my expectation
Our water turns the inside of the dishwasher a sort of pink. We've had the dishwasher for 4 years and have never "cleaned" it. Just run it through the cycles with dishes and finish tabs (which I also love). Recently it had started to smell and look awful. I found this at walmart and thought I'd give it a go. I ran it with dishes the first time and cleaned it ok. The second time I ran it empty with a tab in the bottom and one in the dispenser (like it recommends for very dirty dishwashers) and it looks brand new and the smell is gone. I'll continue using this as needed so it doesn't get as bad again.
OrdinaryVoyeur86
Cleaned beyond my expectation
So I fell victim to using the pods in my dishwasher for a long time. Boy was that a mistake. I took the back filter off and I was shocked at what I found. I cleaned that part as best I could but still sadly it left some marks behind. Insert the affresh dishwasher tablet. I thought ok this is gonna do just like everything else has. I was wrong. I tried to get a perfect before and after pic I was so impressed however to be honest I had all but given up on that part of my dishwasher I just took a basic one not thinking about it bad me. Lol. After it did its job which yet again smelled like a giant alkaseltzer I opened my dishwasher expecting to be let down. Not all but a good portion of the marks the residue from the pods left behind was cleaned. This was only a one tablet job so I might just have to invest in some more to see what a few more cleanings holds. Over all I am impressed and satisifed with the job it did. I am actually happy about a cleaner for once and look forward to finding it and buying it for myself. [This review was collected as part of a promotion.]
FurtiveNoggin36
Cleaned beyond my expectation
I hadnt cleaned my dishwasher for a year. The only reason I did actually think to clean it was that I started smelling an awful smell coming from my dishwasher, so I went to the internets and learned that I should have been cleaning my dishwasher all along.So I used the Affresh, and it really cleaned out my dishwasher. Like, gunk that I thought was permanent in the dishwasher, was cleared out of there. The only problem was, that the old funky gross smell was replaced by an insanely strong perfume-y scent from the affresh. It actually bothered me a bit because my coffee mugs were smelling like affresh and coffee. Bad combination. My sister recommended that I use a little bit of citric acid to naturally clean the machine, and get rid of the residue left by the affresh. She gave me some of her Citric Acid Powder - Ultra Fine Pure Powdered Crystals - Natural Preservative Food Grade Quality (16 oz), and it worked like a charm! After I ran my dishwasher just once, the machine was just as clean as before, but there wasnt any scent! [This review was collected as part of a promotion.]