Eclipse 2.4" Touch Pro FM Radio 4GB MP3 USB 2.0 Digital Music/Video Player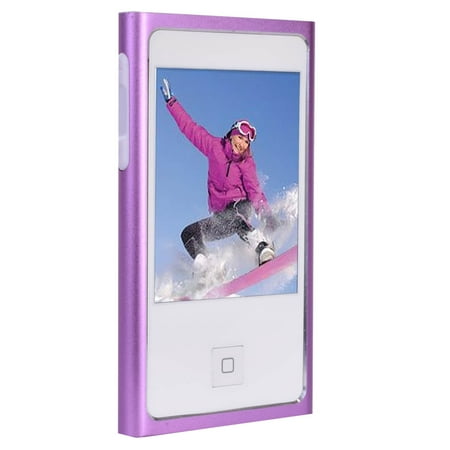 MSRP :

$69.99





Sale :

$9.95

Sold & shipped by Altatac
Product Description

Additional Information

Reviews
Product Description
The Eclipse Touch Pro 4GB 2.4" MP3 + Video Player provides portable access to your favorite movies and songs. You can store up to four hours of video or hundreds of songs to keep you entertained for many hours. Use this Eclipse player to provide a soundtrack to your runs, workouts and more. This player also features an FM radio so you can listen to the news, games or talk shows as they're broadcast. A touchscreen makes control simple and convenient.
Additional Information
Features
4 GB storage capacity
2.4-inch touchscreen
USB 2.0 interface
Video & music player
Digital photo viewer
FM radio function
Ebook reader
Built-in Li-ion battery

Supported Media:
Audio: MP3
Photo: JPG
Video: AVI

Unit Dimensions:
3.55 x 2 x 0.4-inches (H x W x D, approximate)

Package Includes:
Eclipse Touch Pro 4GB MP3 Player
USB cable
Stereo earbuds
User Guide
Reviews
Paul
This thing is a total piece of garbage
Ii only gave it one star because I was required to ...zero stars apparently is not an option. I bought this from walmart.com the other day because I thought the price and features were great. When I plugged it into my computer, the PC didn't even recognize it. After messing around with it for a while, it finally did recognize it, so I loaded a bunch of songs to the mp3 player, but when I went to play them, none of them showed up on the player, even though in my File Manager they are on the player. Their customer support is a non-toll-free number, I can't find the manual online because the URL they provide is not correct. Completely frustrating and a waste of time. It's going back to the store as soon as possible. I have an older Eclipse player that seems to work OK, except for the constant background noise on every song. I should have known better. I'll probably get a Sansa, which I've also had in the past and which worked fine for about six years.
UnsatisfiedCustomer
This thing is a total piece of garbage
I was excited to buy this product. However, upon receiving the product and opening it, I noticed it had a crack down the middle of the touch scree. The product also only stays on when connected to a charger. I've called and emailed the company several times to no avail. They do not answer either emails or calls. It's not worth the money and it's better to go spend your money on another item. The product is bad quality and the customer service is only good until you receive your product only to find out it's damaged or does not work properly.
Nikkya
This just sucks.
I got this and I was super happy and excited to use it! It downloaded music great, the touch screen was kinda bad, but usable. Then I was listening to music and all the sudden my right headphone didn't work. I just thought it was my headphones so I changed my headphones. Same issue. So I checked them in my phone. The headphones worked in my phone but not my MP3 player. So the USB jack is broke and I'm very disappointed. Not worth your time.
Samantha
Perfect for kids starting out with Music devices
I bought this for my Grand daughter she is 10 and she loved it right away! It had easy instructions and within a hour she was up and listening to it. I really liked the vibrant color (pink) and the look and style made her feel she had more of a phone which any girl at 10 enjoys I would buy this item again which in total i bought 4 one for each of the grandkids and they all were each ones favorite gift it comes with a charger and even earbuds a really nice buy if there was any flaw it maybe the running time in between charging times but that is a easy fix we just charge up at night and they are ready for the next day
GingerCat06
DO NOT BUY THIS ITEM
I took the player out of the box...hooked to my computer to add songs. It was plugged in for 5 minutes when I heard a cracking noise and saw the device move. When I picked it up to examine it I noticed that the screen completely cracked....or more like Exploded from the inside....DO NOT BUT THIS ITEM....I did contact the vendor and they were pleasant and refunded my purchase, so I got nothing bad to say about the vendor......but man....