XO Vision IR620 IR Wireless Headphones For In-Car Video Listening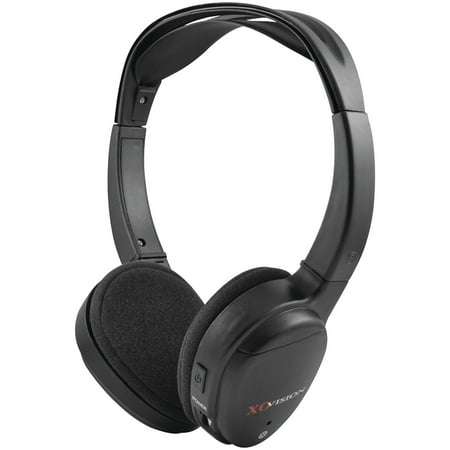 MSRP :

$9.97





Sale :

$8.99

Sold & shipped by Walmart
Product Description

Additional Information

Reviews
Product Description
The XO Vision IR620 IR wireless headphones are a treat to have on long car rides — just put them on and zone out. The XO Vision wireless headphones feature a unique foldable ear cup design to provide better comfort with extra padding. The extra foam cushioning of these wireless headphones for cars are comfortable enough to wear for a longer period of time. The wireless headphones have an auto shut-off function as well, that will save battery by shutting down automatically when not in use. These XO Vision IR620 IR wireless headphones can be easily adjusted to fit any head size. The headset features a touch on and off switch and volume control for convenient use on the go. Batteries are included with the headphones.
Additional Information
XO Vision Ir620 Wireless Headphones:
Extra foam cushioning gives you superior comfort making them ideal to wear over long periods

Auto Shut-Off saves battery by automatically shutting down when not in use

One size fits all - easily adjusts to fit any size head

Touch On/Off Switch and Volume Control conveniently located on side of headphone

Batteries Included

Simply turn the headphone on and place over ears

The XO Vision IR620 IR wireless headphones works with factory Mobile Video IR Systems

Reviews
Chris
Cheap headphones
I ordered two headphones and one worked fine but the other didn't work at all but at 8$ each, I guess u get what u pay 4.
DT1983
Worked Directly Out of the Package
We decided to purchase some wireless infrared headphones for our 2012 Chrysler T&C. We bought the vehicle used from the dealership and the original headphones were missing/unavailable. We researched buying "official" VES compatible headphones, and the average cost for a pair was anywhere from $60-$200. We decided to try these, knowing we would only be out a few bucks if they didn't work. Fortunately, they worked amazingly right out of the package. Each headphone comes with two AAA batteries. We put them in, powered the headphones on, placed them on our ears, and tested them out. The sound quality and volume was good enough to drown out the volume of the radio playing in the front of the van. We are very pleased with this purchase.
Noshkanok
Worked perfectly immediately
Got these for a 2010 Chrysler Town & Country and they worked right out of the box. The van had some random generic set that didn't work when we bought it. I ordered these after reading many reviews to be sure they'd work. In the meantime, I took the van to the dealership, which quoted me $113 each. No thanks. I spent $25 and have two perfectly functioning sets. I was unsure if I needed FM or IR headphones, and I couldn't find any IR transmitters in the van, but apparently they're there, cuz these IR headphones work. Immediately. No setup at all. Put in batteries. Turn on. Listen. Great buy, highly recommend!!
jackieblue
Works great in 2012 Town and Country
After Chrysler told me I could only use the ones from the dealership ($80.00 per pair) because of the syncing, I went online to see if there was another option and came across these. After reading all thereviews of different people saying they worked in different vehicles I thought why not, I'd only be out 10 bucks if they didn't. Soon as they got here I put in the batteries that came with them, went into the van, turned them on and instantly heard the movie that was playing. Just in time for our trip this weekend wth and extra kid in the car. Now all 3 kids will have a headset!!
Perfect
Works great in 2012 Town and Country
Worked perfectly for my 2013 Town and Country.