Safety Walmart Gift Card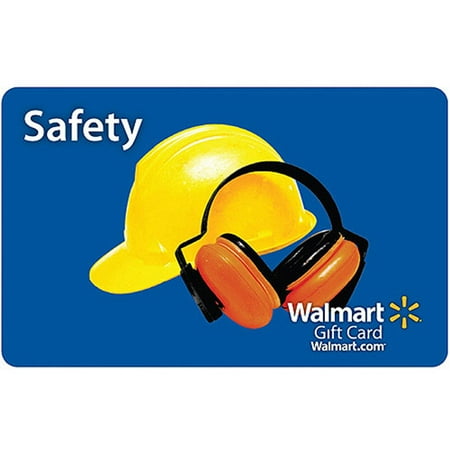 Sale :

$25

Sold & shipped by Walmart
Product Description

Additional Information

Reviews
Product Description
A Walmart gift card is a perfect way to recognize an exceptional safety record. It's the perfect gift, because your employees and associates can choose just what they have in mind. Our safety gift cards are reloadable and never expire.
For orders of $250 and higher, or 25 gift cards and higher, we will send you an email about activating the Walmart gift cards.

Additional Information
Walmart Gift Card:
Easy to Use
For purchases at Walmart.com and in U.S. Walmart stores
For purchases by SAM'S Club members in U.S. SAM'S Club stores and at Samsclub.com
In stores, present your gift card at checkout
Online, enter gift card number and PIN (on back of gift card) during checkout. The PIN provides secure online shopping.
As you make purchases, the gift card amount decreases. Add to gift card balance anytime in a Walmart store.
Check Walmart gift card balance in stores or online
More Information
Walmart Gift Cards have no fees and never expire
Not returnable or refundable for cash except in states where required by law
For orders of 25 gift cards or more, or $250 and higher, we'll send you an email about activating the gift cards
Gift envelopes are not included or available for gift card purchases.
By purchasing this gift card, you agree to Shopping Cards Terms and Conditions
Reviews
Leah
Safety Award Gift Card
The product is great, however, the website is constantly having problems. It always gives me the message that the website is "not responding". It happens every time I need to purchase these safety awards. In order for me to purchase these I need to re-load the website 6-10 times before it will allow me to log-in, give me the choice to select a quantity and/or complete my purchase. It is so bad that I downloaded the app to see if that would work better. When I try to purchase these on the app it told me it could only be done at Walmart.com. It is frustrating to say the least. I spend between $1500-$2500 every month and it takes approximately 2 hours to 2 days to have the website working fully enough to purchase.
Tina
Safety cards
Now that you have upgraded your website this year, it is so much easier to order gift cards.
Danny1966
No More free shipping?
For years I bought a Walmart gift card every month to give out as holiday gifts.I tried to this month Jan 2016.Now they want $6.95 to ship a gift card.Last year gift cards were shipped free.Well Walmart is now going to loose $240.00 a year of my money. Re allow free shipping on gift cards and I will start buying them again.This year everyone will just get cash
SafetyGuy
Need better To: and From: writing surface
I buy these every month for safety awards for employees. I order them online and get them quickly. My only complaint is that the surface of the card needs to be made for a pen to write on it in the TO: and FROM: fields. It is too glossy and if the Walmart personnel handle them too much before I get them the oils from their skin make it very difficult to write on the cards.
Sec1
Safety cards
The company likes the cards but it makes it difficult when you can put in the quantity ordered because every quarter we purchase over 100 cards and now we can only put in 6 at a time. We may have to go to another source and buy a different kind of card.