$25 Walmart Gift Card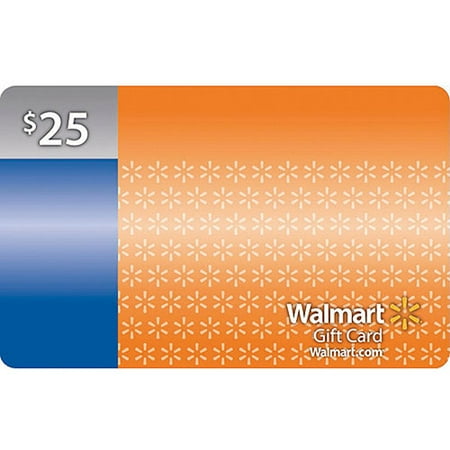 Sale :

$25

Sold & shipped by Walmart
Product Description

Additional Information

Reviews
Product Description
Take the guesswork out of gift giving. This $25 Walmart gift card is perfect for any occasion!
For orders of $250 and higher, or 25 gift cards and higher, we will send you an email about activating the $25 gift cards.
Additional Information
Easy to Use
For purchases at Walmart.com and in U.S. Walmart stores.
For purchases by Sams Club members in U.S. Sams Club stores and at Samsclub.com.
For purchases at VUDU.com.
In stores, present the Walmart gift card at checkout.
Online, enter gift card number and PIN (on back of gift card) during checkout. The PIN provides secure online shopping.
As you make purchases, the gift card amount decreases. Add to gift card balance anytime in a Walmart store.
Check card balance in stores or online.
More Information
Walmart Gift Cards have no fees and never expire.
Not returnable or refundable for cash except in states where required by law.
For orders of 25 gift cards or more, or $250 and higher, we'll send you an email about activating your gift cards.
Gift envelopes are not included or available for Walmart gift card purchases.
By purchasing this Walmart Gift Card, you agree to Shopping Cards Terms and Conditions
.
Reviews
moviedreamer
Walmart Gift Cards
These Walmart gift cards are great to have on had to give a gift to someone who has done a good deed for you. They really appreciate it when you give them one.
giftcards
$25 Wal-Mart gift cards
Easy to order gift cards online. They arrived in a few days. Activation instructions were sent promptly. thank you
lilgg43
Gift card
I am saving up to buy gift cards for my families for Christmas and these are perfect. I ordered them to be sent to my home and Walmart let me know what day they would arrive. They even arrived a day earlier which was perfect. I will be ordering and will never have to go out of my home to do so.
Pearltree1
gift card
Can't go wrong with any gift card from Walmart. You can use online or at the store.
txnow
giftcard
You can't go wrong with a gift card. What's not to like?!