Jerdon Euro Style Tri-Fold Lighted Mirror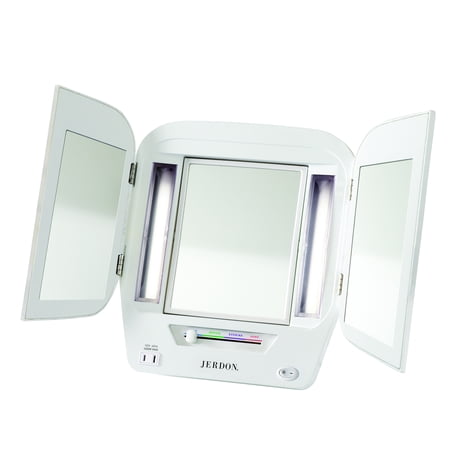 Sale :

$39.99

Sold & shipped by Walmart
Product Description

Additional Information

Reviews
Product Description
The Jerdon JGL10W Euro Tabletop Tri-Fold Two-Sided Lighted Makeup Mirror is a bathroom and makeup mirror with cool to the touch fluorescent lighting and adjustable side mirrors that fit nicely on any tabletop. Adjustable magnification, versatile illumination and multiple viewing angles make this tri-fold mirror perfect for your beauty needs. The Euro makeup mirror is a highly stylized version of the classic top-selling JGL9W Tri-Fold Mirror. Designed with a sleek contemporary look and attractive white finish to match any home decor, the JGL10W stands up by itself on your countertop, vanity or dresser with a folding back stand.
Additional Information
Product Features
Highly stylized version of the classic top-selling JGL9W Tri-Fold Mirror with high magnification, lighting and built-in electrical outlet
1x and 5x magnification options to make sure every detail is in place
Includes 4 adjustable settings for daytime, evening, home and office environments
Glare free fluorescent lighting

Folds flat for travel or easy storage
Adjustable side mirrors for panoramic viewing
Sleek contemporary look and attractive white finish will match any home décor
Reviews
Cougarkat7
Happy to have a great mirror
I could not wait to receive my make up mirror from Walmart. It arrived and I took it out of the box and set the mirror on my kitchen table, I love it! I have used the day light and the home light, the light is big, for the people that do not know how to use a 5x mirror it is for close up things, which means you have to get close to the mirror and then it will come into focus! I hope to use this mirror for many years! Thank you JERDON for a great mirror!!
SaitisfiedCustomer
Makeup Lighted Mirror
I was tried of asking when I got to my destination do I have on to much makeup. So I ordered another brand lighted makeup mirror and it was unacceptable ( I won't call any names ) So I gave it to a relative and I went to some drug stores and they had nothing good. So I went to Walmart and they only had one style Mirror and I was kind of upset, because I wanted to compare some. So I brought it and when I unpacked it serveral days later to use, I pluged it up and believe me it's the next best thing to sliced bread. I have not been so please with a product in I don't know how long. It is great. The lights don't cast shadows and there are 4 light settings for home, office evening and daylight. You won't be sorry you brought it, and for such a mirror it is reasonable in price also. Vivian
Francine
Makeup Lighted Mirror
Nothing was wrong with box but once my daughter opened up and plugged mirror in , the choices of different lights switch will not move back and forth like they are supposed to. So have to take her Christmas present back. First time I ordered on line and am disappointed..
bmrjb
nothing special
I was looking for a mirror with bright lighting so I could do my makeup. Read good reviews about this product and seemed like a decent price. Got it and tried it and not too impressed. Light settings seem unrealistic. I only use the daylight setting. Its pretty bright so it does the job. The office one makes you look like a different color, night is alright but makes it difficult to see when putting on makeup. Good if you want to just see what you'll look like after you've already put makeup on. I never buy warranties but bought it on this one since you really can't replace lights yourself. And its a pretty high price. Its an ok product. Nothing to rave about. .
draft1
very nice mirror
I bought this for my wife she could not be happier she has had the same one since I have been with her 27 years now it finally went it was so hard to find one at the stores so I went on line at walmart bought one from Revlon she hated it got her a Conair same was not happy with it .this one she loves from the three mirrors to the lighting and the extra plug on the front . so if shes happy I don't have to return it that makes me happy.