Casio SA-76 44-Key Mini Personal Keyboard 100 Tones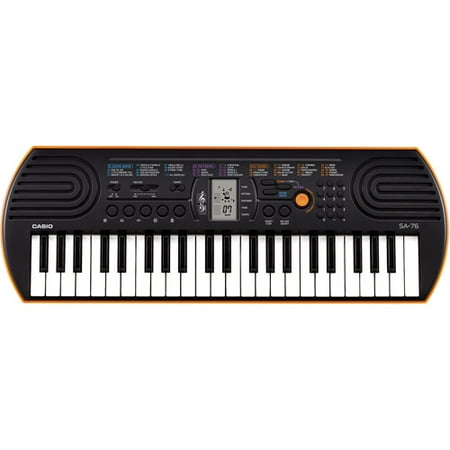 MSRP :

$59.95





Sale :

$49

Sold & shipped by Walmart
Product Description

Additional Information

Reviews
Product Description
Suitable for beginners, the Casio SA76 44-Key Mini Personal Keyboard offers young and budding musicians the essentials for playing those first notes and tunes. This Casio musical keyboard has an easy-to-read LCD display that shows useful data like the tone, rhythm, song number, metronome, tempo, the note being played and the various settings for the above parameters. The easy-to-use design and well laid out keys on this Casio SA76 44-Key Mini Personal Keyboard make it easy to switch between different sounds with the press of a button. The 5 percussion pads and 44 keys are laid out in such a way that small hands can play comfortably while they learn the art of music. This portable music keyboard with its compact size and light weight (3.1 lbs without batteries) can be carried around easily. This Casio musical keyboard contains a headphone jack and is operable on six AA batteries. An AC adapter is available separately.
Additional Information
Casio SA76 44-Key Mini Personal Keyboard:
Piano and organ sounds are also included with the mini music keyboard
Input and output slots for headphones are provided
Five drum pad function in liquid crystal display (LCD)
Sports a beginners keyboard with 44 keys and mini keys
Requires 6 AA Batteries sold separately
Reviews
MonkeyzMommy
Perfect
I love this keyboard and so does my 3 year old. She plays it a lot during the day. It's cool that is has a song bank... I couldn't figure that out for a little bit, but you just press the start/stop button to make it start. It's a good price and seems somewhat sturdy. I carried it on the outside of the display window (on the actual keyboard frame) and the top right corner was ink blotted for an hour or so. I'm glad it went away, just mentioning it so everyone will know not to carry it by the top middle above the display window :) I think the price is fair for what it does. I can play on it too, the keys are not too small like I thought they would be (for my fingers) and they are small enough that my daughter can play on them, the white keys are 3/4 inch wide. I am really happy with this keyboard and like that it doesn't take up THAT much room, it fits on my desk that I never use (haha) so it has a home when she's not playing it.
jsmitty76
Great for traveling with the kids
I wanted my kids to continue practicing piano while on vacation, and the SA76 worked out great. The treble clef has a full two octaves while the bass clef is just a few keys short of two octaves. Keep in mind these are mini keys. Nevertheless, my 8 and 10-year-old did just fine with the size. Although I couldn't keep it in the box as I had hoped, I managed to fit in into my checked luggage (too long for a carry-on suitcase). As for the sound, I was quite impressed given the price. It does not have touch-sensitive keys. However, when selecting the piano as the instrument, the volume of the notes do fade off like a normal piano when holding the keys down. My kids used the keyboard 2 weeks straight for about an hour a day, and the batteries are still working. As someone else mentioned, it has a nice feature that powers off thr keyboard automatically when not being used. The LCD is a cool feature for younger kids. It shows the individual notes being played on the staff, which I had my son use to compare to his sheet music to ensure he was playing the correct notes. For the price, this is a 5-star product.
SHOWMETHEBARGAINS4
Great for traveling with the kids
I really like the keyboard. I am taking piano lessons via YouTube so I needed something small to sit in front of my computer/laptop while taking lessons. I am a woman in my 50s and wasn't sure if I wanted to purchase a regular size keyboard at this time so this is perfect for now. My only complaint is that the adapter does not come with it and I am not sure which one is compatible since opinions seem to show that when an adapter is ordered it is not the right one. The batteries seem to be last long due to the fact that it shuts off by itself after 6 minutes of non use. That's really good.
GuruOnlineShopper
Great keyboard for beginners
My girls (4 anad 5) love this keyboard. They like the option to make their own beat as well as choose from the various sound selections. I like the feature of seeing which note is playing in the display window. Also, I noticed that you can stroke more than one key and hear both the sounds of the key (on cheap keyboards, you can only hear the sound of one key at a time, 1st keyboard I purchased for them was like that). Battery life is great, compared to other electronic toys, we had it for about a month and batteries are still going strong
SKIPMM
A GREAT, INEXPENSIVE INTRODUCTION TO MUSIC
PURCHASED FOR MY GREAT GRANDSON AS A WAY TO GET HANDS-ON TRAINING IN MUSIC THAT WAS INEXPENSIVE, EASY FOR A CHILD TO HANDLE, AND AS I DISCOVERED, SOUNDS GREAT. I ENJOY PLAYING IT MYSELF! LOTS OF BELLS AND WHISTLES SO TO SPEAK. ALTHOUGH IT USES BATTERIES, I PURCHASED A WALL CHARGER FOR IT. ALSO, ONE NICE FEATURE IS THE JACK FOR HEADPHONES SO OTHERS WON'T BE DISTURBED. NICE INSTRUMENT!