Stanley, SL18402-8B, 6.0 Peak HP 8 Gallon Stainless Steel Wet Dry Vac Tool Caddie and Blower Port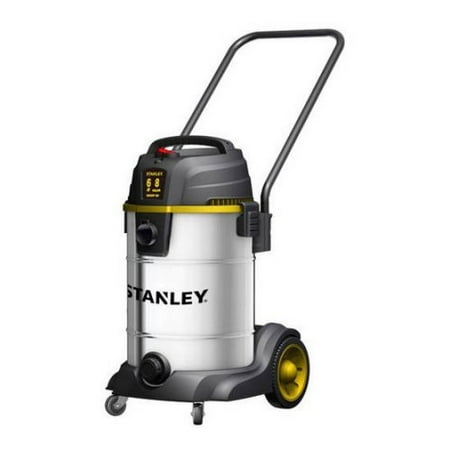 MSRP :

$79





Sale :

$64

Sold & shipped by Walmart
Product Description

Additional Information

Reviews
Product Description
Stanley SL18402-8B shopvac. Features: Powerful 6 peak HP motor, 8 gallon stainless steel tank with EZ drain, heavy duty wheels and casters, blower port, 10 feet of electric cord and plenty of accessories for any project, wet or dry!
Additional Information
The Stanley stainless steel 8 Gallon wet dry vacuum features a 6 HP heavy-duty motor for industry leading performance, providing maximum suction for heavy-duty pickup. Great for both wet and dry pickups, this heavy duty blower port instantly converts the wet dry vacuum into a blower. It features a strong handle for easy carrying, large on/off switch with water-resistant design for safe and quick access, convenient, built-in cord wrap, accessory storage that keep your tools organized and provide ease of movement in any direction. It's built-in tank drain makes draining easy. Stanley wet dry vacuums provide superior performance in any environment. This unit includes a 1-year limited warranty. Extended warranties available. Accessories include 1-7/8 in. x 6 ft. Flexible Hose, 2 Extension Wands, Crevice Nozzle, Utility Nozzle, Floor Nozzle, Foam Filter, Cloth Filter With Clamp Ring.
Reviews
Robt
Arrived dented
I ordered this vac on 9/4/17 and received it 9/6/17 so bravo for shipping speed. I read where others had received this item dented so I was observant when Fed-Ex delivered it and there was absolutely no damage to the box. However, once unpacked there were numerous dents in the can. It almost appeared that some employee at Stanley purposely damaged the item. The vac still "sucked" so I just took a rubber mallet and pounded out the dents the best I could. That being said, if Walmart is going to sell me a scratch and dent item they should at least knock off 20% of the price. I live too far from a Walmart to return it so I'll just use it pre-damaged.
NewEnglandsnowgirl
Owned it for 1 month-best wet/dry vac I've had yet
Love this vac. Powerful and pretty quiet despite the power. I use earplugs but I don't need to. It does not have that high pitched whine like some vacs. Realized with this vac that it doesn't matter how many gallons it holds or how powerful it is if you have to clean the filter every 10 min. I have used this for 4 days on sawdust and some drywall dust with no loss of power and no need to clean the filter. I actually opened it up to look at the filter because I have never had a vac stay unclogged for as long. The handles to open the top work easily and well. The on/off switch on top is BIG and easy to find. The hoses are sturdy enough not to collapse but flexible enough to maneuver. Connection of hose to vac is great. It snaps in easily and unsnaps just as easily. This is the first taller vac that has not tipped over on me yet! Tool storage does not work that well, tools fall out same as every other vac I have had. So far VERY HAPPY. I hope it lasts for a long time.
Kerry
So far, so good
It has been only one day since I brought this unit home. I don't usually purchase anything without reading plenty of reviews. But in this case, there were no reviews to be found anywhere. For $58, it seems to be a bargain, but one of my major concerns was whether I could readily obtain filters and bags. A bit of research has shown that this unit takes a standard filter and is nearly identical to a few other vacs on the market (that is probably because they use the same manufacturer). so I pulled the trigger and hoped for the best. Thus far, I am impressed with the high power, and the quality appears sufficient for my needs. It also has some nice features such as the large wheels and a blower outlet. This unit is made in China, so I am still not sure how durable it will be, but I bought the 2 year protection plan for an extra $4, just in case it proves to be a dud. I have some high hopes for it. If my opinion changes, I will be back here to tell about it.
scrapperstamper
GREAT SUCTION POWER BUT HAS FAULTS
This shop vac has great suction and does a super job cleaning, especially "waffle" type outdoor mats. This is the ONLY vacuum that I tried/owned that gets the dirt out of the thin rug grooves. It worked better than a Dyson Animal and Shark Lift Away house vacuum at cleaning these rugs! There are a few design flaws in this vacuum that you must consider before purchasing: 1. The power cord is way too short at only 10 FEET!! The Instruction booklet even lists the type of extension cord recommended for this vacuum. 2. The vacuum flexible hose is also way too short and Stanley does NOT make a longer hose for this model. A "no brand" 20' hose is available for approximately $36.00. 2. The "Transport Handle" is convenient but it fits on the WRONG end of the vacuum! The vacuum hose is on the opposite side of the handle which prevents you from pulling the vacuum by the handle as you vacuum. Despite these "flaws," it works great and was a good buy for $58 at Walmart.
Skisteeps
The best bang for your buck.
I'm a DIY home Handyman not an everyday carpenter so my uses are not on a professional level. I have used a Craftsman 4 gallon 5 hp for the last 10 years and it still works but the motor now sounds like an F-16 engine so I thought it was time for an upgrade. If you research shop vacs you'll notice the higher the horse power and gallon size the more expensive they become. This Stanley was the only WET / DRY VAC that offered high capacity (8 gallons) and high horse power (6hp and came in amazingly under $60!!!!!) THANK YOU STANLEY FOR MAKING A GREAT PRODUCT FOR THE 99%. It also has the added cool look of a stainless tank. The wheels are nice the hoses are nice and the power suction is all you will need. I do mostly wood work and my workshop has carpeting so it's a nightmare to suck up all the wood chips and saw dust. The Stanley works perfectly for my needs suckling up everything with no problems. I also use the shop as a ski tech area and use the vac for cleaning wax from skis, works extremely well. The only add on you'll need is an extension cord because the cord attached is a bit limiting. You won't find a better product unless you pay $150 to $200 and even then your not getting much more. Highly recommended.