Stanley, SL18402-8B, 6.0 Peak HP 8 Gallon Stainless Steel Wet Dry Vac Tool Caddie and Blower Port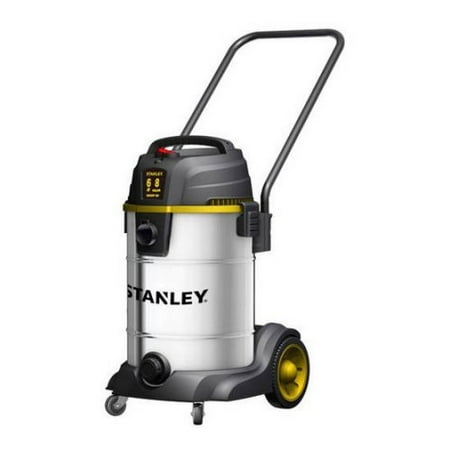 MSRP :

$79





Sale :

$64

Sold & shipped by Walmart
Product Description

Additional Information

Reviews
Product Description
The Stanley Wet/Dry Vacuum includes hose, two extension wands, crevice nozzle, utility nozzle, floor nozzle, cartridge filter and dust bag.
Additional Information
The Stanley stainless steel 8 Gallon wet dry vacuum features a 6 HP heavy-duty motor for industry leading performance, providing maximum suction for heavy-duty pickup. Great for both wet and dry pickups, this heavy duty blower port instantly converts the wet dry vacuum into a blower. It features a strong handle for easy carrying, large on/off switch with water-resistant design for safe and quick access, convenient, built-in cord wrap, accessory storage that keep your tools organized and provide ease of movement in any direction. It's built-in tank drain makes draining easy. Stanley wet dry vacuums provide superior performance in any environment. This unit includes a 1-year limited warranty. Extended warranties available. Accessories include 1-7/8 in. x 6 ft. Flexible Hose, 2 Extension Wands, Crevice Nozzle, Utility Nozzle, Floor Nozzle, Foam Filter, Cloth Filter With Clamp Ring.
Reviews
AtomicDog602
Wow....no I mean WOW!
Over the last 5 or 6 years I have gone through two different shop vacs. They just die out and either just stop working, or lose suction power. I replaced a 3 year old shop vac that was a direct competitor to this Stanley model (8 gal, stainless) and let me tell you this Stanley unit is way WAY WAYYY better. This model is quieter, more stable, rolls better, and more solid. But the suction on this model is what is amazing -this thing has insanely strong suction. This reminds me of the old shop vac I had 20 years ago that actually was good. I cannot speak for longevity, but the performance of this unit is (refreshingly) as expected, and quite honestly exceeded my expectation as recent experience with competitor brands has been abysmal. I can honestly say this model has 2 to 3 times the suction power. The quietness of the model (compared to the competition) was a bonus, and pleased my wife greatly. Assembly went without a hitch. No chance of wheels falling off (unlike the competition), Attachments are well made and the hose is surprisingly solid in comparison to Shop vac brand, though I wish it was 2 feet longer. Highly recommend if you are looking for a wet/dry vac. Note: This unit comes with a (really well made) pleated filter cartridge that is capable of general wet and dry jobs. But I prefer foam filters and thankfully Stanley sells one on their web site for a fair price. Foam filters stink for dusty jobs (as they allow some dust to pass through the filter), but are vastly superior for wet jobs, and are easily cleaned unlike the pleated paper filters. Replacement pleated filters are also available directly from the manufacturer's website.
Kerry
So far, so good
It has been only one day since I brought this unit home. I don't usually purchase anything without reading plenty of reviews. But in this case, there were no reviews to be found anywhere. For $58, it seems to be a bargain, but one of my major concerns was whether I could readily obtain filters and bags. A bit of research has shown that this unit takes a standard filter and is nearly identical to a few other vacs on the market (that is probably because they use the same manufacturer). so I pulled the trigger and hoped for the best. Thus far, I am impressed with the high power, and the quality appears sufficient for my needs. It also has some nice features such as the large wheels and a blower outlet. This unit is made in China, so I am still not sure how durable it will be, but I bought the 2 year protection plan for an extra $4, just in case it proves to be a dud. I have some high hopes for it. If my opinion changes, I will be back here to tell about it.
Skisteeps
The best bang for your buck.
I'm a DIY home Handyman not an everyday carpenter so my uses are not on a professional level. I have used a Craftsman 4 gallon 5 hp for the last 10 years and it still works but the motor now sounds like an F-16 engine so I thought it was time for an upgrade. If you research shop vacs you'll notice the higher the horse power and gallon size the more expensive they become. This Stanley was the only WET / DRY VAC that offered high capacity (8 gallons) and high horse power (6hp and came in amazingly under $60!!!!!) THANK YOU STANLEY FOR MAKING A GREAT PRODUCT FOR THE 99%. It also has the added cool look of a stainless tank. The wheels are nice the hoses are nice and the power suction is all you will need. I do mostly wood work and my workshop has carpeting so it's a nightmare to suck up all the wood chips and saw dust. The Stanley works perfectly for my needs suckling up everything with no problems. I also use the shop as a ski tech area and use the vac for cleaning wax from skis, works extremely well. The only add on you'll need is an extension cord because the cord attached is a bit limiting. You won't find a better product unless you pay $150 to $200 and even then your not getting much more. Highly recommended.
JimB
AWESOME !!
After researching online for shop vacs, I made the decision to purchase the Stanley 6.0 peak hp, 8 gallon shop vac. And I'm sure glad I did. Upon unboxing... the polished stainless tank in its brilliance was a beauty to behold. Minimaul assembly, and I was vacuuming my garage within minutes. Powerful, and quiet for a 6 hp motor. All the assesories attaches to the vac, so you're not having to look around the garage when you need to change out assesories. I am extremely pleased with my purchase and diffenitely would recommend the Stanley shop vac.
xJJV
Better than similarly priced Shop-Vac
I did some comparisons between this unit and the Shop-Vac 12-Gallon 4.5 HP Peak Vacuum (model 5981227) also stocked in the store. I had a 2.25" hose from an old Shop-Vac that would mate with both vacuums that I used for an equal comparison. In summary the Stanley had a better accessory set. The Shop-Vac was just slightly better at sucking up stuff (flow rate, dust collection) but the Stanley was much more powerful in suction power (lift/extracting) FEATURES & AESTHETICS The Shop-Vac comes with a single floor attachment and ¼" hose. The box clearly indicates that it included a wet/dry cartridge filter but mine came with a pleated paper filter only suitable for dry applications. The blower port has an attachment for the standard Shop-Vac screw-on hose but for some reason the main vacuum port just has a friction hole (my previous Shop-Vac had the same screw-on attachment on the vacuum and blower ports). The on/off switch is a simple rocker type. This appears to be an improvement over the push-in button on my old vacuum that would require several presses to get it to turn on. The overall look and feel of the unit is kinda dull and plasticy, but who cares? It's a vacuum. The Stanley comes with a single 1-7/8" hose, several attachments, an actual wet/dry cartridge filter, and some collection bags. It has a large ergonomic on/off rocker switch. The metal drum and large rear wheels give the unit solid quality feel. The front hose attachment doesn't have a snug fit though, and feels a little loose. I put a few turns of vinyl electrical tape to get the hose to mate snugly. SUCKING HEAVY STUFF UP TEST I made a line of various items I had around the garage from nuts, to bolts to chain links. Both vacuums easily sucked up size ½" nuts. The chain link brought more of a challenge. The Stanley would pull the link off the ground but it would get stuck in the hose at about half length. The Shop-Vac was able to pull up the link and also continue a slow journey through the hose into the vacuum (remember, I used the same hose on both units). It struggled, but the Shop-Vac was able to repeatedly suck up the link while the Stanley did not. SUCTION POWER I loaded an ice-cream bucket full of steel hardware, put on the lid and used the suction of each vacuum to lift the bucket. I waited for each vacuum to rev to the highest motor speed before lifting. I started with the Shop-Vac and added various ½" bolts to the bucket (from the previous test I thought the Shop-Vac would be the winner). Once the vacuum seemed to be reaching a limit I added one small ½" bolt at a time to get a to a maximum weight. Once the Shop-Vac maxed out to just barley lifting the weight (slipping off about half the time), I tried to lift the same weight with the Stanley. The Stanley easily picked up the load without struggle. Since I was just doing a comparison I didn't try to determine the maximum weight the Stanley could pick up, I just called it the winner in this test. OVERALL I like the mechanical design and accessory set of the Stanley much better. Since both vacuums were really close in the ability to suck up the chain link but the Stanley clearly stood out as more powerful in suction power. The suction power translates to extracting water from a cushion or carpet so this was important for me. The only place I can knock the Stanley is the loose hose fit. This was easily fixed with a few turns of electrical tape so it's a non-issue for me. I returned the Shop-Vac.