NutriBullet 8-Piece Magic Bullet Superfood Nutrition Extractor, Blue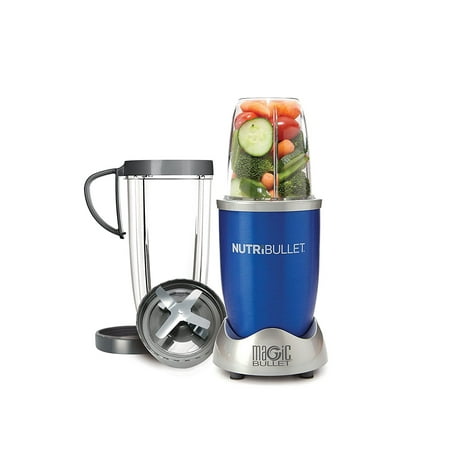 MSRP :

$89.99





Sale :

$69.99

Sold & shipped by Walmart
Product Description

Additional Information

Reviews
Product Description
Enjoy delicious drinks, smoothies and more with theNutriBullet Nutrition Extraction Mixer/Blender, the Super Food Nutrition Extractor. The Nutribullet is unlike everyday juicers and blenders, it completely breaks down ingredients in to their most nutritious, most absorptive state.
Additional Information
Contains a 600-Watt motor and up to 24 Oz. capacity
5 fruit & vegetable servings per Nutriblast smoothie
Includes a super simple Nutriblast recipe book for endless healthy eating options
Reviews
Teawah
Incredibly Powerful!
Since purchasing I use this every morning. The one and only issue this far is that the gasket inside the blade was not set and leaked causing the cup to leak while blending. The end result is that liquid leaked into the mechanism that turns the machine on causing it to stick. This makes the machine not turn off when twisting the cup and can cause breakage or injury. It is slowly sorting itself out and if I turn the cup to release it and do not try to lift it off the base the motor will stop in about 5 seconds. Down from 20! Soon I believe it will be back to normal. Aside from this the machine is magic and my new best friend. It is a solidly built product and I am very happy with the purchase. Being just me usually, the small cups are perfect. I got extra cups for making non-food products such as lotions and soaps. One of my all time favorite purchases!
MichelleP
Extremely disappointed
I bought this product in June 2017, and had to replace it at the store I purchased it from several months later because the base fell apart on me. Since then it was working well for about 1 year until this week. This week when I blend my morning coffee in it...it has LEAKED EVERYWHERE, every time I've tried it. I've tried it several different times, tightening the container strategically etc, and when I blend fluid pours out the side and into the base and spills all over my counter. 1 time after trying to blend and it leaking everywhere, hot coffee sprayed ALL over me when I opened it. Its been a year and the seal doesn't actually create a seal, which means I cannot use my bullet as intended, which 100% is unacceptable for a product I spent $100 CAD on. I hate this product.
BlenderFrustration
Want to love this, just one problem.
I love the way this blender blends. Smoothies are wonderfully smooth. Cleanup is a cinch. Drinking rim attachments on the cups means I don't even need to pour into another glass to drink. However....I've owned two Nutribullets. The latest was a gift. Both have had leaking problems. After a couple weeks, using once or twice a day, the cup has leaked twice. And I cannot understand why. Neither time was overfull. I fasten the lid as tight as I can. Each time it leaked, the lid was loose when I removed it. So the leaking appears to be a result of the lid coming loose during the blending. But I don't know why. I physically could not tighten that lid any tighter. And I wait till the motor completely stops before removing the cup. Truly frustrating. Frankly, I'm only still using a Nutribullet because it was a gift, and it really does make a great smoothie. But I have a paper towel ready every time I go to remove it the cup after blending, to catch those leaks before they spread into the base.
RussR
not satisfied with this one.
This is my 3rd Nutribullet 600. This smells like it is running hot. also the cup that came with it leaks. Not able to get a tight seal. I have not had these problems with my other two. Disappointed.
toots123
sorry I bought it...
I am sorry, I do not like my nutribullet, I find it too big and bulky, it does not do as will as my magic bullet.....and I am very disappointed....