Snow Joe SJBLZD 2-In-1 Telescoping Snow Broom + Ice Scraper | 18-Inch Foam Head (Blue)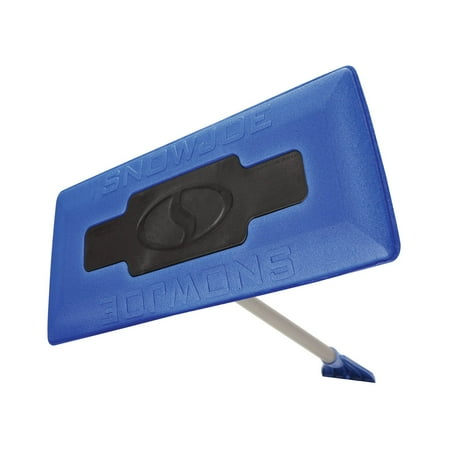 MSRP :

$19.99





Sale :

$14.27

Sold & shipped by Walmart
Product Description

Additional Information

Reviews
Product Description
With the Snow Joe Snow Broom with Ice Scraper you can easily push heavy, wet snow off the roof, hood and trunk of your vehicle making cleaning easy work this winter. The durable, reinforced polyethylene foam head has been tested for non-abrasiveness, freeze resistance, center load stress and durability to achieve the highest ratings. The high-impact plastic faceplate is recessed into the foam to prevent contact with the vehicle preventing scratching. The telescoping handle extends up to 49-inches providing maximum reach with no strain on the operator. The broom also features an ice scraper as well to assist with ice buildup on your windshield.
Additional Information
Patented dual-purpose design to tackle snow and ice (Patent No: US 8,464,387 B1)

Durable non-abrasive foam head pushes heavy, wet snow off cars without damaging glass

Built-in ice scraper quickly clears ice build-up on windshields

Auto-locking telescoping pole adjusts from 30 in (76.2 cm) to 49 in. (124.5 cm) to extend reach

Weighs only 1.2 lbs for easy handling
Reviews
Saralinda
Best car snow removal - snow broom
I found out about snow brooms at a car dealership as I inquired how they cleared all the new cars without scratching them. The dealership did not sell the snow brooms and after looking in many stores for one I ordered online through Walmart and picked it up in-store. It was a good and easy experience to order online and pick up at Walmart. The product, the snow broom is so much easier than a snow brush. It moves the snow so easily and quickly and it is great to know I won't scratch the car as I remove the mountains of snow. I did find out from the dealer that it is important not to set the rectangular push pad on the ground as salt and gravel can get attached or imbedded and then create small scratches on the car. It is a little difficult to get the telescoping handle unlocked when first receiving it but the manufacturer gives instructions to twist left then pull hard initially and this works. After the first opening it is easy to use.
73andalive
Love me SNOW JOE
3 years ago , My son-in-low removed the snow off my car with a SNOW JOE . Unbelievable how easy it looked to remove the snow. The next day I went to Walmart and got one for my self. Removing snow is so easy that I do the other cars in my area. Love IT. Had it for 3 years , still looks like new
NjMike
Great if it Worked
I bought three Snow Joes. One for myself, wife and as a small gift. I knew a friend who had just bought one and seen it used. It worked great for clearing snow and I wanted it. After the three arrived from via delivery I was excited, until I went to telescope the handle. None of the handles worked. I followed the instructions by twisting and pulling, however it did nothing. I did get one to open luckily with extreme force. After I closed it I was never able to get it open again. Keeping in mind im not a small man, I put on gloves and wasted time and energy getting my hands sore. The handles would twist with no problem but appeared stripped or something internally. I returned all three and had the clerk also attempt to extend the handle. He was also unable to get any open and called them junk himself. Talked to my friend later and he told me his handle also broke the next use. He later attached a wooden broom handle that fit in the threads of the blue foam head. Disappointing it was made so inferior.
lovessunflowers
if the pole sticks, use these instructions
i really like this product. I couldnt figure out who to extend the handle so i contacted the company, below is their response, it worked for us: Thank you for contacting Snow Joe The snow broom pole is shipped in the locked position form our factory. To open for the first time, screw the pole to the foam head. Twitch the bottom portion of the pole to the left and pull hard. You will only need to pull hard the first time you use the snow broom. To lock the lower pole, simply twist the pole to the right. Try pulling hard to unlock it for the first time. You will not need to do this again. It's a great product just for some reason our package pressure tightened them up too tight before shipping. Thank you and have a good day. Arleen Wittke 866-766-9563 www.snowjoe.com
Joe loves it
Loved it
Best ever for clearing snow off top of my Subaru Outback. Also use it for windshield and any other flat surface. Snow glides right off and if it's heavy you just take smaller amounts. This is my 4th one. 2 years ago had one that wouldn't stay together and gave it away. Bought another for me and one for my neighbor because he loved it so much - borrowed mine. When mine broke this year I ordered another right away . Really missed it. Anyone with a van or SUV really needs to try this product. Even a pickup, to get snow out of back.