Skywalker 15' Round Trampoline & Safety Enclosure Combo, Box 1 of 2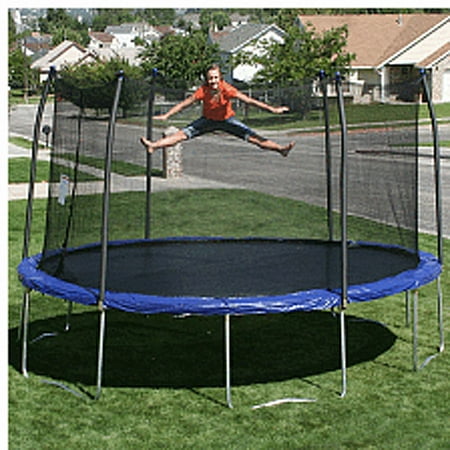 Sale :

$405.49

Sold & shipped by 0co Alias Overstock
Product Description

Additional Information

Reviews
Product Description
Fill the summer hours with the Skywalker 15-foot Round Trampoline & Safety Enclosure Combo. Designed for safety, stability, and fun, this heavy-duty trampoline features a STAY-PUT safety enclosure net that is designed to attach at each spring, eliminating gaps between the mat and net. Your child will have a bouncing blast this summer.
Additional Information
Skywalker 15' Round Trampoline & Safety Enclosure Combo, Box 1 of 2:Specifications:Frame Materials: rust-resistant, galvanized steel frame for durabilityFrame Construction: welded T-bracket technology eliminates frame twisting and strengthens each frame jointNumber of Legs: 6Number of Springs: 96Spring Material: galvanized steelJumping Pad: made of heavy-duty, UV-protected polypropylene, woven to prevent slippingMaximum Weight Capacity: 250 lbsDimensions: 15' x 15' round trampolineSafety Features:Meets or exceeds ASTM safety standardsPatented STAY-PUT Enclosure net button attachment design prevents gapping and net saggingSTAY-PUT Net attaches to the inside of the spring next to the jumping mat, eliminating contact with the springs in the bounce areaSTAY-PUT Enclosure net features a dual-closure system door that includes a heavy-duty zipper and additional locking clipExtra-wide UV-protected, vinyl-coated safety pad covers the frame and springsAssembly Information:Adult assembly requiredAssembly requires 2 peopleAssembly takes 2-3 hoursIncludes hardware and toolsPlace trampoline on level surfacePosition for adequate overhead clearanceSTAY-PUT safety enclosure attaches at each spring clip and is pre-installed for added convenience, no ropes to thread through each springWhat's Included:Frame6 W-shaped legsPhillips screwdriverJumping matFoam spring coverEnclosure netOwner's manual
Reviews
bill00123
Low quality spring cover pad
The trampoline is not bad but the spring pad just started falling apart after two summers of use ( see photos). The pad is not made to stand up to the weather. I take the trampoline down every winter so the summer sun destroyed the pad in just two summers. I looked into buying a new pad but Skywalker wants $115 for a replacement, that works out to about $60 a year for maintenance, ON A TRAMPOLINE! I contacted the company and they told me sorry, there is only a 90 day warranty. If I would have noticed there was only a 90 warranty, I would not have purchased this trampoline. If a company can't offer more than a 90 day warranty, stay away.
knwSC
great product, minor problem with the padding
The product is exactly as advertised. 15' is a huge size, and the kids love it. The assembly was a breeze, the instructions pretty clear. Only problem I have is with the foam padding/sleeves on the uprights. About a day after assembly, six of the twelve sleeves have melted. I'm guessing that there was a reaction to the oily packing substance on the springs or even on the uprights themselves (which got on my hands during assembly, and then could have transferred to the foam). I didn't see any warning in the assembly instructions about avoiding contact... I wrote to the manufacturer and asked them to send replacement foam sleeves. In the meantime, I would strongly recommend that you wash your hands thoroughly after assembling the springs, and before touching any other parts -- in case that's truly the cause.
ms1124
Heavy but relatively easy to assemble
If I had read all of the directions first, we would not have had to put this up twice. If you purchase this trampoline be certain to read ALL the directions before starting to place the trampoline onto the base. There were four adults assembling it and it was realtively easy - especially since we had to assemble it twice! It seems to be a great value and seems very sturdy. You do need to purchase the ladder and tie down bars separately or the trampoline will bounce off the ground so be certain to order them as well. The boxes are very heavy. Just remember to read all the directions before you begin placing the trampoline springs onto the base. The opening must be placed in a specific place on the base.
Empathy21
Kids love it! Great Free Shipping!
Santa brought this trampoline after much research. Walmart offered free shipping which was great as the boxes were HEAVY! My hubby and FIL set it up yesterday. It was a pain but wouldn't all trampolines be a pain? I can't comment on the durability as we've only had it one day. It seems secure and has a great bounce. For the price I am happy and my 6&7 yr old girls are thrilled. I liked how the bounce mat and safety net were already threaded, although half of it came undone. The instructions were clear and easy to follow. We used a power drill for the screws and recommend it. Make sure you put the door in the correct place. I read other reviews stressing that and so made sure ours was correct. Our yard isn't completely level so we placed 2 4×2 fence boards under the legs on one side to level it out. I'll update on durability later. All in all we are very happy with our new purchase. It's strange though how much the price fluctuates according to the pad color though. Blue works just fine for us. Also the boxes helped to keep my anxious girls entertained during the set up. They make great pretend canoes:-)
MateoMamma
Great for the price!!
My 4 kids loved the trampoline. Was thinking about a smaller size but happy I bought the bigger one. The only issue I've seen so far is that the trampoline is very large and requires two people to move so you can cut the yard. Wish the legs had rollers to move easier . My brother put the trampoline together . three springs bent wrong in the assembly.. takes longer than expected to assemble.