Ryan's World Giant Mystery Egg Series 2 Blue (Limited Edition) with Pack A Hatch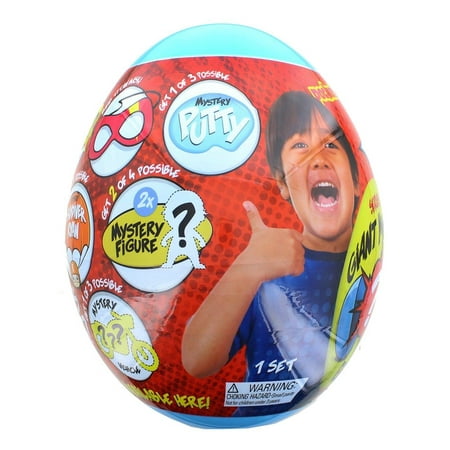 MSRP :

$39.98





Sale :

$39.82

Sold & shipped by Walmart
Product Description

Additional Information

Reviews
Product Description
Based on Ryan toys review, the most popular kids YouTube channel on the Planet
Additional Information
Ryan's World Giant Mystery Egg Series 2 Blue (Limited Edition) with Pack A Hatch
Reviews
hunnybear0125
Not what is pictured!!!
I am giving this a one star because I ordered this item online for in store pick up. Clearly advertised as a blue egg series 2 limited edition and I got a yellow egg which is a series 1. I was told the blue and yellow have the same SKU and they didn't get many blue eggs. It's a Christmas present for my nephew so I took it but this shouldn't be happening they are two different items. No pack a hatch in the yellow. Disappointed.
Mama123
Dont waste your money
Thankfully we didnt waste our own money on this! My aunt and uncle bought this as a Christmas gift for my three year old who just NEEDED this egg. The mask was cheaply made, something you'd find at the 99 cent store. We got the clear putty tgat turned gray as soon as you touched it. This little squishy toys smell like straight up chemicals! The suprise vehical is like something he already had. Thankfully hes 3 so he hasnt realized what a disappointment this was
Evie
Worth it!
I was actually surprised at how many items were in this egg and the fact they were all regular size items. My 4yr old son is obsessed with ryan and this is all he wanted for Christmas. Wish I would have bought multiple they are defiantly worth the money!
Sarah
Dont buy
This was suppose to be new things inside and it had the same stuff in it that was in the yellow egg. Also bought a red and gold egg. Has the same stuff in it. I have tries to find a way to contact them to complain but have not found a way yet. So dissapointed
Upsetmomma
Trade a kidney for an egg?
I rate it a 3 only because my son loves ryan so much. Other then that its way too over priced. They should be ashamed of those prices. I purchased two golden ryan eggs for my 4 yr old. The slim is digusting and is very messy. The putty has distroyed his clothes and every fabric it touched. For the price it should come with better quality and quantity. So at the end of it all he ends up witn a ryan figurine a space ship and a small squish i believe. And of course the false hope of being able to meet ryan " his brother". I wont be purchasing anymore products for sure.