Wellgate™ PerfectFit Wrist Support for Women Right Hand 1 ct. Box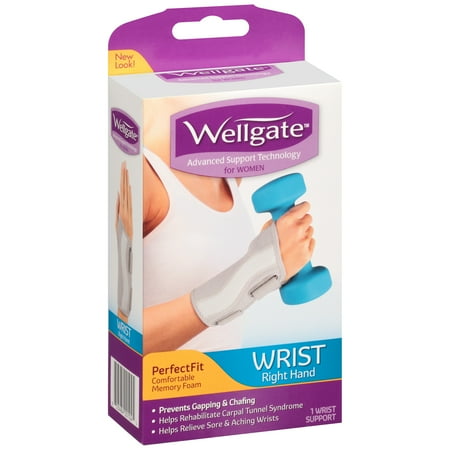 MSRP :

$15.74





Sale :

$10.99

Sold & shipped by Walmart
Product Description

Additional Information

Reviews
Product Description
Additional Information
PerfectFitComfortable Memory Foam
• Prevents Gapping & Chafing• Helps Rehabilitate Carpal Tunnel Syndrome• Helps Relieve Sore & Aching Wrists
Soft, Breathable Fabric for Everyday Comfort: Work, Home or Sleep
Straps Adjust Easily to Desired Level of Compression
Two Firm Stabilizers for Support
One Size Fits Most Women
One-Handed Application with Quick & Easy Closure
Reviews
LittlDuck
best I have found at any price
This is my fourth purchase of this product. I have had wrist and carpal tunnel problems for many years. This brace works perfectly, is washable and the most comfortable brace I have ever used, whether distributed from a medical supplier or OTC. I think I have tried just about every one on the market. I now have one of these braces for each hand. I found it when I only needed it for my right hand about ten years ago. I have gone through three of them since then. They wash well, but be sure to put it in a bag before you throw it in the washer. Air dry only. No bouncing around in the dryer, especially with heat. The second most important aspect of this brace, other than comfort is that it allows me to use my hand and do everything I want to do without restriction OR pain. Rather remarkable for a brace, in my experience. I have recommended them to everyone I know who needs a brace such as this.
AZBuyGirl
Really did the trick
I was pretty discouraged when I woke up one day with wrist pain that made using the PC, twisting a cap off, or even opening and closing the car door very uncomfortable. After some research on the internet, I realized that icing and rest were the best remedies. I googled wrist supports and luckily ran across this one. I immediately liked that it was sized for women and was a neutral color, as opposed to one of those big, bulky black contraptions. Ladies, believe it or not, the lining inside is pink - a nice feminine touch! Although light, it is well-constructed and the adjustable Velcro straps make it easy to apply as much or as little pressure as you need; I even slept with it on. Best of all, it holds your wrist in a neutral position that allows the tendons to rest and helps avoid re-injury. I have noticeably improved since I began wearing this wrist support.
ORLmommy
Does the trick
I purchased this wrist brace after trying a few other brands, some that were way more expensive. I wanted a brace that provided enough coverage but was not obtrusive. This brace did the trick! The memory foam is very nice, one of my biggest complaints about the other braces was the metal piece inside would dig into my arm. This brace does not do that all, you can feel the metal but the memory foam keeps it from digging into your arm or hand. The only thing I wish was that the brace came in a little larger size. I am a larger woman (on the top end of the weight chart on the back of the box). The brace fits perfectly with the top strap but the bottom strap just barely attaches. I think because of the problem, I sometimes feel the brace digging into my thumb. But this is no where near the discomfort that I felt with the other braces! I would recommend the brace, just make sure to try it on and where it for a bit.
ladylon
Amazingly comfortable
I had to use a brace for several months about a year ago. The one the doctor gave me was extremely uncomfortable, so I looked for a better one. This one was my third try and I will tell you there is absolutely no comparison! The material it's made of doesn't leave you with those hard, poking seams...it is very, very comfortable. The best plus for me, though, is the way it is designed to keep a lot of your palm unrestricted, which allows more freedom for your fingers. I could still type on my keyboard and hold a pencil to write, while my wrist stayed completely stable. It is so lightweight I would forget I was even wearing a brace. (It makes me wonder why more manufacturers haven't followed along. :) I would highly recommend that any woman in need of a brace should, at least, go and try it on. I feel certain you will agree.
ladylon
Good fit for small woman
I am SO thankful to find these at Walmart. I've worn out a pair of this brand - it took YEARS (with a few repairs to the velcro!) Last week I set out to find something that would work, not remembering the brand name to try to replace with the same ones..... Tried everything in my town: too big/long, complicated to put on, OR the construction left scratchy or hard parts of the brace inside pressing against my skin. Finally found these at Walmart (though only the LEFT wrist was available there.) Walmart.com had both hands - and at a great price in comparison with the other brands and stores I visited. I wear these every night to bed, so need a soft, comfortable fit. These are PERFECT! If you have a small wrist, small frame, short arm/hand, these will fit well. They are super comfortable, though do immobilize the wrist completely. As needed for someone dealing with carpal tunnel or other wrist/hand problems.