Jus by Julie 3-Day Blended Juice Cleanse, 18 Count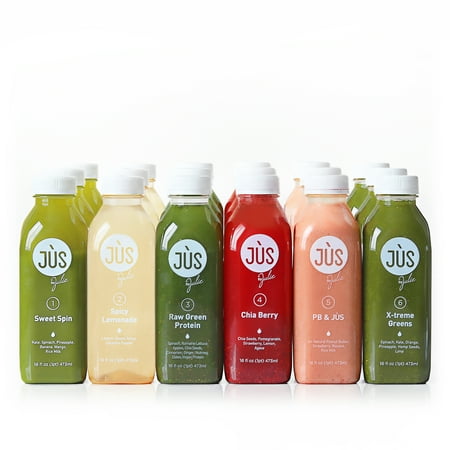 MSRP :

$118





Sale :

$84.2

Sold & shipped by Walmart
Product Description

Additional Information

Reviews
Product Description
The JUS by Julie 3-Day Blended Juice Cleanse Kit is a quick and easy way to start fresh. The juice cleanse is designed to rid your body of unwanted toxins that cause your body pain, bloating and discomfort. The cleanse consists of 6 uniquely blended juices per day for a total of 18 juices.The cleanse is designed to provide your body with the maximum amount of nutritional benefits in each day. All the juices are freshly made through a unique blending process that is designed to maintain the fiber of all the ingredients, as this will help your body feel full and nourished all day long. The 3-day cleanse supports a renewed sense of energy, a noticeable decrease in cravings and a side effect of weight loss. When complete, the cleanse is created to allow you to transition back to a healthy diet and get right back to your busy lives.
Additional Information
JUS by Julie 3-Day Blended Juice Cleanse Kit:
Includes: (3) Chia Berry, (3) Dr. Green, (1) Island Coconut, (2) Matcha Chia, (1) PB & Jus, (2) Spicy Pomegranate, (3) Sweet Spin and (3) Xtreme Greens
Made fresh daily from only pure and raw ingredients
All juices are perishable and have a shelf life of 3-4 days from when the order is received
Kosher certified, under the strict supervision of the Orthodox Union (OU)
Reviews
LKeat
Filling, but hard to drink
OK, so this is my first time doing a juice cleanse. I thought it would be super tough not eating real food for three days, but it really wasn't that bad. I think it was because there are 6 drinks a day, so I feel like you're constantly drinking. All three days had exactly the same juices with exception of juice #5, which I called my dessert drink. My favorites were Spicy Lemonade and PB & Jus. I thought that Sweet Spin and Chia Berry were satisfactory, but not wonderful. Choco Nana was doable but I didn't love it. Matcha Chia & X-Treme Greens was not really good. The Raw Green Protein was absolutely disgusting, I couldn't do it. I had 5 green smoothies left over at the end of the 3 days because I couldn't drink them. So I only drank 13/18 smoothies. The reason I'm giving this three stars is because there was a few that tasted okay, and it did keep me full, and the carbs in these are much lower than any juices I could get in Walmart. I would not do this again, though.
JustEngaged
Love this!
I tried this a month ago and I lost 5 lbs after the 3 days! I can't say I loved every flavor (or that they send the same flavors that are listed here), but I did enjoy Sweet Spin, Spicy Lemonade, Matcha Chia, Chia Berry, and Choco Nana! The others, honestly, I added a touch of either stevia or vanilla extract and blended them with ice. It helped! With 6 of these juices a day, you are never hungry! All the nutrients you need, and left me feeling great. I tried to drink a glass of water between each one. I started round 2 yesterday and I've already lost another 2 lbs! :) I plan to do this once a month until I reach my goal weight. The price is better here than on the Jus by Julie site, unless you found a really good coupon for them.
Disappointed
Styrofoam Busted
The item arrived with the styrofoam busted. The ice packs and bottles were nearly warm. I tried to get an exchange only to be told I would have to take it to the post office. Beyond frustrated. Do not order it online.
Julie
Jus in Time
I had to get ready for my engagement dinner and I had my eye on a dress! I needed to fit the dress and I did!
Scorpio
Jus in Time
I could not drink the juice, they tasted nasty. No point buying this stuff if you can drink it. This has got to be one of the worst purchases I ever made. Tastes terrible