AB Circle Pro Machine As Seen On TV - Core Home and Exercise Fitness Machine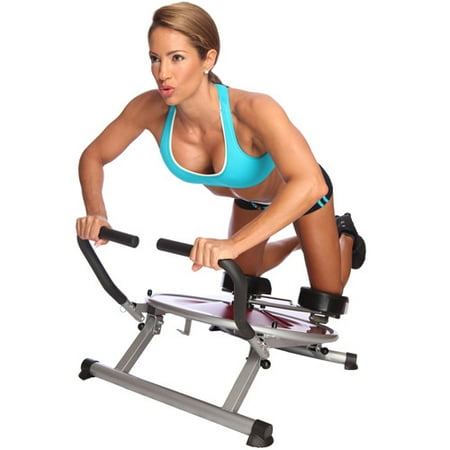 MSRP :

$99.99





Sale :

$49

Sold & shipped by Walmart
Product Description

Additional Information

Reviews
Product Description
The As Seen on TV AB Circle Pro Machine gets you off the ground and targets your entire core for a firmer, flatter stomach. It is a fun and easy to use trainer. The AB Circle machine works like a treadmill for your stomach. This trainer is great for those who would like to get flatter and firmer abs without having to do crunches and sit ups. This ab workout machine works on your upper, middle and lower abdominals, giving your entire core a thorough exercise that burns away stomach fat in one simple motion. Also included are bonus gel knee inserts that give extra cushioning effect for a comfortable workout. You can also exercise to strengthen muscles in your buns and thighs, by simply changing a pin in the machine. The As Seen on TV AB Circle Pro Machine can be easily folded, allowing you easy storage.
Additional Information
As seen on TV
Works your abs, hips, buttocks and thighs
The secret is that it combines cardio and abs
The friction free track uses the momentum of gravity to target your entire mid section
Simple pin chance to work out buns and thigh muscles
Made with gym quality steel that's built to last a lifetime
Folds for Easy Storage under the bed or in the closet
Three levels of Resistance so it is perfect for any level of fitness
Unique patent pending friction free track that's gets you off the floor
No more straining your back and neck to get perfect abs
Gel knee inserts that give extra cushioning effect for a comfortable workout
Multiple exercise routines
It's fun and easy and just takes minutes in your day
Ab Circle Pro Machine
3 minute Express Workout DVD
Total Fat Burn DVD
Nutritional guide
BONUS: Gel Knee Inserts
Calorie Counter/Fitness Computer not included
Dimensions: 28.2 x 8 x 26.5 inches
Weight: 31 pounds
Manufacturer warranty: 1-year warranty
Reviews
ghireneh
AMAZING. . .
I was super excited to receive my machine. Though i had read all these negative reviews, i thought id try it for myself, and i love it. Even on the 1st day i did the whole 30 min workout and have been doing it ever since. The only thing i do have to comment on is that the machine itself has 3 diff levels/holes you can adjust (beginner, intermed, etc) and i havent worked out in years, and i felt nothing on the first and second, so i had to set it to the highest angle, and then i started feeling the burn. Im not sure if im supposed to feel it in my lower back, but it is definitely sore. I havent noticed much of a result on my abs, but ive only been using it for about 2 weeks. I have however, noticed and felt it working on my thighs, and behind (which is why i actually bought it) and my legs are looking better already. . . I guess like with any other piece of exercise equiptment, you have to give it a try and actually do the workout. See for yourself, you know. because i definitley love mine.
jrel
AMAZING. . .
After reading reviews at many website I was prepared for what the ab circle would require to work. Everyone has problems with the rollers and some had ways to help fix the problem. After buying it from a local Wal-Mart I assembled it and like expected had problems within the first 10 mins. The powder coating started to transfer to the roller within mins of using it. I had read that sanding off the powder coating (voiding any and all warranties) fixed that problem. After doing so the rollers still continued to get worse. So my permanent fix to this problem was to take the rollers to a local machine shop and have new ones made out of steel. They cost me an additional $50.00 and after instilling they were worth every penny. They glide over the rail so smoothly and made the machine work better then with the original rollers. I recommend this machine but be prepared to fix it from the start and if you do it right it will work great for you.
MissChrissy
It's workin' or doing something!
So, I bought this and I love it! It is soo easy to use and it's kinda fun. I use it for about 7 mins everyday. You work out and it doesn't feel like your doing anything. After a few mins you start to work up a sweat and you can start to feel a lil burn on those muscles on the sides of your tummy. It works your core, builds strength in your arms and you can feel the burn in your back/shoulder muscles. Even the back of your thighs. My Husband lifts weights and that kinda thing to work out... and he even uses this and can tell when it 'working'. He thinks its pretty cool too. The only thing I have a lil problem with is the cups where you place your knees. It kinda felt like I was sliding out of the cup. I turn mine upside down & I also wear knee pads. The first couple times my knees were a lil sore, so I started using the knee pads which makes it much more comfortable. Now , after about 3 weeks of use.. I can tell my jeans fit a different and I think I'm starting to see some definition in my tummy. Very happy and is definitly gonna keep using my AB Circle.
LNDNMN
Not what I Expected..Better!
I spent 6 months reading, researching, and reviewing this product before I finally bought it. What a waste of time. I love this product. I heard so many bad things that I called the company. There are two versions of this machine the original and the new and improved. The one you want has a gray metal rail around the red circle. They have improved the chipping, grinding and wheel damage this way. There was a problem with the rollers but they gauranteed me it has been fixed with this model. It even has a replacement roller with it "just in case". I have had it for a month now and three of us use it daily. I am the heaviest at 200 pounds. I used cooking spray (pam) on the metal ring at first because of reviews, but haven't needed it since. Wow do we all see a difference. I have severe lower back issues and for me this machine is solving those. I have been without back pain for two weeks now!!! The only real issue we see is that you feel like you are falling out of the knee bowls all the time no matter how you try it. So we turned them backwards....problem solved. We have told everyone we know to buy one!!! Thanks Ab Circle Pro!
LOVEMYSOLDIERALWAYS
dont judge by negative reviews
I've read bad reviews about this product on several sites so i put off buying it for 2months.i then decided to see for myself,the worse case scenario is the reviews are right but i still could get a refund so it's not a loss.well i just got it this wk and it is great.Immediately you feel the workout.If you are consistent with the workout COMBINED with eating healthy I don't see how you couldn't see results.My husband is a soldier who works out everyday and even he enjoys it. other pros:assembly is easy, takes about 5min.,it fits under our bed.i also suggest only about 4-5minutes workout a couple times a day don't overdue it. HOWEVER; I do recommend oiling it before you use it,as others have stated.And this is not the newest version,i recommend the new version w/gray handles.And the knee inserts that come are not good enough, you need to buy some knee pads.