Primo Top-Load Water Dispenser, Stainless Steel/Black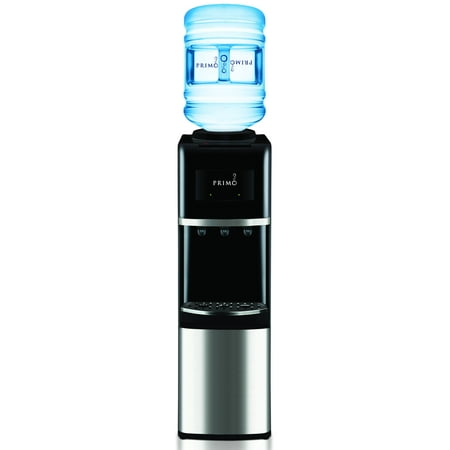 MSRP :

$179





Sale :

$149

Sold & shipped by Walmart
Product Description

Additional Information

Reviews
Product Description
The Primo Top-Load Water Dispenser allows you to enjoy fresh, safe, hot/room temp, or cold water instantly. The stainless steel/black Water Dispenser has designer styling with stainless steel front panels and black accents. The high-flow mechanism dispenses cold and hot water. The Primo Top-Load Water Dispenser has convenient top-mounted pushbutton controls, a child safety latch on hot water button, a handy nightlight for using dispenser in low light conditions, and no filters to maintain. This Primo Water Dispenser accepts all 3 and 5-gallon bottles.

ENERGY STAR®
Products that are ENERGY STAR-qualified prevent greenhouse gas emissions by meeting strict energy efficiency guidelines set by the U.S. Environmental Protection Agency and the U.S. Department of Energy. The ENERGY STAR name and marks are registered marks owned by the U.S. government, as part of their energy efficiency and environmental activities.
Additional Information
Primo Top-Load Water Dispenser, Stainless Steel/Black:
Spill-proof bottle receptacle with patented leak protection system
LED light helps dispensing in low light conditions
Energy saving on/off switch for hot tank
ENERGY STAR-qualified
Uses 25 percent less power than traditional dispensers
Primo Water Dispenser dispenses icy cold water twice as fast as standard models
Dispenses near boiling water
Convenient pushbutton controls with child safety latch
Dishwasher safe drip tray
Accommodates all round and rectangular 3, 4, 5 and 5.2-gal. bottles
CSA certified/NSA approved
Model: 900127
Primo recommends that you clean the appliance exterior as often as needed with a soft cloth and warm soap and water. You should sanitize the internal reservoirs and lines every three months because bottled water is a food-grade product. This regular maintenance will prevent a mineral buildup from occurring in the reservoirs.
Reviews
Barbexc
It works great!!!!
People that complain saying that it doesn't indicate in the manual about switch to turn on and off it sure does. It says ACTIVATE HEATING AND COOLING TURN ON SWITCH LOCATED ON BACK OF UNIT It even talks about turning the switches on and off to save electricity when your leaving!!! People drive me crazy when they complain about something before they read the directions. This unit works great. I enjoy drinking water and now with this in my house I will continue to drink more water. Plus this will get my wife and kids to start drinking more water. Well worth the money.
CowboyNtexas
Very nice hot cold water dispenser
I bought this water cooler as a birthday present for my mom. I ordered it the Friday before Christmas and Tuesday the 24 FedEx was dropping it off at my moms. She just loves it and uses it everyday. The box it came in was in great shape no damage at all. I took it out of the box put a water bottle on top of it, plugged it in an in less than an hour we had very hot and cold water. It does not leak and is very quiet. I'm very happy that I bought this water cooler and would buy it again.
VacationNeeded
Good Decision
Love my water dispenser. Been drinking more water because of it. Don't need to buying bottled water anymore which saves me money.
Kyle
Happy with my purchase.
This is a great water cooler. The cold comes out pretty dang cold, and the hot comes out really hot! The flow speed is better than the bottom loading machines, I personally prefer the top loaders. My only complaint is that it's very short. The cooler without the bottle is 36 inches, and the spouts are about 25 inches from the floor. I have to bend down in order to fill larger bottles that won't sit on the drip tray. Other than that, very happy with my purchase. Great cooler for the price!
PopStran
No regrets
Looks alone: Great color scheme for the price, and fits very well with the other stainless appliances. Operation surprised us: Quiet and effective. Hot water is soup/tea hot, and cold is very chilled. Child-safe options include thumb-slide lock on the hot switch, which is fine for smaller toddlers. Also has separate power switches in rear for cold and hot, so we can kill power to the hot water to protect little hands from accidental burning.