Piggy Paint Natural as Mud Nail Polish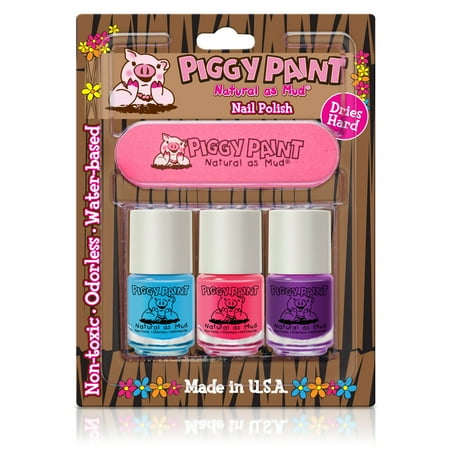 Sale :

$6.47

Sold & shipped by Walmart
Product Description

Additional Information

Reviews
Product Description
Additional Information

Piggy Paint Natural as Mud Nail Polish:
The product is chemical free and is non-toxic
This low odor nail polish comes in a selection of three colors
Simply apply 2 or 3 coats and let dry for 60 seconds
Colors: pink, purple, blue
Safe for use by children
Reviews
mamma2chickies
Perfect for children
I absolutely love this product for my daughters. I have used it on both my 21 month old and my 6 month old. I love the fact that is doesn't have an odor to it and the colors are so bright and vibrant! I will recommend this product to anyone I know who has little girls!! I'm so glad it was recommended to me!
Treblerose81
Love Piggy Paint!
I quit using nail polish years ago, except for special occasions, because it made it very hard to breathe. Piggy Paint, no problem. My 6 year old adores it, she loves painting her own nails, and my 7 yr old son even painted her nails for her once, (that was priceless). No ill feeling, no trouble breathing, no weird rashes if it touches skin!
ShopsAtWalmartOnline
Very high quality for non toxic.
Not quite as smooth as toxic polish, but no smell and quite sturdy.
Katy36
Best Polish Ever!!
I love painting my nails, and I have 2 girls who also love to have their nails painted. As much as I loved painting their nails, I never felt fully safe using the regular nail polish with all of the harsh chemicals. Enter Piggy Paint Nail Polish! I received 8 colored nail polishes and 1 top coat. As soon as I showed my girls, their eyes lit up and they immediately had to get in and paint their nails. The colors are fabulous. They are very opaque and 1 coat sufficiently coats the nail. I love that they are non-toxic and water-based. Better yet, they literally have no smell! They dry quickly and stay on for days before chipping. This polish works even better than my high end nail polish that I've been using for a long time! The only thing we noticed was that the top coat does have a strong, unpleasant smell, but fades quickly. I love that these are hypoallergenic and made in the USA. I think I have had just as much fun as my girls with using these nail polishes. I will be switching to Piggy Paint from now on for all of my polish needs! [This review was collected as part of a promotion.]
Rainbow86
Consistency & Drying time amazing..
I've been using my Piggy Paint Nail Polish for about 2 weeks. My first impression was that the bottles were so cute, and I love that there isn't any chemicals. I hate the smell of nail polish as its so strong & the chemical smell alone is just awful. With Piggy Paint Polishes, you don't have that smell & the consistency is really nice considering the ingredients are different. Not only is the consistency nice, but after applying the first coat it dried rather quickly. I did however have to use a second coat to get the color I wanted. Plus I hate being able to see through my nails when in the light. I applied the basecoat & then used again as the top coat. My polish is still on and hasn't chipped which puts the icing on the cake for me. Overall I am very happy with Piggy Paint Nail Polishes, at least all the colors I have tried. I definitely recommend to anyone who loves painting their nails Kids, & Adults alike. [This review was collected as part of a promotion.]