Piggy Paint Natural as Mud Nail Polish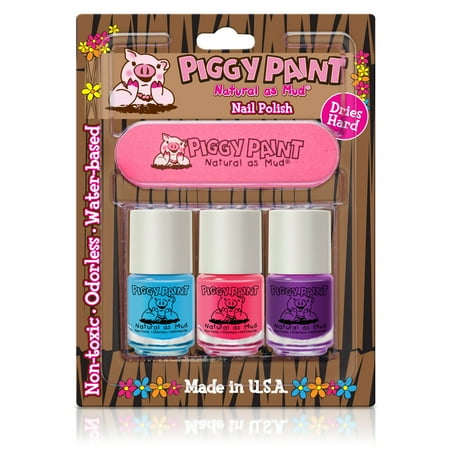 Sale :

$6.47

Sold & shipped by Walmart
Product Description

Additional Information

Reviews
Product Description
Additional Information

Piggy Paint Natural as Mud Nail Polish:
The product is chemical free and is non-toxic
This low odor nail polish comes in a selection of three colors
Simply apply 2 or 3 coats and let dry for 60 seconds
Colors: pink, purple, blue
Safe for use by children
Reviews
mamma2chickies
Perfect for children
I absolutely love this product for my daughters. I have used it on both my 21 month old and my 6 month old. I love the fact that is doesn't have an odor to it and the colors are so bright and vibrant! I will recommend this product to anyone I know who has little girls!! I'm so glad it was recommended to me!
Treblerose81
Love Piggy Paint!
I quit using nail polish years ago, except for special occasions, because it made it very hard to breathe. Piggy Paint, no problem. My 6 year old adores it, she loves painting her own nails, and my 7 yr old son even painted her nails for her once, (that was priceless). No ill feeling, no trouble breathing, no weird rashes if it touches skin!
ShopsAtWalmartOnline
Very high quality for non toxic.
Not quite as smooth as toxic polish, but no smell and quite sturdy.
BenAndZoe
Fantastic, no smell, great colors!
This nailpolish DOES NOT SMELL. The colors are great, wearability is so-so. For painting little kids' nails #and for pregnant smell-sensitive mommas# this is a fantastic product. The prices for these little bottles are great, too. It allows you to get a larger variety of colors than you would get by just buying one full bottle at piggypaint.com. Also, since it's in stores, you don't have to pay for shipping.
Trisherz5686
great product for little girls!
My 18 month old daughter LOVES to get her nails and toenails painted just about every time I go in the bathroom to put on my makeup. The problem is that she chews on her fingers and subsequently eats the fingernail polish that is on them. Normal polish has harsh chemicals that I do not want entering her mouth. Piggy paint is all natural and works great! It does seem to have the tendency to chip easily (although my daughter plays really hard!) but I haven't tried putting their clear coat over the colored polish so that may work better. She loves it and I love that it's all natural and can't hurt her!