Farberware 3.2-Quart Digital Oil-Less Fryer, Black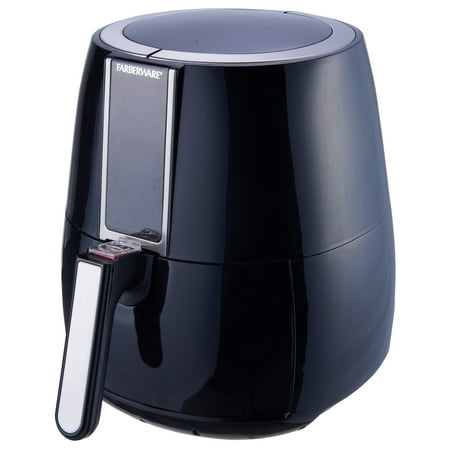 MSRP :

$69





Sale :

$60.08

Sold & shipped by Walmart
Product Description

Additional Information

Reviews
Product Description
You can now cook faster, healthier meals thanks to the Farberware 3.2 Quart Digital Oil-Less Fryer. Using Rapid Hot Air Technology, this versatile air fryer can bake, grill, fry and roast dishes up to 30% faster. It cooks food to a golden and crispy finish using little to no oil, reducing fat and calories compared to traditional frying. This oil-less fryer features a large and easy-to-use digital touchscreen and boasts 8 preprogrammed options to take the guesswork out of cooking. It also provides amazing flexibility with the adjustable cooking times and temperatures. The 3.2-quart food basket fits up to 2 pounds of food and, thanks to the dishwasher-safe food basket, you'll spend less time cleaning and more time enjoying delicious meals. As an added bonus, you'll receive a recipe book with 25 recipes. Cook fast tasty meals for the entire family with the Farberware 3.2 Quart Digital Oil-Less Fryer.
Additional Information
Farberware 3.2-Quart Digital Oil-Less Fryer, Black:
Cook faster, healthier meals
Uses rapid hot air technology to cook food using little to no oil
Easy to use digital touchscreen with 8 preprogrammed options
3.2 quart basket fits up to 2 lbs of food
Food basket is dishwasher-safe
Bonus recipe book with 25 recipes
Low odor, no mess
Reviews
Asj
Extremely happy with the purchase
Highly recommended product. All the things that weve cooked so far have turned out very good. Easy to use and comes with the cook book.
Wan2No
Screws In The French Fries
I purchased the Farberware 3 Liter Digital Oil-Less Fryer earlier this year. It cooked perfectly and I was extremely happy with it until screws started appearing in my French fries on 3 separate occasions. My grandchild found the first screw hidden in French fries on her plate and at first I thought it came from the frozen fries. I emptied the entire bag in to a freezer bag and found no screws. I checked the air fryer and didn't see a place the screw came from. The next time, I found a screw in my fries but the screw was different than the one my grandchild had found. I checked the air fryer, again, and still didnt see a place the screw could have came from. The third time, I found a screw in my fries, it was the same type as the second time. I searched the air fryer again and noticed that bottom half of the basket that catches the oil when frying was loose. I checked closer and discovered there where 3 empty screw holes inside the basket. I called the Walmart number listed on the bottom of the air fryer and was told that I could not return the product to the store because it was past 90 days. They told me since I had purchased the product protection plan a claim would have to be filed with Asurion. When I spoke with someone from Asurion, they said I coul not file a claim because the product was defective and I would have to return it to the store. I told the gentleman that Walmart said I couldn't return it to the store past 90 days. He said that was not true. Farberware was a Walmart product and their warranty covered the defective product that was less than a year old. He said I would have to get a letter from Farberware stating why they refused my request for replacement and then to contact Asurion again. He connected me to Farberware. I spoke with a lady from Farberware. She listened to my complaint about the air fryer and asked for the UPC. She said it would be on the box or booklet that came with the air fryer. I told her I didn't have the box or booklet and she said it was on the bottom of the air fryer. I told her it wasn't and she insisted it was. I started to read all of the information off the label and she made some sort of comment that that was not necessary if I didn't see the UPC. Huh? She then went on to accuse me of trying to talk over her and not listening to what she said. How rude. She told me I would have to take the air fryer back to the store and Walmart would replace it. I told her that Walmart said it could not be returned after 90 days and she said something about me needing to stop talking and listening to her again. She said Farberware's warranty was 2 years and that I could take it back without the box, papers, etc. She said to ask for a salaried manager if they told me I couldn't return it. She gave me a claim number and told me to have the store call them if there was a problem. After feeling, like I was being given the runaround, this Farberware care representative resolved my complaint. My local Walmart accepted my return after speaking with a salaried manager. I only wish that the lady that resolved my problem was not so brash and rude when speaking to me. I know she probably deals with a lot of customer complaints and I respect that, but instead of insulting customers out loud, listen and keep your negative comments to yourself.
karen
Screws In The French Fries
game changer, love it!!
Pix10
Clean frying
Works great!! Better than frying on the stove because no extra oil and no mess to clean up other than the basket!! Wish I would have gotten the larger size but this will be fine for now, It takes up plenty of space on the counter (added a ruler for size comparison).
kay
Clean frying
I got it out the box to use it, first I wanted to clean it and run it for a little bit with nothing in it because it smelt like plastic. that was fine. well after running it for 20 mins to get the plastic smell out of it I went to pull the thing out and the whole handle broke. I almost dropped it, keep on mind this has been going at 400° for 20 minutes it wouldn't have been good if I had dropped it. I would not recommend buying this product. just spend the extra money and get a good one!!