Farberware 3.2-Quart Digital Oil-Less Fryer, Black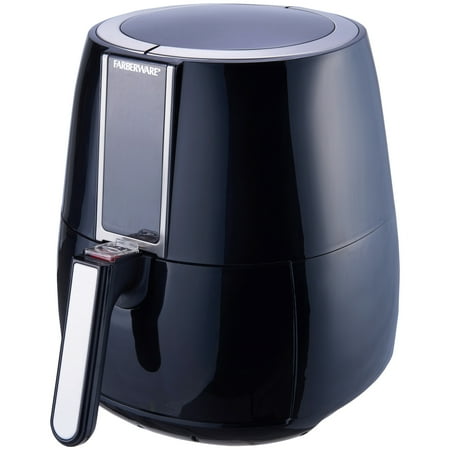 MSRP :

$69





Sale :

$55

Sold & shipped by Walmart
Product Description

Additional Information

Reviews
Product Description
The Farberware Digital Oil-Less Fryer is an healthier alternative to traditional frying using little-to-no oil. Use this Oil-Less fryer to bake, cook or fry up to two pounds of your favorite foods. With its rapid hot air technology and its eight preprogrammed cooking options, the Farberware Digital Oil-Less Fryer is the perfect complement to any kitchen. Using little to no oil, this unit circulates hot air evenly around the food, which provides uniform cooking. Give your food a crispy finish without the guilt of cooking with excess oil. Use the digital touchscreen control panel to set the time and temperature that you want, or select from one of the eight easy-to-use preprogrammed options. Cooking has never been so easy with the Farberware Digital Oil-Less Fryer!
Additional Information
3 liter digital oil-less fryer for cooking your food faster with the rapid air technology
A healthier alternative to traditional frying
With new digital technology that allows you to cook your favorite foods with little to no oil
Enjoy the same fried food taste you love
This amazing kitchen must have has 8 easy to use preprogrammed cooking options and can cook up to 2 lbs. of food
You can use it to bake, cook or fry your favorite foods
Low odor and no mess clean up with the easy to clean, dishwasher-safe food basket
Reviews
Jetsthunder
Love this air fryer
Can't believe how easy and fast it is. Wish I bought this sooner. Reheated pizza taste just as good as if it was delivered. Can't wait to see what else I going to cook in it.
Topher
Glorified Easy-Bake oven
This review in a nutshell: It's kinda like a glorified Easy-Bake oven, not the best designed, it only sort of cooks things, and it's slightly dangerous. With a decent oven, I don't see the point. The machine seems alright at first, but the basket release button–a clear, sliding button–is pretty flimsy. When we started cooking, steam was being released from under the clear button, with condensation building up, and steam coming out from where I'm supposed to put my fingers? Doesn't seem too safe for kids. The touch screen control panel just above the release button also gets uncomfortably hot when the oven is on. There definitely should be more insulation in the unit. These flaws could be overlooked if the oven cooked well, right? Unfortunately, it does not. What better inaugural dish for an air fryer than french fries? We closely followed the basic french fry recipe in the included cook book–very disappointing. We ended up needing to double the cooking time, even though we made sure to preheat and not overfill the basket. Cooking was uneven, the fries on the bottom never had a chance! The top was crispy-ish (depending on which side was up) while those bottom fries were hot n' soggy. After spending so much time waiting for essentially a small batch of oven baked fries, I wondered why didn't I just use my oven. Returned it. I don't love things that hog precious kitchen counter real estate, especially things that don't significantly improve life. The poorly designed basket release and control panel, in addition to the lack of um, cooking, killed it for us.
pqhomes
fast and easy
easy to use and fast-- only cooked a few things so far - but with a new cook book -I will be using this very often . Healthy frying is what its all about!
Wings
fast and easy
Chickenwings from frozen take 30 mins but they were really good.
momarisah
Functional but a little bulky
This is a nice healthy alternative to deep frying. I'm still trying out different foods but so far I have been pleased with the results. Some of the recipes indicate to toss the food in a bowl lightly with a small amount of oil before cooking and I highly recommend this method to best simulate the taste of typical deep frying, you still avoid a ton of fat. The flavor is better than the alternative of baking and generates significantly less heat in the kitchen. The unit itself is much larger than I was expecting, it takes up a nice chunk of space on the counter. However, the saving grace of this is that it cooks in decent size batches. Overall I'm pleased with it for the health benefits but would opt for a smaller size in hindsight.