Farberware 3.2-Quart Digital Oil-Less Fryer, Black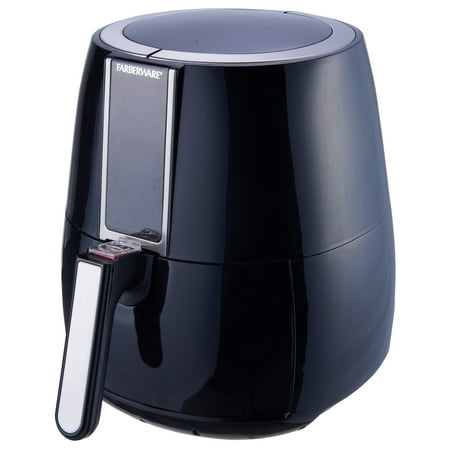 MSRP :

$69





Sale :

$52.99

Sold & shipped by Walmart
Product Description

Additional Information

Reviews
Product Description
The Farberware 3.2-Quart Digital Oil-Less Fryer provides a healthier alternative to traditional frying, achieving crispy and perfectly golden exteriors using little-to-no oil. With Rapid Hot Air Technology, this versatile air fryer can bake, grill, fry and roast dishes up to 30% faster. The Farberware Digital Fryer has a large and easy-to-use digital touchscreen, boasts 8 preprogrammed options to take the guesswork out of cooking and provides flexibility with adjustable cooking time and temperature. Cleanup is fast and easy thanks to the dishwasher-safe food basket. Includes a bonus recipe book with 25 recipes –cooking has never been so quick and easy!
Additional Information
3.2-quart digital oil-less fryer for faster, healthier cooking thanks to the rapid hot air technologyA healthier alternative to traditional fryingBake, grill, fry and roast dishes up to 30% fasterEnjoy the same fried food taste you loveEasy-to-use touchscreen with 8 easy preprogrammed cooking optionsLarge 3.2-quart capacity holds up to 2 lbs. of food and allows you to prep tasty treats for the entire family Low odor and no mess clean up with the easy to clean, dishwasher-safe food basket
Reviews
Wan2No
Screws In The French Fries
I purchased the Farberware 3 Liter Digital Oil-Less Fryer earlier this year. It cooked perfectly and I was extremely happy with it until screws started appearing in my French fries on 3 separate occasions. My grandchild found the first screw hidden in French fries on her plate and at first I thought it came from the frozen fries. I emptied the entire bag in to a freezer bag and found no screws. I checked the air fryer and didn't see a place the screw came from. The next time, I found a screw in my fries but the screw was different than the one my grandchild had found. I checked the air fryer, again, and still didnt see a place the screw could have came from. The third time, I found a screw in my fries, it was the same type as the second time. I searched the air fryer again and noticed that bottom half of the basket that catches the oil when frying was loose. I checked closer and discovered there where 3 empty screw holes inside the basket. I called the Walmart number listed on the bottom of the air fryer and was told that I could not return the product to the store because it was past 90 days. They told me since I had purchased the product protection plan a claim would have to be filed with Asurion. When I spoke with someone from Asurion, they said I coul not file a claim because the product was defective and I would have to return it to the store. I told the gentleman that Walmart said I couldn't return it to the store past 90 days. He said that was not true. Farberware was a Walmart product and their warranty covered the defective product that was less than a year old. He said I would have to get a letter from Farberware stating why they refused my request for replacement and then to contact Asurion again. He connected me to Farberware. I spoke with a lady from Farberware. She listened to my complaint about the air fryer and asked for the UPC. She said it would be on the box or booklet that came with the air fryer. I told her I didn't have the box or booklet and she said it was on the bottom of the air fryer. I told her it wasn't and she insisted it was. I started to read all of the information off the label and she made some sort of comment that that was not necessary if I didn't see the UPC. Huh? She then went on to accuse me of trying to talk over her and not listening to what she said. How rude. She told me I would have to take the air fryer back to the store and Walmart would replace it. I told her that Walmart said it could not be returned after 90 days and she said something about me needing to stop talking and listening to her again. She said Farberware's warranty was 2 years and that I could take it back without the box, papers, etc. She said to ask for a salaried manager if they told me I couldn't return it. She gave me a claim number and told me to have the store call them if there was a problem. After feeling, like I was being given the runaround, this Farberware care representative resolved my complaint. My local Walmart accepted my return after speaking with a salaried manager. I only wish that the lady that resolved my problem was not so brash and rude when speaking to me. I know she probably deals with a lot of customer complaints and I respect that, but instead of insulting customers out loud, listen and keep your negative comments to yourself.
Jetsthunder
Love this air fryer
Can't believe how easy and fast it is. Wish I bought this sooner. Reheated pizza taste just as good as if it was delivered. Can't wait to see what else I going to cook in it.
Topher
Glorified Easy-Bake oven
This review in a nutshell: It's kinda like a glorified Easy-Bake oven, not the best designed, it only sort of cooks things, and it's slightly dangerous. With a decent oven, I don't see the point. The machine seems alright at first, but the basket release button–a clear, sliding button–is pretty flimsy. When we started cooking, steam was being released from under the clear button, with condensation building up, and steam coming out from where I'm supposed to put my fingers? Doesn't seem too safe for kids. The touch screen control panel just above the release button also gets uncomfortably hot when the oven is on. There definitely should be more insulation in the unit. These flaws could be overlooked if the oven cooked well, right? Unfortunately, it does not. What better inaugural dish for an air fryer than french fries? We closely followed the basic french fry recipe in the included cook book–very disappointing. We ended up needing to double the cooking time, even though we made sure to preheat and not overfill the basket. Cooking was uneven, the fries on the bottom never had a chance! The top was crispy-ish (depending on which side was up) while those bottom fries were hot n' soggy. After spending so much time waiting for essentially a small batch of oven baked fries, I wondered why didn't I just use my oven. Returned it. I don't love things that hog precious kitchen counter real estate, especially things that don't significantly improve life. The poorly designed basket release and control panel, in addition to the lack of um, cooking, killed it for us.
pqhomes
fast and easy
easy to use and fast-- only cooked a few things so far - but with a new cook book -I will be using this very often . Healthy frying is what its all about!
Alyssa
Works amazing!
This product is really easy to use and the digital screen makes everything easy. I just got this the other day for Black Friday and wanted to try it out. Put some tater tots in, they came out delicious!! It cooks faster than the oven and they still felt "fried" without using any oil. A drizzle of oil is only needed for homemade items. This was a great deal and I'll be using this fryer for a lot of things. Holds a lot of food (I put in half a bag of tots, probably could have fit the whole thing) and is easy to clean. Would definitely recommend!