Farberware 3.2-Quart Oil-Less Multi-Functional Fryer, Black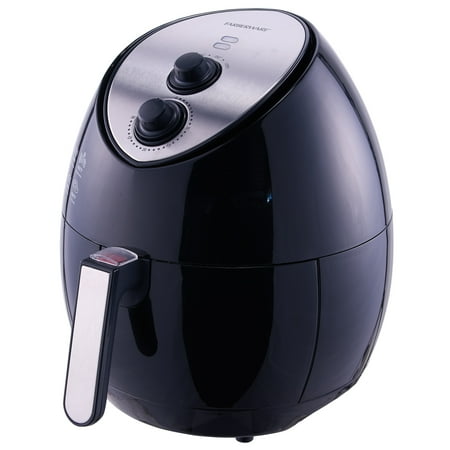 MSRP :

$99





Sale :

$59.88

Sold & shipped by Walmart
Product Description

Additional Information

Reviews
Product Description
Using little-to-no oil, this unit circulates hot air evenly around the food, which provides uniform cooking and gives your food a fried taste without the guilt of cooking with excess oil.
Additional Information
Farberware 3.2-Quart Oil-Less Multi-Functional Fryer, Black:
Cook faster, healthier meals
Uses rapid hot air technology to cook food using little to no oil
Easy to use controls
3.2 quart basket fits up to 2 lbs of food
Food basket is non-stick and dishwasher-safe
Bonus recipe book with 25 recipes
Low odor, no mess
Reviews
Sindy
Love my new purchase!
This was delivered yesterday... already love It. Wanted something that was quick and this is it. So far made potato skins and pizza rolls (from frozen) spayed a bit of Pam.. and cut some foil to cover just the bottom. Came out perfect and crispy. The skins cheeses was bubbly and the skin crisp and inside steaming (10 minutes. Pizza rolls 9 minutes flipping half way , crispy and brown. Can't wait to try with chicken wings and fries tomorrow.
NJBelle
A Great Asset to your Appliances
I had seen a demo of these air fryers on a shopping show. I bought that one but I could not get the basket to release from the holder. So I researched it online and found this Farberware at Walmart. It is very easy to realease the basket from the basket holder to clean. It cooks the food so quickly and with little or no oil. I just love it. No bending down taking food out of the oven. It fits on my kitchen counter and I have made baked potatoes, cut up fresh french fries. Fried chicken thighs (soaked in buttermilk then shake in four which came out crispy and moist. I have reheated food I took home from a restaurant and it came out as good as when I first ate it. Plus it has a 2 year warranty whereby all the others gave only 60 days. This was a big plus in my decision to purchase this air fryer. This is great for people that are still working and need to cook quickly when they get home from work. I wish they had these years ago when i was working. Oh and the clean up is quick and easy too. Just release the basket from the bottom holder and wash both out with soap and water and dry. No mess and delicious food!
KG123456789
Love it!
I have had my Air Fryer for over a year now and we love it! My son is a very picker eater and my stomach is sensitive to oil. This cookware fixed both problems! I see reviews where they dont like it cause its not crispy enough or the top cooks well but the food on bottom does not. You must take the basket out and shake the food at least once during cooking time, believe me it makes a big difference! I have recommended this products to my friends and family! So far three have bought them from me bragging on mine. Very happy to have this product in my kitchen! As you can tell from my photo it is very loved!
Dingbatdinah
DO IT!!!! I love this thing!
I have precious little counter space in my little kitchen, but this has a permanent home! I absolutely adore this thing. Best thing I've gotten since I got the Ninja 3 in 1 cooker. Those are the two appliances that have a home on my counter. Chicken wings in the fryer are awesome. You can also make some awesome brats or dogs in it and get a nice crispy crunch to the skins. I've done a few roasted veggies that are awesome. The quiche I made got a little over done but was terrific. I had bought the NuWave from QVC and absolutely hated that thing. I sold it before my convenient 5 pay option was over. It was so cumbersome and awkward to use in my small kitchen. The clean up on this one is so easy. you basically just rinse it out and dry it off. Attaching a picture of some wings I did today with some homemade blue cheese.
Polly
Perfect! Such a steal deal.
I saw a commerical about an air fryer. I wanted to buy it so bad but it was over $150. Im in my early 20s and thats not my budget. I checked reviews on WalMart and seen this fryer. The reviews are true!! And the price is a steal. The appliance itself is beautiful. Fits perfectly on your counter top and matches any kitchen scheme. Its self explantory and easy to use! I tested almost everything within moments I got it. Fries, nuggets & raw seasoned chicken! My famous broiled chicken no longer needs to go in the oven! This quart fit all 5 pieces of chicken breast in there!! I flipped a few times for even cooking but its like a mini oven. Eating healthy is hard and this makes me so happy. I dont have to sacrifice my fav foods. A lot of chicken! Seasoned w/ pepper & cajun. No oil added or anything special.