Farberware 3.2 Quart Manual Air Fryer, Black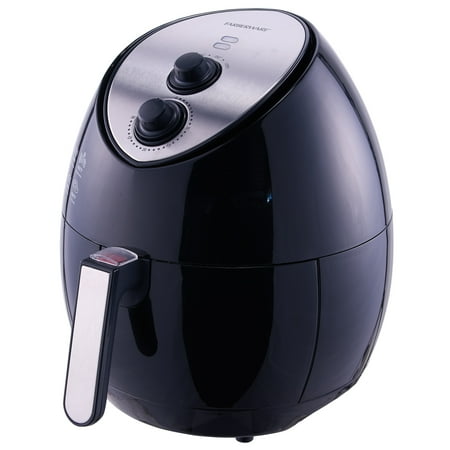 MSRP :

$99





Sale :

$79.88

Sold & shipped by Walmart
Product Description

Additional Information

Reviews
Product Description
Using little-to-no oil, this unit circulates hot air evenly around the food, which provides uniform cooking and gives your food a fried taste without the guilt of cooking with excess oil.
Additional Information
3.2 quart digital oil-less fryer for cooking your food faster with the rapid air technology
High speed circulation disperses air evenly for deliciously crispy fried foods
Dishwasher safe non-stick components help to facilitate quick and easy clean up
Large capacity holds up to 2 lb. of food and allows you to quickly and easily prepare tasty treats for the entire family
Equipped with user friendly controls to set a timer up to 30 minutes and the temperature control up to 400°F
Ready to go design requires no assembly
Healthier alternative to traditional frying
Reviews
NJBelle
A Great Asset to your Appliances
I had seen a demo of these air fryers on a shopping show. I bought that one but I could not get the basket to release from the holder. So I researched it online and found this Farberware at Walmart. It is very easy to realease the basket from the basket holder to clean. It cooks the food so quickly and with little or no oil. I just love it. No bending down taking food out of the oven. It fits on my kitchen counter and I have made baked potatoes, cut up fresh french fries. Fried chicken thighs (soaked in buttermilk then shake in four which came out crispy and moist. I have reheated food I took home from a restaurant and it came out as good as when I first ate it. Plus it has a 2 year warranty whereby all the others gave only 60 days. This was a big plus in my decision to purchase this air fryer. This is great for people that are still working and need to cook quickly when they get home from work. I wish they had these years ago when i was working. Oh and the clean up is quick and easy too. Just release the basket from the bottom holder and wash both out with soap and water and dry. No mess and delicious food!
Dingbatdinah
DO IT!!!! I love this thing!
I have precious little counter space in my little kitchen, but this has a permanent home! I absolutely adore this thing. Best thing I've gotten since I got the Ninja 3 in 1 cooker. Those are the two appliances that have a home on my counter. Chicken wings in the fryer are awesome. You can also make some awesome brats or dogs in it and get a nice crispy crunch to the skins. I've done a few roasted veggies that are awesome. The quiche I made got a little over done but was terrific. I had bought the NuWave from QVC and absolutely hated that thing. I sold it before my convenient 5 pay option was over. It was so cumbersome and awkward to use in my small kitchen. The clean up on this one is so easy. you basically just rinse it out and dry it off. Attaching a picture of some wings I did today with some homemade blue cheese.
Polly
Perfect! Such a steal deal.
I saw a commerical about an air fryer. I wanted to buy it so bad but it was over $150. Im in my early 20s and thats not my budget. I checked reviews on WalMart and seen this fryer. The reviews are true!! And the price is a steal. The appliance itself is beautiful. Fits perfectly on your counter top and matches any kitchen scheme. Its self explantory and easy to use! I tested almost everything within moments I got it. Fries, nuggets & raw seasoned chicken! My famous broiled chicken no longer needs to go in the oven! This quart fit all 5 pieces of chicken breast in there!! I flipped a few times for even cooking but its like a mini oven. Eating healthy is hard and this makes me so happy. I dont have to sacrifice my fav foods. A lot of chicken! Seasoned w/ pepper & cajun. No oil added or anything special.
Fit2fight
Small but does the job
I have read so many reviews on the air fryer and thought I would give it a try. Since bringing it home, I have made fries (awesome turnout) and chicken (jerk...see pic). I also tried chicken with just seasoning (no breading) and they came out perfect. But I have one con to this contraption.....its too small. In order to make a meal for my family, I had to first cook the chicken, THEN cook the fries. I wish it had the divider like the Power Air Fryer XL. I love this thing and it's so easy for my kids. They can just throw in the food, set it and forget it. This is not great if trying to cook more than one food item, but its great for a single person or if making a quick batch of fries. I gave it 4 stars for the size, but everything else is great. I use it every day. It was a great purchase.
spendtilltheend
Got it at my local WM
This is so handy! Easy way to eat healthy without heating up a giant oven. I cut up a head of cauliflower and used a T of butter/or margarine with garlic powder/ onion powder and smoked paprika stir caul around in that, then sprinkle with italian bread crumbs and air fry. Put it in the preheated air fryer for 10-12 minutes, at 350, it was excellent. I cooked some saucy things in there, and the sauce drips to the bottom, but does not smoke and burn. VERY easy clean up. Made some homemade bean burgers, came out great in there. Also done a tone of fries, they come out great and I piled it full. Not heating up the whole oven for these items will be great in the summer when the air conditioning is on.