Farberware 3.2 Quart Air Fryer, Black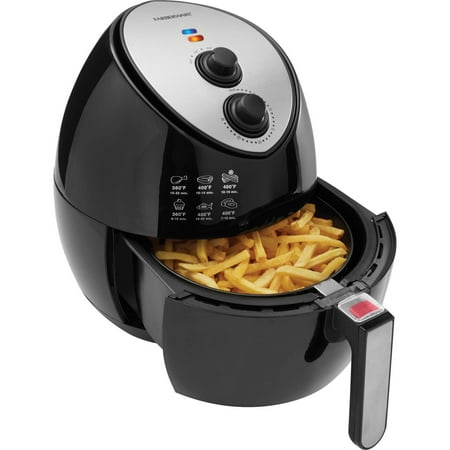 MSRP :

$99





Sale :

$79.88

Sold & shipped by Walmart
Product Description

Additional Information

Reviews
Product Description
Using little-to-no oil, this unit circulates hot air evenly around the food, which provides uniform cooking and gives your food a fried taste without the guilt of cooking with excess oil.
Additional Information

Farberware Oil-Less Fryer:
Multi-functional and versatile, for frying, baking, grilling and roasting with little-to-no oil added
Great for traditional French fries and Onion rings
Powerful air frying technology with rapid hot air circulation system gives your food a crispy fried finish
Cooks steaks, roasted potatoes, vegetables and much more
No oil smell, no splatter, no mess
Fast cooking performance and very short preheating time enables you to prepare a meal for the whole family in record time
Temperature control
Farberware fryer includes recipe book with over 25 recipes
Timer up to 30min, with auto shut-off feature
3.2 qt food basket with FDA approved non-stick coating
Easy to clean, dishwasher safe parts (food basket, basket holder)
Non-slip feet
Cool-touch housing and handle
Protective plastic cover on food basket release button prevents accidental drop of the food basket holder
Recommended cooking capacity up to 900g/2 lb
Reviews
NJBelle
A Great Asset to your Appliances
I had seen a demo of these air fryers on a shopping show. I bought that one but I could not get the basket to release from the holder. So I researched it online and found this Farberware at Walmart. It is very easy to realease the basket from the basket holder to clean. It cooks the food so quickly and with little or no oil. I just love it. No bending down taking food out of the oven. It fits on my kitchen counter and I have made baked potatoes, cut up fresh french fries. Fried chicken thighs (soaked in buttermilk then shake in four which came out crispy and moist. I have reheated food I took home from a restaurant and it came out as good as when I first ate it. Plus it has a 2 year warranty whereby all the others gave only 60 days. This was a big plus in my decision to purchase this air fryer. This is great for people that are still working and need to cook quickly when they get home from work. I wish they had these years ago when i was working. Oh and the clean up is quick and easy too. Just release the basket from the bottom holder and wash both out with soap and water and dry. No mess and delicious food!
theGcook
Finally, A Reasonbly Price Air Fryer!
I have like air fryers sence my friend bought one of the more expensive models. The Farberware Air Fryer looks attractive in our kitchen and does everything the more expensive models do. Tonight I fixed my wife a nice fried dinner without aiding a drop of oil. The whole meal was ready in less than 30 minutes and she loved it. In addition it comes with a two year warrenty like the more exspensive models.
vjody1
Finally, an appliance that does what it advertises
This is the first time I've purchased a cooking appliance that did exactly what was promoted. I made catfish with a cornmeal crust and no on would ever know it was not deep fried. It came out perfectly crisp and golden brown in record time. Best of all, the cleanup is so easy. Nothing stuck to the basket and I didn't have grease spatters all over the stove and oil to get rid of. Very happy with this purchase.
DABUCK
WE WERE PLEASANTLY SURPRISED
We have been looking at air fryers for a while now, and we just weren't sure how much of the hype to believe. We decided to try this unit out when we saw it at our local Walmart. The first thing we did was frozen french fires, threw them right into the basket without even defrosting. WOW - they came out great (with NO oil added). Then we did some frozen calamari rings we bought just for the occasion, they came out fantastic. Neither took very long to cook. We added no oil what-so-ever. We are VERY happy with this item. I just hope it lasts.
Dingbatdinah
DO IT!!!! I love this thing!
I have precious little counter space in my little kitchen, but this has a permanent home! I absolutely adore this thing. Best thing I've gotten since I got the Ninja 3 in 1 cooker. Those are the two appliances that have a home on my counter. Chicken wings in the fryer are awesome. You can also make some awesome brats or dogs in it and get a nice crispy crunch to the skins. I've done a few roasted veggies that are awesome. The quiche I made got a little over done but was terrific. I had bought the NuWave from QVC and absolutely hated that thing. I sold it before my convenient 5 pay option was over. It was so cumbersome and awkward to use in my small kitchen. The clean up on this one is so easy. you basically just rinse it out and dry it off. Attaching a picture of some wings I did today with some homemade blue cheese.