ChoiceMMed Pulse Oximeter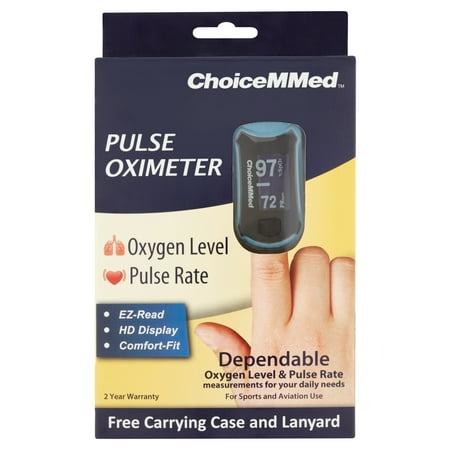 Sale :

$34.99

Sold & shipped by Walmart
Product Description

Additional Information

Reviews
Product Description
Additional Information

ChoiceMMed Pulse Oximeter:
Oxygen level
Pulse rate
EZ-read
HD display
Comfort-fit
Dependable oxygen level and pulse rate measurements for your daily needs
For sports and aviation use
2 year warranty
Free carrying case and lanyard
Portable
Lightweight
Convenient
View from 2 sides
2 levels of brightness
Soft silicone padding
Strong slip resistant clip
Non-invasive
No pricking
One button operation
Automatic power off
www.choicemmedamerica.com
© ChoiceMMed America Co.
ChoiceMMed pulse rate monitor includes 2 AAA batteries
Reviews
Conikia
Great pulse ox for home use!
I gave this as a gift to someone who'd had a heart attack this past year. She loves it and carries it in her purse; she reports she has used it many times and has even checked the O2 sats and pulse for others. I saw the pulse ox for the first time yesterday and it has a very nice cushioned finger grip which makes the device very comfortable to use. There's also a button to press to flip the parameter identifier: SpO2 or PR so it appears upright and easily readable whether on the right or left hand. The oximeter shuts off automatically when not in use. It comes with a nice velcro flapped case that has a loop to slide on a belt, as well as a plastic loop and lanyard to wear around the neck. I'm very pleased with the quality of this item, especially since it was given as a gift.
Lonnies
YOU CAN TRUST THIS METER.
This is a very accurate and stable meter. By stable , I mean that the reading display doesn't fluctuate like the previous meter I had. My old one (which cost twice the price) would jump from ; example: say 72 to 91 then 80 to 70, all kinds of different display readings within seconds. I'm very pleased with this. I have been on oxygen for a year now and it's worth testing yourself to see how much your o2 level drops just from doing something simple like sitting ( 02 reading in the 90's ) to getting up and walking outside bending over once and walking back inside, sitting down and testing again ( 02 reading in the 70's ). Yes mine dropped from 93 to 77, just from that short 45 second walk. Sucks. I put my oxygen back on.
Geche
Impressed
I was concerned about the accuracy of this little device. I checked it against a Nellcor (the ones they use in the hospitals) and found the readings to be spot on!
ClearwaterKid
Great Product
I needed to purchase a meter to check my pulse rate and %SPO2. I saw this product online and went to my local store and they had one in stock. Can't beat the ease of use, quickness and accuracy. I had my accuracy confirmed at my doctors office yesterday. Spot on. I have heart and breathing issues. I'm recovering from the flu that put me in the hospital with severe complications. This little machine allow me to keep track of my pulse and @SPO2 easily. It also give us peace of mind. I highly recommend and love this product.
ChuckleMD
Great Product
This Pulse Oximeter is easy to use and accurate. This is for my personal use due to COPD. Although I picked it out considering the lower cost than most I realized it looked and functioned the same as the ones used on me by doctors.