Rockwell RK3441K 4 -1/2 in. 5.0 Amp Compact Circular Saw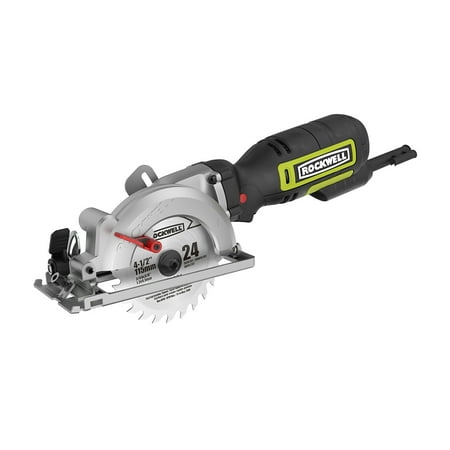 MSRP :

$81.84





Sale :

$79.74

Sold & shipped by Walmart
Product Description

Additional Information

Reviews
Product Description
The RK3441K Compact Circular Saw can essentially replace a DIYer's or professional's need for a full-size 7.25-inch circular saw. This saw was born to cut wood, especially two-inch nominal lumber materials. This saw weighs only five pounds, so it is easy to transport and maneuver (especially overhead). The slim, inline grip design provides great comfort, balance, and control. The 4.5-inch blade cuts 2X4s in a single pass and is about 50% lighter than conventional 7.25-inch circular saws. Plus, the lightweight saw's left-sided blade design provides remarkable cut-line visibility. The saw's 4.5-inch blade has a kerf that is less than half the thickness of larger 7.25-inch circular saw blades. Since this smaller, thinner blade takes much less effort and motor strain to cut through the material, the five Amp, 3500 rpm saw can match the performance of full-size circular saws.
Additional Information
The new Rockwell Compact Circular Saw RK3441K can essentially replace a DIY'er's or professional's need for a full-size 7-1/4 in. circular saw. This compact saw uses a 4-1/2 in. blade and cuts 2X4 in a single pass. It is about 50% lighter than conventional 7-1/4 in. circular saws at 5 lb., so it is easy to maneuver around the jobsite. The slim, inline grip design provides great comfort, balance and control and the saw blade location provides remarkable cut-line visibility. Features Powerful 5 Amp, 3,500 RPM saw can match the performance of full-size circular saws 4-1/2 in. Thin-kerf blade design uses less effort than a conventional full-size circular saw Arbor-lock button for easy blade changes Bevel adjustment for 0 - 45 degree bevel cutting capabilities Slim, ergonomic design, for one-handed operation Easy set depth-gauge lever for quick setup and cutting adjustments 1-1/4 in. Dust port for dust vacuum hookup and a clean work environment Includes 4 -1/2 in. 5.0 Amp Compact Circular Saw - RK3441K 4-1/2 in. 24 Tooth Carbide-Tipped Thin-Kerf Blade - RW9281 (1) Parallel Guide (1) Vacuum Adapter (1) Hex Key Specifications Width: 4.21 in. Height: 5.12 in. Depth: 15.31 in. Weight: 5 lbs. Amperage: 5A Arbor Size: Batteries Included: Battery Amp Hours: Battery Type: Bevel Capacity: 0 - 45 Degrees Blade Diameter: 4-1/2 in. Blade Position: Left Cord Length: Depth of Cut at 45 Degrees: 1-11/16 in. Depth of Cut at 50 Degrees: Depth of Cut at 51.5 Degrees: Depth of Cut at 90 Degrees: 1-1/8 in. Horsepower: Housing Material: Max. Units Watts Output: Maximum Cutting Depth: Onboard Light: RPM: 3,500 Voltage: 120V
Reviews
Wren
Oh, I love this!
I'm a small older woman and I used this for the first time this weekend. It wasn't grabby when sawing. I controlled it-it didn't control me! At the end of a cut I could run it with one hand while supporting the cut off side. It's a little heavier than a hand mixer, but just as easy to steer and control. My cuts are much straighter and professional looking than I get with a jigsaw. Yes. a jigsaw has its place, but I had to use it for all my cutting before I got this nifty new saw. When I tell people about my new baby circle saw, everybody wants one.
Lani
Useful saw
I bought this skill saw because I thought that I'd be able to handle it by myself, and I can. I cut several 2X4 to make a raised garden without any assistance. I am a 55 year old do it yourself woman. I clamped the lumber down securely to my picnic table so that I could use both hands on the saw. I had watched some YouTube how to/safety videos and it was just as they showed. The saw makes cutting a 2X4 easy. I practiced following the line with the blade by cutting some smaller 1 X1 first. I look forward to the next project.
GLE
Get a true circular or table saw
Lightweight easy to use. No torque. Tried cutting some treated wood 2x4's and blade kept getting bound despite best efforts to keep everything square. Returned it.
Robin57
Great compact saw
Bought this for my husband. He really loves it but, he broke the Outer and Inner Lange Lock Bolt????? And you can't find any place to get a new one. So, what good is the saw if you can't find the replacement part for it.
Double_D
Great Little Saw
I am an avid woodworker and spend all my free time in my workshop. My wife bought this saw for me last Christmas and after using it I feel I need to leave this review. The saw has a lot of power for a little saw but is hard to keep on line. The dust port works very well but when attached to a vacuum, the hose drags across the project and can block your view. My biggest complain with this saw is the safety button you have to push before the saw will start. I have very large hands but I still can not start this saw with one hand (unless you are left handed). This button need to be repositioned so that a normal person can push the safety button with their thumb while starting the saw. I would buy this again if the button problem is corrected. I am trying to figure out a way to bypass the button or convert it to a switch.