VIZIO 50" Class 4K Ultra HD (2160P) HDR Smart LED TV (D50x-G9)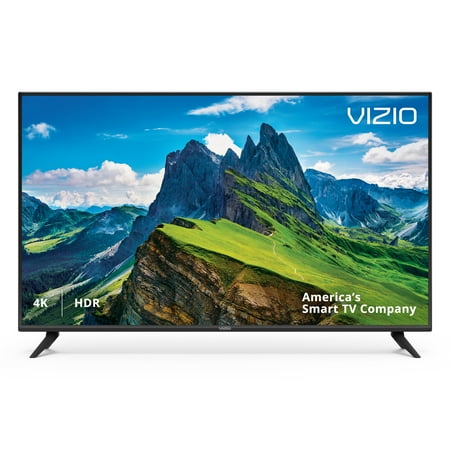 MSRP :

$318





Sale :

$298

Sold & shipped by Walmart
Product Description

Additional Information

Reviews
Product Description
Value and quality come together beautifully in the VIZIO 50" Class 4K Ultra HD (2160P) HDR Smart LED TV (D50x-G9). With a budget-friendly combination of 4K resolution, high dynamic range, Smart TV apps, and voice control compatibility with select devices, the D-Series gives you the best features at the smartest value. With VIZIO's award-winning full array LED backlighting, you'll see the difference in the clarity and detail of the picture of the all-new D-Series. Ultra HD (3840x2160) resolution offers four times the detail of a 1080p TV, HD video is automatically upscaled for the best possible picture, and the D-Series TV is equipped to support high dynamic range for dazzling colors and contrast. Watch razor-sharp 4K Ultra HD content from 4K formatted Blu-ray movies, 4K-enabled game consoles, and even shows streamed from apps like Netflix. You won't need a separate streaming device, as the D-Series can easily stream your favorite shows from apps directly on the TV. And VIZIO WatchFree™ lets you stream over 100 channels absolutely FREE – live news, movies, sports, comedy, music and more. Every VIZIO Smart TV also has Chromecast built-in so you can stream entertainment from thousands of Chromecast-enabled video and music apps right to the TV. And the D-Series is ready for the future of TV – watch high dynamic range content available through apps such as Netflix and Hulu, and turn on your TV or change channels with just your voice using Amazon Alexa or the Google Assistant supported devices like Google Home. The VIZIO 50" Class 4K Ultra HD (2160P) HDR Smart LED TV (D50x-G9) delivers what you love best about TV at an exceptional value.
Additional Information
VIZIO 50" Class 4K Ultra HD (2160P) HDR Smart LED TV (D50x-G9)
Full-Array LED backlight Evenly distributes LEDs across the screen's backlight for superior light uniformity and picture performance.

Spatial Scaling Engine™ Beautifully transforms HD and Full HD content to spectacular 4K Ultra HD resolution.
Chromecast built-in Download Chromecast-enabled apps to your smartphone, then simply tap the Cast button to stream on the TV. Discover a range of free, subscription or paid content from thousands of apps.
Use Voice To Control The TV This VIZIO D-Series is the perfect smart-home companion, offering voice-control support for Amazon Alexa and Google Assistant.
VIZIO WatchFree™ Over 100 live and internet streaming channels absolutely FREE – live news, movies, movies, sports, comedy, music and more. No fees, subscriptions or logins.
Quick Start Mode Enable Quick Start Mode to turn on your TV on automatically with a tap of the Cast button. By enabling Quick Start Mode, the energy consumption required to operate this TV will change.
Download VIZIO SmartCast Mobile™ Use your smartphone to control and stream to the TV from any room in your home.
8-core Performance Quad-core GPU and Quad-core CPU for blazing fast performance and faster, smoother onscreen graphics.
802.11ac Dual-Band Wi-Fi Take advantage of today's fastest wireless speeds for a higher quality streaming experience, perfect for 4K and HDR video.
3 UHD-Ready HDMI Ports Supporting the latest HDMI standards, this D-Series allows you to connect to UHD-enabled Blu-Ray players and game consoles.
USB Multimedia Play photos, music, and video right on the big screen using the built-in USB ports.
DTS Studio Sound II Advanced virtual surround sound audio from the TV's two built-in speakers.
Reviews
Bria
Disappointing Christmas Present
I bought this tv as a gift for my father. The day after Christmas we went to set it up and there was a crack in the tv making lines go up and down the tv. We called customer service and they were great. They were very friendly and were able to put in for a replacement tv. I just received the tv from walmart pick up tonight and once again the tv is messed up. There is a dent and lines going up the tv. Needless to say, I'm very disappointed and I'm getting my money back.
GreatgrannyM
Second Vizio for us
Got this TV for bedroom of our winter apt. Have one in our family room ip north. VERY satisfied with both
Crystal
Dont have it shipped
Tv was delivered 20 minutes ago. The front of the box is damaged. The tv screen is worse. So mad.
VizioSucks
Don't buy! 3 dead on arrivala
Had 3 of these TVs now. All came with the led screen broke. Wasting my time as I drove to 2 Walmart's a hour away each for the 2nd 2 were broke and the first one was shipped to the house broke.
mbratch
Great value in a 50-inch UHD TV upgrade
My experience with this TV is very positive. Aspects that I like are: (a) Image quality is very good. There are lots of color/image adjustments you can make in the picture menu which I recommend playing with to optimize to your liking. (HINT: don't over-saturate the colors). (b) The image quality appears to me unchanged viewed from any viewing angle in the 12x16 room we have the TV in. (c) The built in SmartCast (and ChromeCast) are great. The existing apps cover a lot of bases: Netflix, Hulu, CBS news, CBS All Access, NBC News, YouTube, YouTube TV, Prime, Plex, Vudu, iHeart Radio, Redbox, Crackle, etc. There's also something called "WatchFree" which is a whole set of channels on its own. We have a Roku we used on our old TV which now I no longer need. SmartCast covers everything we normally watch on Roku. And if you want to project something from laptop or smart phone, you can instantly watch any video that supports ChromeCast. Just hit the button on the device and, boom, it goes to it instantly on the TV. (d) Plenty of built-in I/O: 3 HDMI, 1 composite video input (yes, we have one cranky old VCR we can still use), coax (we use an antenna), optical audio out, analog audio out (L/R), wired Ethernet, and WiFi. (e) You can give all of the different inputs readable names, so you don't have to remember "HDMI 2" is the blu-ray player, etc. (f) I have a Vizio speaker bar and the TV remote knows how to control it for volume. I only have a few small gripes, but I am willing to live with these for the price: (a) Antenna users like to have a signal strength indicator somewhere that's easy to access. This TV doesn't seem to have any input signal strength meters anywhere. (b) The remote isn't always instantly responsive when pressing INFO or selecting channels (+/-). (c) Some of the information on screen when pressing INFO is hard to read, even for a 50-inch TV (see one of the photos) because the font is small. (d) There is not a"favorite channel" list you can setup. So if you want to change channels, you have to either poke the channel number in directly, or channel +/- to get where you want to go. There is, though, the fairly standard "prev channel" button. In summary, in spite of a few minor shortcomings, I am thrilled with this TV and am very happy with my purchase.