Stalwart 60-Piece 3.6-Volt Cordless Rotary Tool Set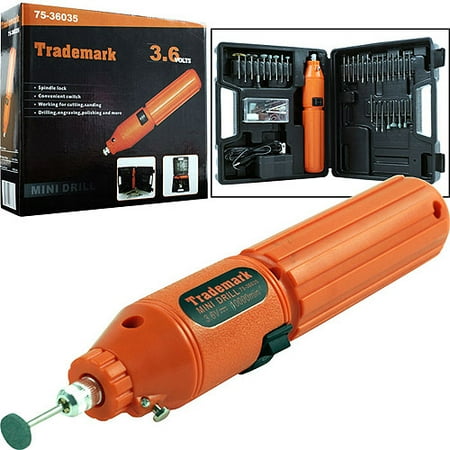 MSRP :

$19.99





Sale :

$16.29

Sold & shipped by Walmart
Product Description

Additional Information

Reviews
Product Description
The Stalwart 60-Piece 3.6-Volt Rotary Tool Set offers a compact size giving comfortable use and control even in tight spaces. Quick-change collets firmly secure accessories, making it a breeze to switch them out. It cuts, grinds, sands, drills, sharpens, and polishes with 60 different accessories. The cordless tool set has a vibrant orange color that is easy to spot when you are looking for it. With a convenient carrying case, this kit is simple to transport anywhere you want to go. The compact tool set offers a no-load speed of 10,000 rotations per minute. With this tool you get cordless operation that you can count on for a long time to come. The rotary set has an AC charging adapter for your convenience. This unit can easily be stored anywhere in your workshop, ensuring that you keep your area neat and tidy.
Additional Information
The provided case has a useful carrying handle as well, giving you an ideal method for transporting. Let this Stalwart 60-Piece 3.6-Volt Rotary Tool Set bring you what you need to finish your project with style.
Stalwart 60-Piece 3.6-Volt Cordless Rotary Tool Set:
No Load Speed: 10,000 rpm
60-piece accessory kit with sanding, polishing, engraving, drill bits
Spindle lock button
Cordless tool set has an AC charging adapter
Cordless operation after charging
Carrying case dimensions: 2-1/4"L x 8-3/4"W x 8"H
Rotary tool dimensions: 8"L x 1-9/14"W x 1-1/2"H
Includes retail packaging
Reviews
Stonacek
Item is under powered, cheap & not a value at all.
I will be returning this item, as it is defective or simply not as advertised. I charged this item for at least 8hrs. I then tried to file down my dog's toe nails & this item was not powerful enough to even begin to file his nails. By the time I was able to complete even 1 toe nail, the battery was dying & the billet stopped moving, due to lack of any power. I then tried to charge it again, this time overnight, thinking that it was simply not fully charged. Next day, tried again to perform this simple task, this time I was able to quickly finish the previous days nail filing. I managed to finish the 1 toe nail, and by the time I was starting toe nail #2 the battery once again was starting to lose power & strength. This thing ran for probably less than 2 minutes each time & ran out of juice very quickly, with little to no stress trying to file a puppies toe nails. I do not recommend this for any use. I would rate it all zero's if possible.
Budnick
Does not work properly.
The tool itself appears to be well made, is nicely packaged with a lot of accessories, comes in a nice case and is very attractively priced. However, the collets that come with the tool do not work with any of the accessories. All accessories have the same stem size but none of them fit the collets correctly. One (1) collet has an opening way too small to fit any accessory and the other 2 or 3 collets are too large to hold any of the accessories in place. When using an accessory with the collet that came inserted in the tool, I could not tighten the chuck nut enough to hold the accessory in place. In my case, the accessory spun out while I was using it. Under the circumstances, I regretfully will be returning this item to Walmart for it is totally worthless/useless to me. Unfortunately, I will now have to re-address this issue to find another offer, either through Walmart. com or another source that hopefully will offer a similar item at a similar price that will work properly and do what it is supposed to do.
customer
not made in america
this was the crappiest thing it didn't work . very low quality. it did not do any of what it was supposed to DO NOT BUY
Woodworker1616
Worst tool
Toe tool stopped working the second time i used it. At first i would turn slowly then stopped completely. I charged overnight and still nothing.
Punto
Terrible piece of junk
This unit was plugged in and charged up over night. Next afternoon we tried to use it and it actually powered up for no more than 90 seconds, yes that is correct less than two minutes. During the 90 seconds yes it does rotate but certainly not at 10000RPM Do not waste your time with this useless piece of garbage . It has been returned to Walmart for credit.