Revoace Dual Fuel Combination Charcoal/Gas Grill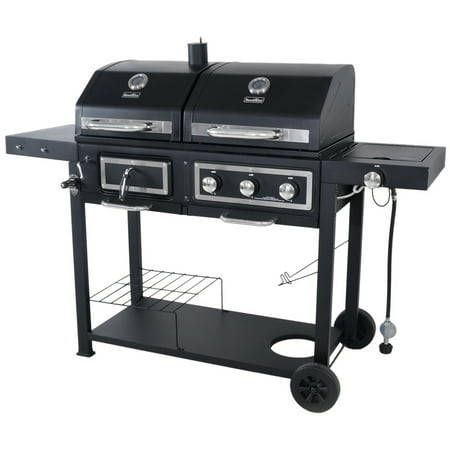 MSRP :

$199.99





Sale :

$194.95

Sold & shipped by Walmart
Product Description

Additional Information

Reviews
Product Description
Enjoy the best of both! Are you a grilling aficionado that appreciates the taste that some say can only be achieved cooking over charcoal, or do you prefer the convenience and flavors of grilling with gas? The discussion about which is better has been going on for many years and likely will continue for many more. From our thinking both sides are right, and we wonder why you should have to choose one over the other. With this large Combination Charcoal/Gas Grill you can have both with lots of space to grill how you want, when you want, to achieve the results you want. This spacious grill has a total of 557 square inches of cooking space that can accommodate 32 burgers (16 per side) at once and an additional 188 square inches of warming space. As an added convenience, the grill includes a gas-powered side burner that can be used to prepare your favorite sauces or a whole host of other dishes.
Additional Information
Dual Fuel Combination Charcoal/Gas Grill:
557 sq in total cooking space (262 charcoal, 295 gas)
188 sq in total warming rack space (89 charcoal, 99 gas)
Cast iron cooking grids
Chrome-plated warming racks
Gas side has 3 stainless steel tube burners offering a total of 24,000 BTUs
Stainless steel 12,000-BTU side burner with cover
Includes integrated ignition for all burners with rubber grip control knobs
Porcelain-coated heat plates reduce flare-ups
Charcoal side has height-adjustable charcoal tray
Front access door to maintain charcoal
Removable ash tray for cleanup
Black baked enamel lids with stainless steel trim
Baked enamel bottom bowls
Painted steel control panel with stainless steel trim
Features 2 spacious side shelves
2 round temperature gauges
Integrated tool holders and bottle opener
2 wheels for mobility
This grill uses a 70" grill cover (sold separately)
LP tank not included
Measures approximately 64"L x 28"W x 49.75"H
Weighs approximately 90 lbs (103 lbs in the box)
Model# GBC1793W
Reviews
Disappointed
Hard to put together, rusted through in 2 years
It literally fell apart 8 days shy of two years. I lined the inside with foil from the time that I bought it to try and prevent corrosion from the grease. Bought an expensive waterproof cover that covered the entire grill. It made no difference, it rusted from the outside in. The burners stopped working well about two months ago, the burner covers disentegrated. When I went to clean it and replace the burners a few days ago, I lightly pressed on the back and it caved in. The lip that holds the grate up in the back rusted through about 9 months ago. I used a smoker box to balance it on the burners. When it worked itwas great. But pathetic that it only lasted 8 years. I also have to say it was one of the most frustrating things I have ever put together. It took several hours because the directions were so terrible, some holes did not line up well, and parts were missing so I had to go to a hardware store to buy parts.
Jimy
Don't waste your time in buying this Grill.
We received the grill yesterday and were so excited to open and assemble the grill but our happiness and enjoyment were all smoked up to ashes. As soon as we opened the box we saw the LP Gas Lid had dents see the pictures attached. Above all the lid had dents on both front and back which would leave gap when the lid is closed. And this was not enough and the creme on the top was when we started assembly and found many holes where not aligned for SCREW type B and we had to leave them as is. More when we were attaching the Gas line to LP gas heat shield it would not get attached as mentioned and then we had to push a little hard to fix. This all took us 3 hours because of improper alignment of holes and parts and still half the grill is still left for assembly.
wtEver
Don't waste your time in buying this Grill.
Haven't used it yet but it looks great! It took my husband
PR183307
I love my grill!
I purchased this grill June 2014 and use it regularly. It is on a covered patio but 2 years in and there is no breakdown, no rust, no wobble (and I have moved) and still works like it did day 1. I did have Wal-Mart put it together for me. Plenty of surface area to cook on and have had no issues with the auto lighting. I highly recommend and at the price it can't be beat.
criddick73
AMAZING!!!!
Extremely well designed, attention to detail, great features, heavy duty parts, and the dual charcoal/gas sides are exactly what I was looking for!!! Very impressed with this grill, you get everything you'd look for in more expensive grills, but at a fraction of the price. Assembly is very well detailed, does take time and patience however!! Customer service is fantastic too... the bottom shelf was slightly damaged during shipping, the manufacturer was very responsive and sent a replacement straight away, no questions asked. Extremely satisfied, this grill will last my family a very long time!