Spa Sensations 7.5" High Bi-Fold Box Spring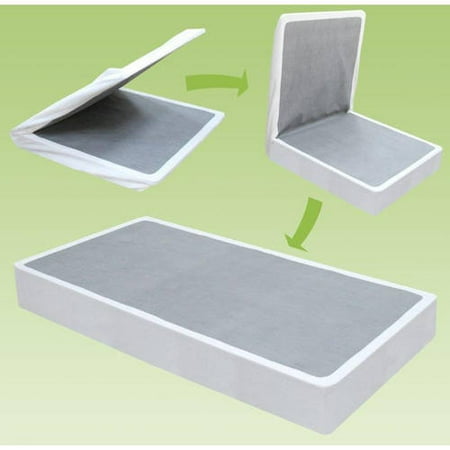 MSRP :

$79





Sale :

$74

Sold & shipped by Walmart
Product Description

Additional Information

Reviews
Product Description
The Spa Sensations 7.5" high bi-fold box spring is an ideal foundation solution for any setup. Simply remove the box spring from the shipping carton, unfold, lay your mattress on top and have a restful night's sleep. This Spa Sensations box spring dons the look of a traditional box spring and is created from heavy-gauge steel for long-lasting durability and extended, frequent use. It is easy to move into tight spaces, making it an excellent option for use in areas where floor space is at a premium. Enjoy even distribution of weight for spring or foam mattresses to fit your setup whether it be a twin, full, queen or king sized. With this mattress box spring you get a well-built, convenient sleeping option that is simple to set up and looks good too.
Additional Information
Spa Sensations 7.5" High Bi-Fold Box Spring:
Folding foundation compresses for easy mobility and storage
Designed to have the look of a traditional box spring
Even distribution of weight for spring or foam mattresses
No assembly required, simply open the box, slide the foundation out and unfold, it will immediately open to the shape of a box spring
Passed all durability testing including the Cornell, Rollator and Impact tests
Steel frame with fabric cover
1-year limited warranty
Dimensions:

Twin: 74"L x 38.5"W x 7.5"H
Full: 74"L x 53.5"W x 7.5"H
Queen: 79"L x 59.5"W x 7.5"H
King: 79"L x 37.5"W x 7.5"H (set of 2)

Beds sold separately. See our assortment of beds.
Bed frames sold separately. See our assortment of bed frames.
Reviews
harpo7879
Extremely easy setup/transport
First off, this box spring arrives in a package that's not overly heavy but is still large/unwieldy enough to require two people to lift it. However, because it's not heavy, as long as you have two people you'll be able to move it really easily. Secondly, you can't help but worry about setting up things like this - whether you'll have the right tools, whether all the little pieces arrived intact, etc. No worries about that with this, because it is the simplest thing in the world to assemble. It arrives flat, folded in half, and doesn't really look like a box spring. My mom panicked and thought they had mistakenly sent us a bed frame, but I figured I'd follow the directions and see what happened. You put it on the floor. You unfold it. It literally springs into shape. You put it onto your bed frame, with the side labeled "TOP" facing upward. That's it. All told, it took us less than 5 minutes to bring it upstairs, "assemble" it, and put it in place. I'm now typing this from the comfort of my newly box-spring'd bed, and I must say it's working out quite nicely so far. :)
elsternum
Incredible product!
I don't usually write reviews for stuff, but this box spring left me speechless (not something you hear every day!), so I felt I had to share. As other reviewers have noted, this is a fantastic product. I moved, and my standard queen-sized box spring wouldn't fit up the stairs. This came to the rescue--it fits anywhere a queen mattress will, super easy setup and packing it back up to move again looks like it'll be easy too. This is half the price of a standard setup split queen box spring and works far better. Simply brilliant engineering, I found myself wondering why every box spring isn't like this. It feels just the same to sleep on as my standard box spring and seems to support the mattress in the same way. I don't think I'm ever going to buy a different kind of box spring for any bed!
79Powerwagon
THIS is a good idea!
Terrific box spring that finally ends all these decades of the same problem- how the heck do you get larger box springs moved? The unit simply folds, take mere minutes, no assembly, no sweat! My only complaint is from Walmart themselves, not with Spa Sensations. MAN did it take a long time to get it! And the freight tracking is SLOW! But I finally got it, and I have it installed on the new bed, now just have to wait for the mattress!
Anne
Saggy Center: So sad!
We bought the queen sized box spring, excited by the good reviews, and looking forward to having a boxspring we could get up our steep staircase. It set up easily, and it was light and easy to move. For the first three weeks, we were very happy with it. Then, the center started to sag. Neither my husband nor I are heavy people, so we can't have exceeded any weight requirement. Over the next few weeks, the sagging got worse. A close inspection revealed that the hinge was failing, and becoming overextended. Maybe we just got a bad example of a good product, but we will be attempting to return this. If it were not for the product failing, I would have happily given it five stars.
Karen
Well-engineered
I was skeptical about such an inexpensive solution to our queen-size mattress problem in a guest room - it's an Ikea mattress that has never been comfortable. We've already tried bed boards under the mattress, and mattress pads, but nothing gave a comfortable feel. What the mattress really needed, I now see, was a box spring. We priced box springs online and they were several hundred dollars, and we weren't even sure it would fit the Ikea frame. The I stumbled upon this device at Walmart. It's a perfect fit (1/4" to spare on all sides) and does what it's supposed to do - makes an average mattress into a far better bed. The biggest issue was picking it up from the store and squeezing it into our SUV. It barely fit widthwise, and we had to leave the rear door open on the short ride home. Consider having it delivered to your home instead of to the store. Once home, it was easy enough for two people to carry upstairs, open, and install. No tools needed - you just unfold it and close a zipper. Highly recommended.