Spa Sensations 5" Memory Foam Twin Youth Mattress, Multiple Colors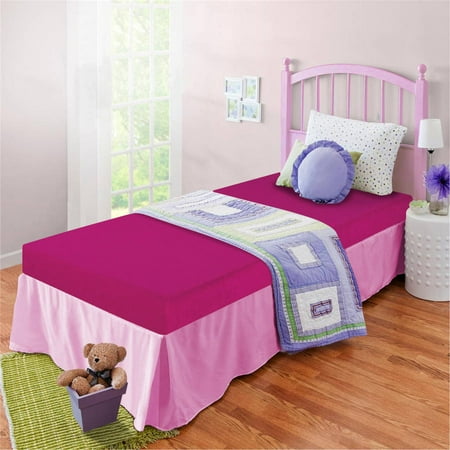 MSRP :

$99.99





Sale :

$68

Sold & shipped by Walmart
Product Description

Additional Information

Reviews
Product Description
Your child can get a good night's sleep with the Spa Sensations 5-inch Memory Foam Youth Mattress. This comfortable mattress is made of memory foam for extra support and sports a fun, vibrantly colored polyester terry cover. Natural green tea is embedded in the foam to help repel bed bugs and mites and protect from odors. The Spa Sensations 5-inch Memory Foam Youth Mattress is available in twin and full sizes.
Additional Information
Spa Sensations 5" Memory Foam Twin Youth Mattress, Multiple Colors:
Moisture barrier treatment protects mattress from spills and wetness
Natural green tea embedded in memory foam
100 percent polyester terry cover
Heat-sensitive memory foam
Base layer made of breathable HD foam
Twin mattress dimensions: 38" x 74.5" x 5"
Reviews
sparklesprite13
mattress cover unzips for easy washing
this is a very soft mattress, very comfy for my daughter. i even took a nap on it when we first got it! since my daughter still sometimes has *accidents*, i was worried about how to wash the memory foam mattress. i don't worry anymore - all you have to do is unzip the mattress cover and wash it! the cover has a lining that prevents any liquids to actually hit the memory foam. thank goodness!
Heatwavemom
Great bang for the buck!
This mattress was a great deal! It was a little more expensive than the other twin youth mattresses, but well worth it. I bought it to use on a top bunk for my 5 year old granddaughter and I wanted something thin, so we would't have any issues with it being to high because my grandbaby is ALL OVER the bed at night and I had to make sure there was plenty of room between the top of the mattress and the top of the rail so I knew she wouldn't fall off the bed during the night. But it also had to be firm, as I wasn't purchasing a "bunky board". This mattress fit the bill perfectly! I am impressed with it's comfort, even with a row of bars beneath it. My 27 year old daughter slept on it and said it was great. I get up on it to make the bed and crawl on my knees and can barely feel the bars, and considering I fall in at about 155 lbs that's pretty darned good! The color is just as bright as the picture which is the only problem because my granddaughter doesn't want to cover it up with the sheet! Fantastic product!!
Tat2Lust
Worth the money
I ordered the mattress for my daughter's 1st big girl bed before I'd read the other reviews and got a little worried that I'd wasted my money. Upon picking it up and putting it to use, my worries were for nothing. If you follow the instructions and stay off it for 48 hours, you will get a 5-inch thick mattress. It is comfortable and my daughter loves it.
athletesMOM
Very comfortable but only 4" high
I bought this for my daughter's new daybed. I took it out of the box & left it untouched for 48 hours per the instructions and it only rose to 4". We were waiting for boxspring to arrive so my daughter didn't use the mattress for a week & it still didn't rise the extra inch. Because of it only being 5", the cover it came with is loose as is the twin fitted sheet. However, it's very comfortable & my daughter likes it better than the regular mattress she had.
JMFSpike
Probably great for a kid.
First off, it may surprise you to know that I'm 29 years old and I bought this twin sized child's mattress for myself. That's because I'm only 5'6 and I actually fit perfectly on a twin. I bought it because memory foam mattresses are suppose to be better for your back and neck then springboard mattresses, and because I hated the mattress I had(it's an extra firm which is really uncomfortable to me). Before you buy it you should know a couple things. First, you're suppose to wait 24 hours before using it, so that the foam has time to expand to it's maximum size. Initially when you take it out of the bag it's only about 3.5". Second, even though it says it's 5" thick, mine only got up to 4.5". It wasn't thick enough to support me as I sank straight to the box-spring underneath, and because of that it was very uncomfortable and hurt my back. I ended up putting my old mattress underneath it. Now, if your buying this for a small child(which it was obviously intended for) that probably wouldn't be an issue since there wouldn't be near as much weight put on it. I would recommend this for a small child. It's the cheapest memory foam mattress I could find, and the blue/pink cover is even suppose to repel dust mites! If your a short adult looking to buy this for yourself or another adult, I'd highly recommend either buying 2 and stacking them or looking elsewhere for a thicker mattress.