Slumber 1 - 8'' Spring Mattress-In-a-Box, Multiple Sizes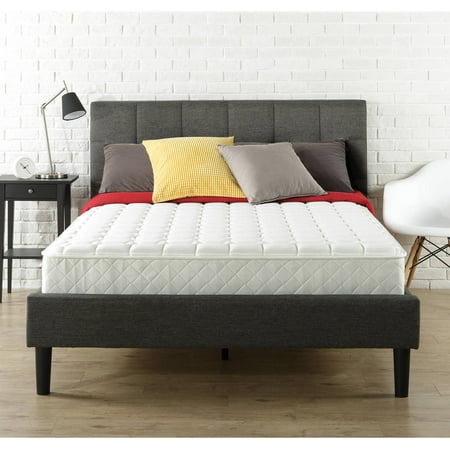 MSRP :

$129.99





Sale :

$89

Sold & shipped by Walmart
Product Description

Additional Information

Reviews
Product Description
Sleep more comfortably at night with a convenient Slumber 1-8'' Mattress in a Box (Multiple Sizes). It is ready to use on platform beds and easy to set up for standard beds. The Slumber 1 Mattress in a Box features a firm and tightly wound top bed mattress with integrated individual spring coils that provide a customized feel that conforms to the shape of your body. The springs are spaced close enough to provide optimal support, yet far enough apart to increase motion separation and provide more undisturbed rest. The tight top mattress also features breakthrough rebound technology, meaning that the mattress is tightly packed when shipped to conserve space and naturally expands in just a few hours. Other bedding accessories, like foundations and bed frames, are available separately. Each Slumber 1-8'' Mattress in a Box (Multiple Sizes) comes complete with a 10-year limited warranty.
Additional Information

Slumber 1-8" Mattress in a Box, Multiples Sizes:
Tight top bed mattress with individual spring coils
Revolutionary rebound technology lets the Mattress in a Box expand when unpacked
Increased motion separation: springs provide undistributed rest
Slumber 1 spring mattress is constructed to adjust individually to your weight and body shape
Heavier gauge steel coil for durability and comfort with the Slumber 1 Mattress in a Box
Mattress is tightly packed and vacuum sealed, please allow 72 hours to return to original shape
Twin dimensions: 75" x 39" x 8"
Full dimensions: 75" x 54" x 8"
Queen dimensions: 80" x 60" x 8"
King dimensions: 80" x 76" x 8"
Also available: Smart Base Steel Bed frame in Twin/Full and Queen/King
Beds sold separately; see our assortment of beds
Bed frames sold separately; see our assortment of bed frames
Great for platform beds; requires foundation or box spring with standard bed frames
Foundations sold separately; see our assortment of foundations
Slumber 1 Mattress in a Box includes a 10-year limited warranty
Reviews
myhonestopinion1
Don't read the negative reviews. Great product!!
I read all 916 reviews...when I got to the negative ones, I got nervous but then decided that I'd give it a try...even after I ordered, I was still nervous. First off, the King-sized mattress arrived quickly. There was an estimated date of 11/12. I ordered the mattress-in-a-box on 11/2 and it was at my door on 11/7!! My husband and I toted the bed up the stairs (it's not as light as the video makes it seem), but who cares, I had a mattress-in-a-box and was excited about it...we cut the tape and we must have cut through the plastic by accident because it started to expand...which was cool to watch! It took about 10 seconds and the mattress was fully expanded...I layed on it...OH MY GOODNESS!! It was like laying on a cloud...no lie. I couldn't wait to go to bed. When I finally got in the bed, I slept so good. I felt no movement by my husband and even when our three year old hopped in the bed with us, I didn't even know it. Some people complained about lumpiness in the mattress..I have none of that and a few complained about the bed lowering when you sit on the side of it, it does, but when I read those complaints, I thought that I would be almost sitting on the boxspring - NOT TRUE..it goes down, but not enough to even be noticeable. I'm sorry, but I think some people like to complain!!! If you are sitting on the fence about making this purchase, I say, just dive right in and get it. The price is good and the mattress is even better. I'm glad we did!! The only reason I've only given it 4 stars is because I've only had it for one night and will update in about a month...hopefully I can give it the extra star!!
Wiseblue
3 Plus years and Great customer service.
I purchased this mattress in August of 2011 and paid $209 for the queen size plus $70 shipping as free shipping was not available on the item at the time (hence my 4/5 rating on value, seeing as it would be around $100 cheaper now then when I originally purchased the item). The mattress is one of the most comfortable mattresses I have had and I received major compliments on the cloud like feel. I was a bit apprehensive to order a mattress-in-a-box and was definitely hard to explain it to friends and family that the bed literally inflated upon arrival. In or around December of 2013 I too began to experience the sinking in the mattress. After months of uncomfortable rest I was tempted to buy a new mattress. I was going to buy the same exact mattress because I did really like it. A few months later I decided to do some research and contact customer service and I saw it had a 10 year warranty on the item. Walmart's customer service was able to get me the contact for the manufacturer's customer service. I received rapid response from the customer service rep via email after explaining my issue. I had to submit my invoice, pictures of the bed and pictures of the tag on the bed (do not rip or cut off this as it is needed for warranty issues). The same day I submitted my document via email they sent me out a replacement mattress for free. Now I have a brand new mattress!. Now obviously some would be annoyed at the sinking that happened regardless of if they got a replacement but I definitely think for the price and customer service I received this mattress deserves the rating I gave it. I would definitely recommend this product to anyone and have even told my friends and family about the great customer service.
Wiseblue
This is impossible.
Last night, I saw a shriveled, folded mass of plastic-shrouded cotton transform into a hotel-style mattress. First off, watch the video demonstration of how this works. Second, when they tell you that the mattress "gently expands" after you cut the plastic wrap, don't buy it. It's only "gentle expansion" if you're using the phrase in the same sense as the Roman Empire used it. As soon as you poke the first one-micrometer incision, it immediately makes the screeching sound of a dying owl and proceeds to thwart your efforts to open the packaging rapidly enough to accommodate its Hulk-like growth. Third, when this thing is ready to go, you should probably have your PJs and bunny slippers ready to go also. Unlike the bed's "gentle expansion," comfort and softness is something the video WASN'T lying about. After falling tenderly into its plushy embrace, I passed out at about the same rate I would have after approximately four well-made daiquiris. Also, the reduced motion transfer thing? Also true. I finally feel like I'm sharing a BED with someone, not a single piece of plywood on the open ocean. So basically, it's good, you should get one if you're thinking about it, they're cheap... well, you get it.
GrillGirl1002
I love this mattress!
I bought a twin size for my guest room. I already had the frame $59 from Walmart, no box spring needed. I had it shipped to my local Walmart (ship to store) for free shipping. The total for the mattress was $200. It came in a box 40" x 17" x 17" and weighed about 45 lbs. It was easy to move it from the cart to the car trunk, no lifting, just some maneuvering, and I had to bungie cord the trunk shut. I dropped (nothing can break!) the box out of the trunk unto the ground and used a dolly to bring it into the house. The reason I am telling you all of this is because I had questions whether I could pick it up at the store or pay for shipping to my house. Everything was EASY!! Once I got it in the house, I removed the box (do not use a box cutter or you will ruin the mattress) by undoing the box seam down the side. Dragged the rolled up mattress to the bedroom and lifted it onto the bed frame, cut the tape holding the rolled up mattress, unfolded it, and used scissors to cut the plastic and you could hear WHOOOSSH when the air rushed in. Within about 2 mins it was filled out and during the next 24 hours it REALLY filled out. It is so comfortable! I have a Serta independent springs mattress that was around $700 and this one has the same "feel." I would recommend it for anyone who needs a mattress. I use mine as a daybed in my 2nd bedroom/office/guest room. The mattress with tax came to about $200, which is a whole lot less than buying a Serta!
LikeGoodDeals
Exceeded Expectations
Mattress is extremely comfortable. My mom sleeps on it when she visits and said it is as comfortable as her sleep number bed which she paid $3000 for. I have arthiritis, sleep on it nightly, and awaken in no pain. Great product!!