Spa Sensations by Zinus 3'' AirFlow Visco Elastic Topper, Multiple Sizes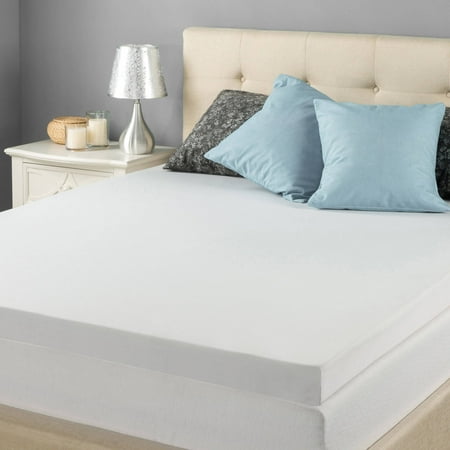 MSRP :

$59





Sale :

$73

Sold & shipped by Walmart
Product Description

Additional Information

Reviews
Product Description
The Spa Sensations 3'' Visco Elastic Topper has one inch of visco memory foam and two inches of Visco Elastic air foam that offer the ultimate support and comfort. One of the thickest memory foam toppers available in the market, this Spa Sensations mattress topper is weight sensitive. The foam molds itself to the shape of your body to give complete support. This revolutionary air ventilation technology helps to provide uninterrupted sleep through the night.
Additional Information
Spa Sensations 3'' Visco Elastic Topper: 1'' memory foam with green tea and charcoal (natural odor protectant)

2'' Visco Elastic air foam with new air ventilation technology

Top and border cover: polyester mesh

3" memory foam mattress topper comes in twin, full, queen and king sizes

Weight-sensitive

Spa Sensations mattress topper molds itself to your body for complete support

Keeps you dry and comfortable

Easy to put on and take off

Reviews
SPIKE1951
Great Alternative for a good night sleep!
I purchased this "SPA SENSATIONS 3'' AIRFLOW VISCO ELASTIC TOPPER for my granddaughter. She was having a problem sleeping and thought she made need a new mattress, but was unsure of what kind of new mattress she wanted to buy. I researched the various toppers and chose the Spa Sensation 3'' because of the VISCO quality. She told me she liked the height of her mattress with the topper and she finally got a good nights sleep. She just started college and was happy that we found a cheaper alternative to buying a new mattress. She also told me she was not sure whether she wanted to buy a memory foam mattress or if she would even like the memory foam. She said this new topper gave her the oppurtunity to experience what a memory foam mattress would feel like. She loves it. So it looks like her next new mattress will be a VISCO memory foam like the materials in this new topper. I would suggest others made find this a good alternative to a new mattress. IT WILL SAVE THEM MONEY!!!!!!!
coppereye
Non-flat surface
I bought this topper in Sept and let it be aired for two weeks before sleeping on it. The topper is soft and feels good to lay on. However the surface of the topper was not flat from the beginning with a couple of wide concave bands. One of the band happened to be close to where I lay on. It feels like laying in a hole and hard to turn aside during sleep. I am very disappointed and have returned it to store.
AriesAlterEgo
Persect so far
It works for what I wanted it for but I almost think that it should be a tiny bit thinner.. I also don't know or I couldn't find any information on what it was made out of and if it prevents you from sweating.. I cant tell yet, as I have the A/C on at night. You do need deep fitted sheets though, my regular ones don't fit. It came in the mail very quick. After shopping around, seemed to be the best price. My cats are a fan of it and use it more than I do.
Florida1222
Best money
I had bought a mattress at xxxx-to-go about 8 months ago for back support...already it went bad!! every morning I woke up with horrible back and hip pains. When I came across this I kept my fingers crossed, nothing to lose. if it didn't work I would return it. First morning after a night of using it my back pain was 50% less... some of the back pain came back in the afternoon but that had to be lag over from cheap $800 mattress I was using. 2nd morning 75% back pain is gone, very little hip pain...Also every morning I have woken up at 5 am ready to go... I will post after a couple months of using it..but so far, it was well worth it. Delivery was fast, came in box , rolled up...you just unfold it and let it blow up. There was absolutely no smell...within a couple of hours it was almost to full height. I am 61 years old and 5/4, and this was not big deal to do.. I would just recommend you add the 3" that you are adding to your mattress to see if your sheets are deep fitted enough.
SanClemente
Bought for dad, then bought for me!
Here it is, several months later, and I am back just to share the bliss. :) I rarely write reviews but it is always my intention to share just as others have shared for my benefit. This 3" topper is INCREDIBLE! We bought one Queen size for the guest bedroom trundle, so dad wouldn't feel the old bar in the center of the bed. This worked PERFECTLY. Not a hint of anything through this topper. Then, because it was a miraculous product, I decided to buy one for our King bed. Our bed is a Sleep Number bed, of which we removed the egg crate style extra pad some years back. The bed is nice. But with the Spa Topper, WOW. So today, experiencing this very perfect, conforming, soft yet supportive, nice smelling! and blissful mattress topper, I vowed to write a review for others! So here you have it! Just wish it came as a California King, to cover the bottom edge of the mattress. But it is so great that I zone out and don't care ;) Maybe a little bit like catnip is to cats....