Lifetime 44" Impact Portable Adj Height Basketball Hoop, 90670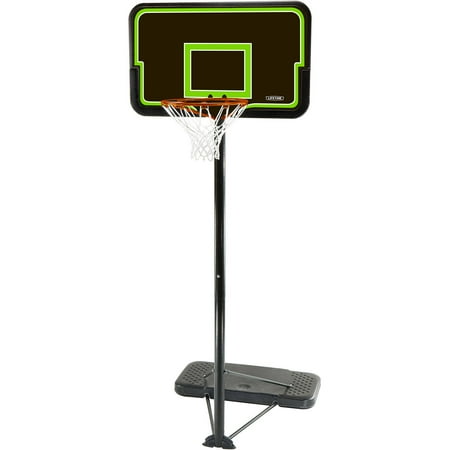 MSRP :

$99





Sale :

$62.99

Sold & shipped by Walmart
Product Description

Additional Information

Reviews
Product Description
Give kids a place to practice or just shoot some hoops for fun with the Lifetime 44" Impact Portable Adjustable-Height Basketball Hoop System, 90670. A durable, high-impact backboard features a bright green, fade-resistant square for a highly visible target when aiming shots at the basket. The 3-piece pole allows for adjusting the height and is made of powder-coated steel to stand up the elements. Fill the base with up to 12 gals of sand or water to keep it weighed down, stable and balanced. This Lifetime basketball system also includes a streamline orange rim with an all-weather nylon net attached.
Additional Information
Lifetime 44" Streamline Impact Basketball System:Lifetime basketball system features a 44" impact backboard, black2.75" round telescoping pole3-piece powder-coated steel round pole, blackStreamline portable base with 12-gal capacityStreamline rim, orangeLifetime portable basketball system protected by a 5-year limited warrantyHigh-density polyethylene backboard with fade-resistant graphicsSuitable to use as a beginner residential systemAll-weather nylon net
Reviews
ShaqApproved
Easy Install! Excellent Value too!!!!!
Was real easy to install since directions were straight forward. Quality build looks like it will last longer than the clear backboard kinds. The green on the backboard is perfect for playing at night when no lights are available. Great value and should last forever!
cosmictadpole
Easier than I thought
Great goal for the price. Under $100 and pretty sturdy. People talk about missing parts, but all of the hardware in the one I bought had easy to identify part numbers and nothing was missing. I used a wrench, socket wrench, and Phillips head screwdriver, but all you have to have is a wrench and screw driver if that's what you have. Don't tighten the bolts attached to the backboard all the way at first. Get all of them in and then torque them or you're going to have a bad time. Not heavy, you just need an extra hand or two for leverage during assembly. I read all the reviews before I bought it and I was determined I was going to tackle this project by myself. I almost had it done and my friend swooped in and we completed it. Much easier to do with some help. Took about 4 hours because I'm hard headed. Even if this thing holds up for a year or two in the weather, I will feel I've gotten my money's worth. Don't let the other reviews scare you off; this is a good way to get in to or get back in to playing some ball.
cosmictadpole
Purchased for my 10 year old and 8 year old
Not sure where people are going wrong with this the directions are straight forward and clear as long as you keep the parts in the tray you shouldn't have an issue. I bought as a birthday present for my ten year old step son, great price for what you get it is easy to adjust once you assemble. My husband and I picked it up at the store having it shipped to store was the quickest. I am a very small woman this isn't something I'd advise picking up alone the box is huge. You need two people to assemble because of the alkward long pieces. It took about two hours to assemble but that's because we didn't have the tools out with us had to keep going in the garage and put toddler was helping with the project but with that said it's easy enough. The final product is impressive for the price easy to move with the water in it out 5 boys have been playing with it none stop it was just what our driveway was missing. If any of them decide to take their basketball game to the next level and join a team we will upgrade but for a casual game of driveway horse this is perfect. I could not be happier. My second oldest boy is 6"4 an he is pretty rough and this is standing up to all he can throw at it.
FlyLikeMike
It's a project
Know this going in: this install will not be easy. The box estimates 3 hours and my friend and I just finished this up. It took us approximately 8 hours over a period of three days. Some of the holes on ours did not line up, two of the needed bolts were actually too short to attach a nut on the end, and we spend about $20 out of pocket on things (like sand bags, bolts, etc) before this thing was finally put together properly and able to stand firm. The rim and backboard are actually good quality for the price, but the included hardware is borderline laughable. If you've ever tried using really cheap bolts that strip off with any sort of pressure, you know what I mean here. I gave this two stars because it looks good now and my daughter can finally play basketball. If I had to do it all over again, I would have thrown down an extra $50 and bought the plexi-glass Spalding setup instead.
Kayt
Bad choice
I bought this for my son for his Birthday. It's been a hassle from the beginning. It's taken two days now to put together and the directions were poorly written. The screws don't line up with the holes even after using a mallet. The back board is very flimsy and cheap not durable at all. I wish I didn't waste my money on this sit. I would not recommend this to anyone.