Lifetime 44" Impact Portable Adj Height Basketball System, 90670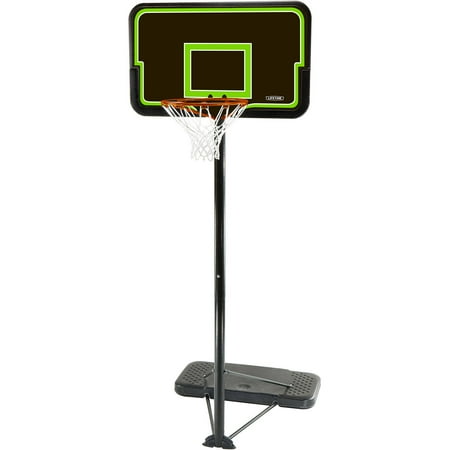 MSRP :

$99





Sale :

$69.99

Sold & shipped by Walmart
Product Description

Additional Information

Reviews
Product Description
"Lifetime Portable Basketball System - Features a 44"" Impact® Backboard (black), 2.75"" round telescoping pole - 3 piece (black), Streamline portable base, and a Streamline Rim (orange). Comes with a 5-Year limited warranty."
Additional Information
Lifetime 44" Streamline Impact Basketball System:
Lifetime basketball system features a 44" impact backboard, black
2.75" round telescoping pole
3-piece powder-coated steel round pole, black
Streamline portable base with 12-gallon capacity
Streamline rim, orange
Comes with a 5-year limited warranty
High-density polyethylene backboard with fade-resistant graphics
Ideal to use as a beginner residential system
Reviews
ShaqApproved
Easy Install! Excellent Value too!!!!!
Was real easy to install since directions were straight forward. Quality build looks like it will last longer than the clear backboard kinds. The green on the backboard is perfect for playing at night when no lights are available. Great value and should last forever!
cosmictadpole
Easier than I thought
Great goal for the price. Under $100 and pretty sturdy. People talk about missing parts, but all of the hardware in the one I bought had easy to identify part numbers and nothing was missing. I used a wrench, socket wrench, and Phillips head screwdriver, but all you have to have is a wrench and screw driver if that's what you have. Don't tighten the bolts attached to the backboard all the way at first. Get all of them in and then torque them or you're going to have a bad time. Not heavy, you just need an extra hand or two for leverage during assembly. I read all the reviews before I bought it and I was determined I was going to tackle this project by myself. I almost had it done and my friend swooped in and we completed it. Much easier to do with some help. Took about 4 hours because I'm hard headed. Even if this thing holds up for a year or two in the weather, I will feel I've gotten my money's worth. Don't let the other reviews scare you off; this is a good way to get in to or get back in to playing some ball.
FlyLikeMike
It's a project
Know this going in: this install will not be easy. The box estimates 3 hours and my friend and I just finished this up. It took us approximately 8 hours over a period of three days. Some of the holes on ours did not line up, two of the needed bolts were actually too short to attach a nut on the end, and we spend about $20 out of pocket on things (like sand bags, bolts, etc) before this thing was finally put together properly and able to stand firm. The rim and backboard are actually good quality for the price, but the included hardware is borderline laughable. If you've ever tried using really cheap bolts that strip off with any sort of pressure, you know what I mean here. I gave this two stars because it looks good now and my daughter can finally play basketball. If I had to do it all over again, I would have thrown down an extra $50 and bought the plexi-glass Spalding setup instead.
MamaBearOf2
Amazing and wayyy worth it
I don't know what the complaints on this basketball hoop is about. For the price our family was quite impressed with it. It took myself and 6 year old ti put it up at it has to be at least 8ft tall on the lowest setting!!! Wayyy more than we were anticipating! All parts came correct and directions were in point. Thank you once again for a great product
Hum
Amazing and wayyy worth it
The pieces don't like up to be put together. Has to be put in the ground