Lifetime 80-Gallon Compost Tumbler, Black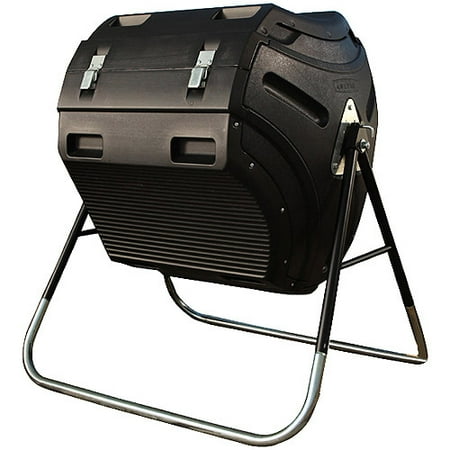 MSRP :

$149.88





Sale :

$141.69

Sold & shipped by Walmart
Product Description

Additional Information

Reviews
Product Description
Featuring a large capacity, the Lifetime 80-Gallon Compost Tumbler is the perfect addition to your backyard. The ingenious tumbler design easily turns on its axis for balanced rotation and the internal aeration bar mixes compost and provides air flow. Constructed of high-density polyethylene (HDPE), the Compost Tumbler is durable, UV-protected and has dark, double-wall panels to absorb and retain heat. For added convenience, it has an extra large removable lid and a spring-loaded pin that locks rotation during filling.
Additional Information
Lifetime 80-Gallon Compost Tumbler, Black:
Black, double-wall panels absorb and retain heat
Extra large, removable lid
Ingenious tumbler design
Turns on axis for easy and balanced rotation
Spring-loaded pin to lock rotation during filling
Internal aeration bar mixes compost and allows air flow
Aesthetically pleasing appearance; no more messy compost heaps
Compost material is enclosed and helps keep pests out
Convenient loading height
Sturdy 1.25" diameter steel tubing frame
Internal aeration system
How to compost guide included
All hardware included
Easy assembly
Dimensions: 40"L x 35.5"W x 43"H
Made in China
Reviews
nchill4x4
Assembled in 1.5 hours... sturdy and looks good
I just assembled my 80 Gallon Compost Tumbler, and it appears to be everything I was hoping for. It's sturdy, it's good-looking, and it's big. In regards to the two most common negative reviews... -- Assembly -- It took me about 1.5 hours to assemble this bad boy by myself, and that's because my power driver ran out of juice half way through. I used the assembly trick of fitting all the pieces together, strapping (bungee cords) them together, and then drilling all of the holes to ensure they line up. Also, be sure to mark what sides match up for ease of assembly, later. It was a bit of a challenge to assemble by myself. If you have little assembly/mechanical experience, it will take you longer, but not much. -- Rusting latches -- Well, I obviously can't comment on this since I just assembled it, but I am taking precautions by applying Rust-Oleum to all of the exterior metal hardware. I will update this review as I use the tumbler some more. Check out my customer images showing how to strap the pieces together.
Justin
Great large rotating tumbler
This tumbler replaces a wooden compost box I had made years ago that stood on legs and was three feet on a side, so 27 cubic feet (1 cubic yard) -- large but we never had it full -- and without a top, so lots of water from rain and plenty of air. Difficult to turn, since you had to empty it out (removable front slats) and then load everything back in. After 8 years, it was falling apart. This very large rotating compost tumbler is its replacement. It came in a large box but was well packed. Instructions were easy to follow, but check pages ahead to make sure you have all tools you'll need. Have a large space to construct this in -- I worked outside. Instructions were easy to follow. There was only one point where I needed help: tightening screws so far back in the inside that my arms couldn't reach all the way around the outside to hold it while I tightened it from the inside. That was for about six screws, maybe twelve. Other than that, this was a one-person job. When finished, it was quite light and I was able to carry it from my front to my back yard. The legs easily support the tumbler. I loaded it up with my old compost, which was quite a lot and very heavy. The tumbler is still standing -- it did not collapse under that weight -- and turns with effort due to the amount of weight inside it. The latches need to be carefully secured but once you have them in place, it is securely latched. For myself this isn't a concern -- I would rather leave it open, like my previous compost bin -- but for some, I know this is a concern, and I can say that it gets locked pretty tight. The only downside is there are no airholes. Solutions: leave the lid open (again, good for me but maybe not an option for some); drill your own holes (be careful so you do not open internal air pockets, which would then fill with water, dust, and other muck); or open, close, and tumble every day to make sure you get new air in it at least daily. Really, you should be turning this every day anyway, and it's a breeze to do so!
kbiggs3
Great product with assembly not looking fun
With the exception of a few assists on my part, my poor husband assembled it. I admit it didn't look like much fun! I'd say more than a few hours of assembly. It is definitely a sturdy and easy to use product though! We spent months trying to make soil in a regular compost bin, where we had to manually turn it with a shovel and rake. It looked nothing like soil. We have transferred that into the tumbler and it's finally starting to look like it could potentially become something other than rubbish!
Su F
Still compost after all these years
I got this composter three years ago. It was not the first composter unit I bought, but it was the last! It's still working for me, and when I remember to go tumble regularly, makes compost pretty quickly. When I don't remember, it's still working for me.
Dennis
GREAT UNIT
This is my second composter and I found it easy to assemble and very easy to use. It is a great unit.