Lifetime 80-Gallon Compost Tumbler, Black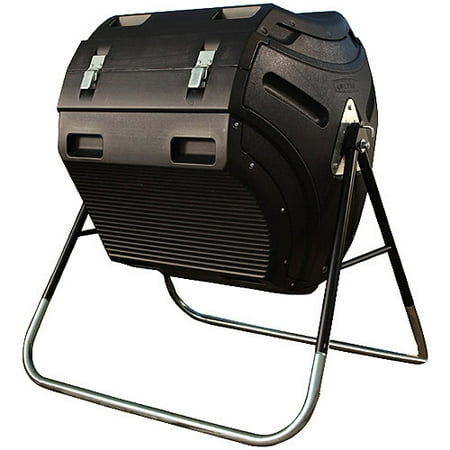 MSRP :

$166.67





Sale :

$119.99

Sold & shipped by Walmart
Product Description

Additional Information

Reviews
Product Description
Featuring a large capacity, the Lifetime 80-Gallon Compost Tumbler is the perfect addition to your backyard. The ingenious tumbler design easily turns on its axis for balanced rotation and the internal aeration bar mixes compost and provides air flow. Constructed of high-density polyethylene (HDPE), the Compost Tumbler is durable, UV-protected and has dark, double-wall panels to absorb and retain heat. For added convenience, it has an extra large removable lid and a spring-loaded pin that locks rotation during filling.
Additional Information
Lifetime 80-Gallon Compost Tumbler Features:
Black, double-wall panels absorb and retain heat
Extra large, removable lid
Ingenious tumbler design
Turns on axis for easy and balanced rotation
Spring-loaded pin to lock rotation during filling
Internal aeration bar mixes compost and allows air flow
Aesthetically pleasing appearance; no more messy compost heaps
Compost material is enclosed and helps keep pests out
Convenient loading height
Sturdy 1.25 in. diameter steel tubing frame
Internal aeration system
How to compost guide included
All hardware included
Easy assembly
Dimensions: 40 in. L x 35.5 in. W x 43 in. H
Reviews
nchill4x4
Assembled in 1.5 hours... sturdy and looks good
I just assembled my 80 Gallon Compost Tumbler, and it appears to be everything I was hoping for. It's sturdy, it's good-looking, and it's big. In regards to the two most common negative reviews... -- Assembly -- It took me about 1.5 hours to assemble this bad boy by myself, and that's because my power driver ran out of juice half way through. I used the assembly trick of fitting all the pieces together, strapping (bungee cords) them together, and then drilling all of the holes to ensure they line up. Also, be sure to mark what sides match up for ease of assembly, later. It was a bit of a challenge to assemble by myself. If you have little assembly/mechanical experience, it will take you longer, but not much. -- Rusting latches -- Well, I obviously can't comment on this since I just assembled it, but I am taking precautions by applying Rust-Oleum to all of the exterior metal hardware. I will update this review as I use the tumbler some more. Check out my customer images showing how to strap the pieces together.
Colin
Great Composter
It has great capacity at 80 gallons, I wouldn't like a smaller version. The fact that its waist height is a must have I think for ease of loading, especially the heavy spinning and then tipping the heavy contents out. It gets nice and hot and reduces the contents in size quickly, I've filled ours up to the top, 2 days later its half full, fill it back up and repeat about 4 times - leaves and grass clippings - and an amazing amount kitchen scraps that you never realized you produced. Oh plus chicken poop out of the coop. Be sure to sit this thing out in the full sun and when you open the lid the contents are steamy hot. I'm only just over a week in to getting this and love it, if you order one, expect about a 2hr easy but solid assembly. Already we're close to having the first batch - couple of more weeks maybe. I'm excited and fully expect with the doses of chic poop to get enough supercharged dirt for our pretty big yard and veggie garden. Hope this review helps. Peace.
kbiggs3
Great product with assembly not looking fun
With the exception of a few assists on my part, my poor husband assembled it. I admit it didn't look like much fun! I'd say more than a few hours of assembly. It is definitely a sturdy and easy to use product though! We spent months trying to make soil in a regular compost bin, where we had to manually turn it with a shovel and rake. It looked nothing like soil. We have transferred that into the tumbler and it's finally starting to look like it could potentially become something other than rubbish!
luvchows
Sturdy, built to last for "Lifetime"
Assembling may be intimidating but worth the effort because after you're done, it's a very sturdy unit! I bought this compost tumbler based on extensive on-line research and reviews. I chose the 80 gallon size for the value and it's plenty big for 2 people. We have a medium size garden and composting is the way to go! My husband is very handy and was able to assemble the tumbler with little help from me. The extra set of hands were necessary only for holding the unit steady while the screws, nuts, bolts were put in. His one complaint was that (most) of the holes were not pre-drilled. So here are his recommendations: #1 Lay out all the parts and pieces, inventory to make sure you got everything. (There shouldn't be any extra parts when you're done!) #2 I saw this on YouTube and he also found this demo extremely helpful. https://www.youtube.com/watch?v=-pK2hM57B-0 Walmart had the best price, even with sales tax! We ordered it on-line and picked up at the store. The box was pretty beaten up and looked like a "reject" but to our surprise, contents were all good and intact!
ConsumerX25
Directions could be better.
If you managed to put together properly, it's sturdy. The unit comes with directions, but there are no words on the pages. The drawings don't easily translate to a 3-D mental image. If possible, have a friend help you assemble it. This is particularly important if you don't happened to have arms longer than a gorilla. The order of assembly is important so take some time looking at the pictures. if you miss a step, you will have to take it halfway apart or more and start again. The unit itself is fairly sturdy. It's not too hard to roll the barrel after mixing green and brown materials. it would be nice if it came with wheels. I don't think you can go wrong buying this unit, but be prepared to spend some time on assembly. In the package was a nice DVD explaining how to make the compost. Ratios are important. I wouldn't have known that. It's too bad they didn't include a short video on how to assemble the unit, since there was plenty of space left over on the DVD.