No Boundaries 18" Printed Canvas Buckle Flap Backpack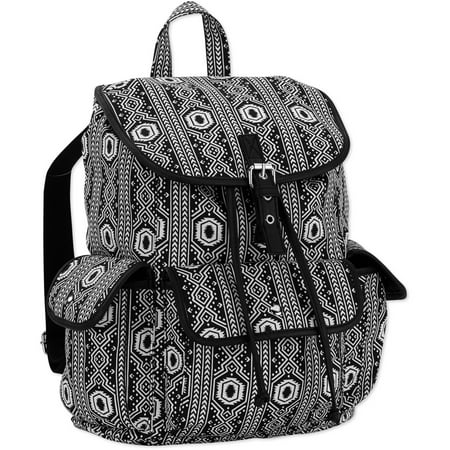 Sale :

$18.88

Sold & shipped by Walmart
Product Description

Additional Information

Reviews
Product Description
The Boundaries Printed Canvas Buckle Flap Backpack is an excellent bag for both school and travel. It can fit two to three textbooks, paperback books, one large binder, two to three spiral notebooks, a calculator, pens, pencils, a laptop, a cell phone and an MP3 player. This sleek backpack expands to accommodate everything that you need to store, and it's stylish too. This versatile bag can carry laptops up to 15" and it has a zipper pocket inside for your small items. Hold all of your belongings securely using the included nylon buckles and snaps for a more secure fit. Choose from assorted prints and patterns. This stylish school backpack offers three external pockets as well as the main compartment. Keep everything neatly organized with the durable design of this product. Built from cotton canvas and faux leather, this bag looks good and can be counted on.
Additional Information
Boundaries PRINTED Canvas Buckle Flap Backpack:
Cotton canvas with faux leather trim
Sleek backpack has a pull string closure
Adjustable straps for personalized fit
1 utility compartment on front
2 pocket access on the side
This school backpack has multiple nylon buckles with snaps
1 zipper compartment inside
Top handle included
Reviews
Tjoens
Cute BAG
The description states that this is a flap backpack. Though this could hold a few small note books, it is more like a large purse or small bag. So, if you are hoping to get this, to carry a lot of school books in, this would not be a good item, for that. If you are looking for a nice bag, or large purse, this is the perfect item! It is exactly what I was looking for. I have two small girls, and I have gotten tired of carrying my purse AND diaper bag around. This is perfect, because I can carry all the necessities with me, on the go (Diapers, wipes, extra clothes, etc.) and have them all in one place. The side pockets are great, for easy access, like a phone. The bag is very durable and a super cute pattern. I was surprised how much I loved it, in person, versus just the look of it, online. The quality seems good and I have taken it on quite a few outings, already. The only downfall is, I thought the bag would be bigger, like an actual backpack. But, I am very happy with it. My 16 year old daughter loved it and begged me to give it to her.
WalmartShopperCP
Extremely beautiful!!!!
As soon as I removed the packaging, the first thing that came out of my mouth was "It is so beautiful!!" It is indeed very beautiful in color, print and the style. My school going daughter who will be the primary user of the backpack was eagerly waiting for this and can't wait to use it. She has used many backpacks in her life but this one is definitely catchy in terms of looks. The material is very nice too. It has one big pocket in the front and two smaller pockets, one on each side to put additional items and accessories. Though it doesn't have conventional drink holder pocket, the side pockets are deep enough to hold a water bottle I believe. The main pocket is big enough to hold a few books and/or folders. If you are wondering, there are no compartments or padding inside, so you cannot use this for notebook or tablet unless you use sleeves. Inside material feels like it can protect against rain. It has a reasonably sized zipper pocket inside too. The bottom has some cushion. Although not padded, the straps look sturdy. Overall, I think it is an eye pleasing stylish backpack and I would highly recommend for school going girls.
scrappydoo521
Love This Backpack!
I love this No Boundries 18" Printed Canvas Buckle Flap Backpack. It is incredible the amount of items you can add to this Backpack comfortably. I am hoping you can see in the photographs I took below how the Backpack looked (semi full) and all of the items I had in the Backpack and also how strong the Backpack is. I had a 5 pound bag of dog food, 5 bags of treats, a bag of trail mix, my phone, 2 packages of donuts (6 count) and a bottle of water. There was room to spare. It also has a zip pocket on the inside of the Backpack for money or anything else you want. I walk with a cane and take my chihuahua practically everywhere. Unfortunately, that does not leave me any room to carry items back from the store. Accordingly, I have found that this Backpack is the perfect solution. I have a lot of medical problems including osteoarthritis, hip replacements and back trouble and I find it much easier to carry items home from the store in my Backpack than any other way. It is a lovely Backpack, built very sturdy, the snaps stay closed. I sprayed with rain repellant which worked beautifully. Also, the inside is nylon which makes it easy to slide items in and out of. Also, I am not sure if you can tell by the photograph but I had the Backpack hanging by the hand handle with the 5 pound bag of dog food in it as well as all of the other items I mentioned previously. The Backpack was snapped (there is also a drawstring to close) and it remained snapped. All in all I am very pleased with the quality, durability, design, structure and styling of this product.
bonemama55
This backpack is very cute as well as sturdy!
I am reviewing this backpack and I must say I am very happily impressed! I'm used to using backpacks that are almost made of kevlar type material so they don't develop holes and rip open during use. But this pretty yet super lightweight backpack is a pleasure to use! Two days after receiving it, I happened to have to go to the hospital for emergency heart surgery. Due to my extensive health problems and the fact that I'm normally in a wheelchair, I had to bring quite a few necessary things with me. This backpack was just the thing to handle all of those necessary things yet, with so many little cubby holes and sections on it, it made searching for those items quickly and easily so much nicer than the usual backpacks allow. It also has a double drawstring type holder that encompasses the entire opening for the main body of the backpack. You can choose to leave it wide to place larger items in there, such as a laptop or large ipad or sketch pad, etc. Or you can place your items inside them draw up the cords to make it super secure in case the snap closure should come open and that way nothing would drop out. I have to say I really put this poor backpack through the paces while I was in the hospital. It was on the floor, by my bed, on top of the side table, on the bed, in the bathroom with me, down to xray, etc and back again. Not once did it fail to keep my items secure and safe, but it also allowed me to get into each of the sections with sometimes only the use of one hand alone. It was very easy to open and close the snaps on all the sections with only one hand, I never felt like I was fumbling blindly. The material feels like a sturdy cotton and would match very nicely with denim jeans or whatever you wear. The shoulder straps are fully adjustable and very comfortable, without cutting into your shoulders. They are sewn sturdily onto the fabric of the backpack in a way that they would not be easily ripped loose should you decide to fill it with heavy items or text books. It also contains a sturdy piece of material, I think it's plastic inside of fabric, that covers the entire inside of the bottom center section and it lends further support to the bottom of the backpack so nothing can rip loose through the bottom of it. All in all, I think it is a fabulous item, and I'm old enough to have had quite a myriad of backpacks in my 60 years of life and college and wheelchair use throughout town. With this backpack, you can easily be alittle stylish at the same time as being majorly functional! I would recommend this for anyone, wheelchair users or not, school kids or not, it's just a great backpack. It doesn't add but a few ounces of weight to whatever you carry in it, so you wouldn't suffer from shoulder fatigue easily! Also the way the snaps are for the top section, it looks like it's belted down so anyone looking to grab and run (steal from you from behind) would think it might be too hard to get into quickly, which is a good thing! All in all, I think it's a wonderful product!!!!
widowmother
Really nice!
I am sitting at my kitchen table typing this review looking at the back pack thinking, this is so nice! The picture really does not do it justice. I am odd in that i like to have a back pack for everything. As a single mom of one daughter, now nine years old, i try and keep the house as organized as i can. I have one for swimming. Grab and go. Then when everything is clean and dry pack it up again to grab and go for the next pool or beach family outting. One for the sandbox. One for car trips, appointments, family visits... etc... I am use to those plastic type cheap ones around school time. When this one arrived i was pleasantly surprised just how pretty and well made it really is. The inside is a nice color blue made the lining with a soft silky type fabric liner. Important in that you would not want to get it wet. Water would go through it. Outside the bag it has leather trimming. Snap closures on each pocket. One zipper closure inside the bag. Three compartments outside the bag. Pink and blue flowers printed outside the bag on nice blue fabric. The straps for the shoulders is a pretty brown which matches the color of the leather trim. I think i will use this one for me. When i go shopping i have to have my hands free to carry groceries since i do not drive. I can put my wallet in this or purse along with a few other shopping things and still have my hands free to carry the bags this summer. Then when my daughter and i go on family outtings this could be our summer family outtings bag. No kidding though. This really is pretty. I can not wait to start using it this summer. The outside pockets would be petfect for just about anything. Very nice sized pockets. Books, pop cans, phone... snap closure so the easy to open quickly and closed again. Nice when your multitasking.