Duracell Advanced Solar Pathway Light, 4 pack, Black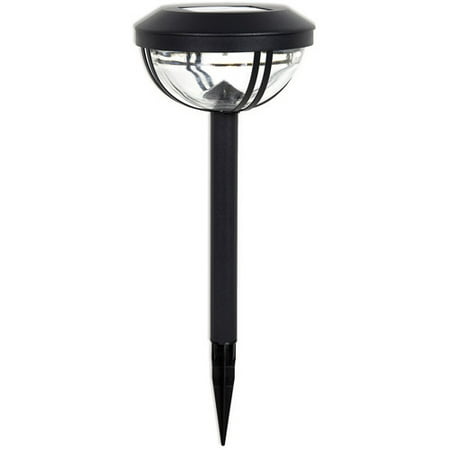 MSRP :

$40





Sale :

$11.89

Sold & shipped by Walmart
Product Description

Additional Information

Reviews
Product Description
Illuminate your front of backyard at night with this sturdy and attractive Duracell 7LM Solar Pathway Light 4-pack Black. Each light is designed for easy installation and features its own solar charging cell, allowing it to be used freely without the need for batteries or external power. These LED solar pathway lights are ideal for landscaping and gardening projects and work well to light up walkways and driveways alike. They add a sophisticated touch of ambiance to nearly any setting and anchor firmly into soil. These Duracell landscape lights also deter intruders and night time trespassers by bathing your lawn in clear, white light that removes their ability to trespass unseen.Duracell 7LM Solar Pathway Light, 4 pack, Black:
Additional Information
Bright white 5000K LED lightMetal and glass constructionTextured black finish Duracell landscape lightsBrightness Selector controls 6 or 10 hours run timeLights up automatically at nightNo wiring installation requiredIncludes four 250mAh 14430/0.8Wh lithium phosphate rechargeable batteriesDimensions: 5.5" x 5.5" x 11.61"
Reviews
floridashopper321
Good lights, bright, and real glass
I've bought three sets of these over the past few months. I've had several sets of bad solar lights in the past, so I didn't have much hope -- but thought since they were Duracell, I'd give them a try. The first set of four did ok, so I went back for another set six weeks later -- and that box had two that didn't work. Fortunately, I read this review page before I returned them, and went back and got batteries. (Solar lights with replaceable batteries?! Who knew?) That fixed the problem, and then I bought the third set. So I had to spend an extra few dollars on batteries right away, which is certainly not ideal. But for the price, these are much better than most. They're made with real glass, not cheap plastic, and the light color is a brilliant blue-white that looks really sharp in my landscaping. (I hate those ugly yellow-orange lights.) They've done fine in our heavy summer rains. And I actually love that the batteries are replaceable, so you don't have to throw the lights away when they stop recharging.
Lori
BUY replacement batteries for every single unit.
I am suffering the same fate as each of the other posters as far as the failed batteries in the unit. I also have found two of the 12 lights I purchased (3 sets of 4) to have faulty connections on the LEDs. I truly love the lights that work, but it is not acceptable that I have paid $120 dollars for 12 lights and only have 10 which work, particularly after only owning them for a week. I would only recommend these be purchased if you are aware of the need to buy batteries with the original purchase, and be aware of the possibility of a 16% failure rate out of the box. Duracell, you have a stellar reputation, and these lights are not doing you any justice. Solve the problem by offering easy replacement of faulty LED caps and send replacement batteries to the stores which they can provide to those of us who trust your brand name.
onedirtyjeep
Lights are great, the batteries-not so much.
These are heavy duty solar lights, so it's unfortunate the Duracell brand solar rechargeable batteries that come in the box are useless & die within a day or two. Oddly enough you cannot find replacement Duracell solar batteries anywhere on Walmart's website, on the Duracell website, or anywhere else on the Internet. If you pick these lights up in the garden section of the store, do yourself a favor and pick up an extra pack of replacement batteries that are located in the same aisle, otherwise you'll be making a trip back to Walmart within a few days to get them.
Giavid
So disappointed!
I just bought 2 sets of these lights. To me the 7LM was the selling point. After the first night 2 of these lights stopped working. After trial and error I figured out the batteries were no good. I called and emailed Duracell Customer Support but no one has replied back to me. Now a third light has stopped working. I've owned the lights for 3 days and 3 lights have stopped working. I 'd returned them if I had keep the box. I would have thought with the name Duracell the batteries would be better. I've looked for replacement batteries but no one seems to sell them. I wouldn't recommend these lights unless Duracell can fix the battery problem.
shouldntberequired
Looks nice out of box, but not reliable
I purchased a set of these lights in May 2015 after a couple of weeks one of the lights failed to go on. After taking the top off and then placing my finger over the sensor the bulb would eventually come on. However, the next day the process would need to be repeated. The finish on the lights have already faded and one looks like it has rusted. I sent and email to Duracell's customer service and did not receive a response, so I then called to speak to a representative. After being on hold for a couple of minutes the call rolled into a general voice mail box. I left a message and again received no response. After a week I called again and actually spoke to someone and was informed that the company is aware of issues with the finish and working with the supplier to fix it. Be persistent with contacting the company to receive replacements.