OxGord CAN OBD II MS300 obd2 Scanner Tool for Check Engine Light & Diagnostics, Direct Scan and Read Out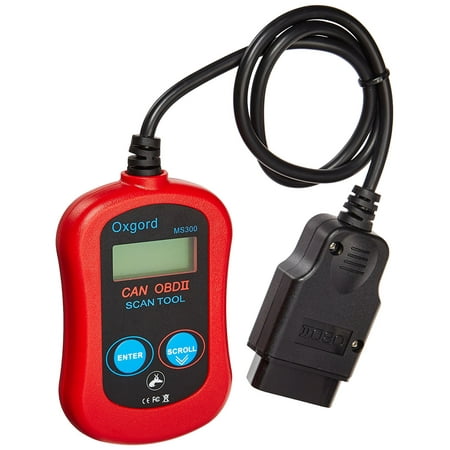 MSRP :

$49.95





Sale :

$13.95

Sold & shipped by Won Lane
Product Description

Additional Information

Reviews
Product Description
"OxGord OBD2 OBDII V2.1 Scanner / Reader Vehicle Scan ToolBEWARE OF IMITATORS THE OxGord PRODUCTS SCAN TOOL WILL WORK ON ALL 1996 AND NEWER VEHICLES THAT ARE LOCATED IN THE USA! UNLIKE SOME OTHER BRANDS THAT MAY ONLY WORK ON CERTAIN VEHICLES BUT NOT TELL YOU! WE GUARANTEE COMPATIBILITY WITH ALL VEHICLES LOCATED IN THE USA THAT ARE 1996 & NEWER (THESE ARE VEHICLES THAT BY LAW MUST BE OBDII COMPLIANT) When used, this OBDII scan tool can retrieve trouble codes, reset the check engine light and read thousands of engine codes!FeaturesRead diagnostic trouble codes, both generic and manufacturer-specific, and displays their meaningWorks on ALL Vehicles 1996 and NewerNOTE: Does not work with Diesel Engines.IncludesOne (1) OBD2 Scan ToolInstructions SpecificationsWeight (oz): 10Dimensions: 3"" x 2"" x 1""Color: RedCompatible Vehicles: Vehicles 1996 or Newer. Does not work with Diesel EnginesMaterial: Plastic"
Additional Information
Pays for itself in one use!
Works on vehicles located in the USA from 1996 and newer
Reads diagnostic trouble codes
Clears "Check Engine" light
Over 3000 code definitions
Reviews
Toyman
OBD 2 Scanner
It diagnosed my problem & erased my codes. Booklet is between cardboard back of pack. So don't just cut scanner out of plastic & throw rest of package away or you will have no owners manual that has code directory in it.
ChicagoRay
Great Product for the money
Simply bought it to see if I could find out why my check engine light was coming on and to see if the issue was something I really needed to address immediately...Turns out it wasn't and I simply reset the check engine light and have not had an issue since. My car is old with a lot of miles on it and so I am at the point where I am picking and choosing what I actually get fixed and what will simply keep me on the road. This device will help out a lot.
MadAria
Worth twice the price...
I have had the bad luck of getting bad gas from a local station. After hundreds of dollars in repair fees my car still isn't 100%. Bought this for a '04 Mitsubishi to continue to clear the Check Engine Light because until I get a few more tanks of gas through my engine it will continue to misfire. It was super easy to use, easy to understand and now lives in my glovebox. I can't believe I have gone this long without owning one. This is less than the price of a tank of gas and can help save much more in the future.
glenby
OxGord CAN OBD II MS300 obd2 Scanner Tool
Very good tool for simple checks and reset for Check Engine Light & Diagnostics. Inexpensive tool to prevent unnecessary trips to mechanic or auto repair store/shop. Pays for itself in its first use. Would recommend to friends.
Hogheaven
CES agrivation
Tried it on 2002 Chevy Duramax pickup told me the issue same as my friend's $100+ unit . I was able to then clear the code turning off the check engine soon light. The code had to do with the K&N filter having too much oil on. It causing the MAF sensor throwing the code. Cleaning the MAF sensor dosen't clear the CES light.