Remote Dog Training Collar 330 Yard Radius LCD 100LV Shock Pet Bark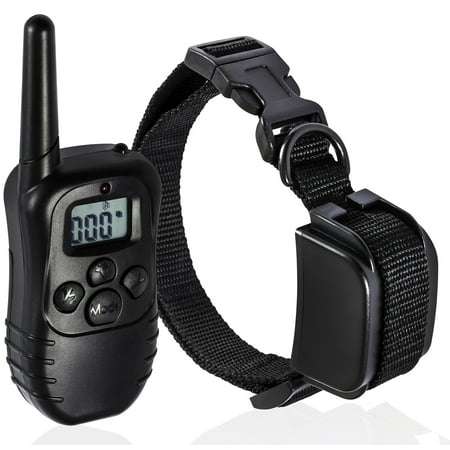 MSRP :

$169.95





Sale :

$17.95

Sold & shipped by Won Lane
Product Description

Additional Information

Reviews
Product Description
Features:About This Item We aim to show you accurate product information. Manufacturers, suppliers and others provide what you see here, and we have not verified it. See our disclaimer OxGord Pet Training Collar PTRC02 When all traditional training methods dont work on your beloved dog, turn to training collars to gradually teach them to behave appropriately. Our training collars will help make it easier to care for your dog and, even more importantly, teach them to keep out of harms way prolonging their healthy lifestyle. We highly recommend you first use the beeping mode on our training collars to condition your dog to not misbehave. Over time, the dog will come to recognize the sound and therefore react appropriately when they hear it. If this does not work, the vibration mode with 100 different levels of intensity should be used next. Use the static-shock mode with reservation and as a last resort. Having a dog as a companion is rewarding, therefore its owner should be responsible, protect the dog, and give it all the love it deserves. Features Easy Comfortable Beep Mode Safe and Effective Power Saving Reable Battery Includes Remote Control Transmitter Two Receivers Two Straps r Prongs, tester User Guide Specifications Weight (oz): 12 Dimensions: Neck Circumference: Max. 22" Min. 12" Color: Black OxGord Pet Training Collar PTRC02"When all traditional training methods don�t work on your beloved dog, turn to training collars to gradually teach him to behave appropriately. Our Oxgord training collars will help make it easier to care for your dog, and even more importantly is teaching him to keep out of harm�s way prolonging his healthy lifestyle. We highly recommend you first use the beeping mode in our Oxgord training collars to condition your dog to not misbehave. Over time, the dog will come to recognize the sound and therefore react appropriately when he hears it. Use the shock mode with reservation and as a last resort. Owning a dog is one of the best experiences to mankind therefore its owner should be responsible, protect the dog, and give it all the love it deserves. Bless you and Your Dog!" ---Saint PoodleFeatures Easy Comfortable Beep Mode Safe and Effective Power Saving Reable Battery Includes Remote Control Transmitter Two Receivers Two Straps r Prongs, tester User Guide Specifications SKU: PTRC02 UPC: 840345101822 Weight (oz): 12 Dimensions: Neck Circumference: Max. 22" Min. 12" Color: Black Warnings: Warning Text: legal:No,safety:No Specifications Animal Type Dog Pet Size Any Brand OxGord Material Plastic Manufacturer Part Number PTRC02 Color Black
Additional Information
Remote Dog Training Collar 330 Yard Radius LCD 100LV Shock Pet Bark
Reviews
sweetone2
Works
We got this collar for our 5 yo Doberman, who has problems while on leash when other dogs walk by or cats or bunnies are seen. This collar on the sound setting works immediately to stop her and get her attention when she is growling and straining on leash. The vibration also is good for more extreme situations. Thankfully, we have never needed the shock part, although my husband had to try on himself. This collar is a miracle, and works quickly. I can even walk our dog myself now, without fear of her pulling me down or hurting another animal. Highly recommend
Edibles
Very Nice
I have a wild young German Shepherd. He's pretty big. He would go out of control when he would see the neighbor kids and other dogs, barking and running back and forth excitedly. He would listen if you caught his attention, but then go right back to it, once you go in the house. Now it's like he knows. One zap was all it took for my big German Shepherd to re-evaluate his life. All of that has stopped. Now he focuses on protecting the house and and has become a lot more attentive.
Chief
Awesome
Works perfectly
Tina
Works Wonders!
My boxer puppy is 10 months old. She is a very sweet dog. She knows right from wrong, but does it anyway. She started trying to show her dominance over me by barking, back talking, jumping up when she got in trouble. I had tried several things to combat this behavior and nothing worked. She has acted this way with company, jumping up shoulder high, etc. Not being aggressive, but just trying to show dominance. So, I bought the collar. Well, it worked wonders! I have used the shock part about 3 times with the level set to "2". She definitely gets the point and the dominance attitude has subsided. I try to use the vibrate set at 100 the most which gets her attention and she quits the behavior. She has associated the remote with a feeling she could get. Some days she doesn't even wear the coller, but when I pick up the remote. She immediately acknowledges I am the leader of the pack. Well, worth the money! A good and quick training tool! I would highly recommend!
Carlino
Better than others in the market .
I originally bought a less expensive collar that only had vibration or noise and it just did not work for my hyper Yorkie pup. Bought this one, charged it up, set the vibration to 15 after a few tries at a lower setting and it sort of slowed her down but she would still bark through it like the previous collar. Finally resorted to the shock setting at 2 and that shut her up in a heartbeat! I hated having to do that but she is just one wild and crazy puppy. I agree with other reviewers about only having 1 charger. PITA to have to charge one then the other but I'm finding that it's just the collar that has to be charged with any regularity. I don't have to use the remote all that often now and since it shuts itself off after a period of time it's not like it is wearing down the battery that fast. I love the fact that it's a rechargeable battery to begin with. The batteries for the other collar took 3 button batteries at a time and that gets pricey. What you'll save on batteries alone makes this product better than others on the market.