4-in-1 Urbini Nesti Play Yard, Teal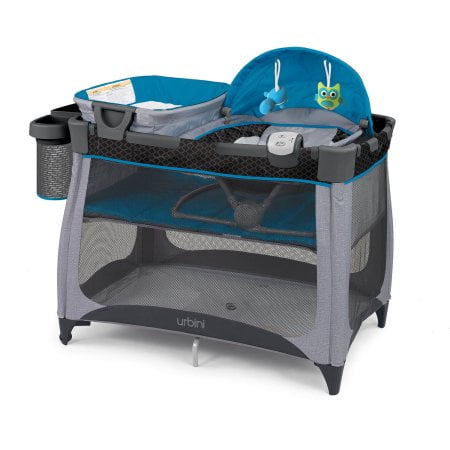 Sale :

$142

Sold & shipped by Walmart
Product Description

Additional Information

Reviews
Product Description
Nap and play, home and away! The 4-in-1 Urbini Nesti Play Yard grows with your child, offering four uses in one convenient bundle. Newborns will feel cozy in a soothing removable napper that rocks baby to sleep. Older babies will enjoy relaxing in the removable bassinet with calming sounds and lights module. The changing station includes a sturdy changing table and spacious, practical storage cubbies designed to handle all baby's essentials. When they're ready, the Urbini Nesti Play Yard transforms into a safe, secure place for toddlers to rest and play. The 4-in-1 Urbini Nesti Play Yard is the perfect play yard for your growing child
Additional Information
4-in-1 Urbini Nesti Play Yard: The 4-in-1 Urbini Nesti Play Yard grows with your child, offering 4 uses in one convenient bundle Newborns will feel cozy in a soothing removable napper that rocks baby to sleep Older babies will enjoy relaxing in the removable bassinet with calming sounds and lights moduleThe changing station includes a sturdy changing table and spacious, practical storage cubbies designed to handle all baby's essentials When they're ready, the Nesti transforms into a safe, secure place for toddlers to rest and playIncludes bonus rocking sleeper with canopy and toys Sturdy changer with roomy storage cubbies Soothing lights and sounds module with soft nightlight and portable play yard for growing toddlers
Reviews
AmberLynn
Love it!
I absolutely love this play yard. It was easy to put together. The bassinet is wonderful, that is where my newborn sleeps for now. Atleast until he gets big enough to sleep in the top part of the play yard. The changing pad is great, its nice and easy to wipe down. We get a lot of good use out of that too! It's a great size. Looks like we will be using this a lot until my son outgrows it!!
Meagan
Not worth $130
I am highly impressed with this, but I do not think it is worth $130. I have 4 Graco playards (I run an in home daycare), but went on vacation with my 8 month old and didn't realize that I forgot to pack the playard until it was too late. I was hoping I could get the baby to sleep without a playard, but after hours of screaming I gave in and went to Walmart. I was expecting to buy the $40 Cosco playard, but they didn't have any in stock. So there I was, scanning every playard in the store with my phone, and could t find one for under $100. I didn't bother scanning this one because I knew it was $100+ too. My sister made me scan it and it rang up at only $32. Must've been a mistake with the pricing, but it was the price I needed, so I bought it! We got back to the house and put it together. The playard itself was extremely simple to put together (like most playards), but the rocker and changer that come with it we're a bit more difficult. Still not hard enough to bother me, just not as easy as Graco. Overall, it was the right price for me at the time, but I would not spend more than $100 on this. You can get the same thing from Graco for less, and if you want a rocker, you can typically find those for cheap too. We also have a fisher price rocker at home and it's better than the one that comes with this. It is very sturdy, but also much heavier than my Graco ones because of that.
Jade
Exceeded expectations
We were staying nine nights in a hotel that wanted $15/night for a crib, so ordering this to be delivered before we got there was a no brainer. We were prepared for it to be mediocre and to donate it at the end of our stay, but we loved it so much, we packed it up and flew it half way across the world so we could continue using it at home. It's somehow compact in footprint, but still as roomy as our other portacot. We're currently using it on the top level for our 5 month old, but it's handy that as he gets bigger and starts standing, we can use it on the base. The change table was great, the storage holds a packet of wipes and other essentials easily, and we took the little bouncer with us to the breakfast buffet where baby was happy to sit while we ate. I have nothing negative to say about this item, I'm really glad we thought to purchase it rather than rely on a used cot of unknown condition that would have cost us more and left us empty handed.
Frances
Love it
Love this. It is very practical easy to assemble and budget friendly. It doesn't take up to much space either. Would recommend this!
MommyOfTwo
Would purchase again
Love it! Every part has been greatly used. Little one is only five weeks right now. The bassinet goes from room to room with us to lay her down. The playard with changer is set up in the living room. The convenience is a necessity for a sleep deprived momma!