Hamilton Beach 1.1 cu ft Microwave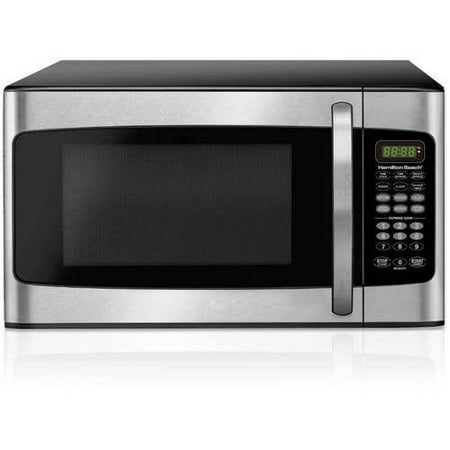 MSRP :

$75





Sale :

$69

Sold & shipped by Walmart
Product Description

Additional Information

Reviews
Product Description
Heat up or defrost frozen food with the Hamilton Beach 1.1 cu ft Microwave Oven. It has an output of 1000W and includes 10 power levels so you can heat up various foods. The LED display is easy to read and the touch-pad lets you choose between six quick-set buttons. This white microwave oven includes a lockout feature for child safety, as well as a timer and clock feature. It comes in other colors to suit your personal tastes and decor scheme.
Additional Information
Hamilton Beach 1.1 cu ft Microwave:
10 power levels
6 quick set menu buttons
Child-safe lockout feature
Kitchen timer/clock
Weight and time defrost
LED display
1000W
Microwave oven with black housing and white painted cavity
1-year limited warranty
Hamilton Beach microwave oven comes in stainless-steel, red, white or black
Reviews
MarDod
Pleasantly suprised
My microwave died after faithful service of 7 years. I did some online research and selected another make and model, but upon going to the store and seeing the display model decided it was too small for my purposes. I had to take a chance when selecting another, as I needed another microwave immediately. I selected this model. When I got home with it and lugged it up 2 flights of stairs I sat down at my computer to check the ratings on this one. I was debating whether or not to lug it back to my car and immediately return it. As is most things in life, you are taking a chance. I decided to unpack it and use it for a few days to see what would happen. A month later and heavy use during Christmas goody baking, I have had none of the problems that other's have described. I am satisfied with this product. I will amend this review if anything changes with this product in the next year.
MommyG1976
BOYCOTT IS REQUESTED
PLEASE DO NOT PURCHASE THIS OR OTHER HAMILTON BEACH PRODUCTS. My husband gave me this microwave for Christmas. I have had it 4 months. It was fine....then it stopped heating food. Now it only spins the food and light turns on. I called customer service, which had a really good quality to the automated system. Things were looking up as they spoke fluent English and seemed personable when I got a human being - Jerry. Then it all went downhill when he asked me if my power company has ANY outages EVER? I joked yes, Florida Flicker & Flash (FPL). He immediately stated that it voided my 12 month product warranty. I asked him even though the product worked at 6pm and there were no brown outs or intermittent power outages before I used the microwave again at midnight...and he said that it was because the constant outages degrade the internal components over time. Really? 4 months, on a surge protector? Are you kidding me? Thanks for ruining a perfectly happy Christmas memory for me Hamilton Beach. I previously had an Emerson microwave that I purchased at WalMart. It lasted nearly 8 years on FPL. It was moved between 2 apartments and then into my house when we purchased 4 years ago. If it hadn't worn out, I would still be using it.
whoami43
BOYCOTT IS REQUESTED
I purchased this microwave to save a few $$$ compared to bigger named brands at other stores. I found out quickly you get what you pay for. The microwave lasted less than a year before it make a loud pop and stopped heating.
Lindydiddle
Looks great with my other red appliances!
I am very happy with my new red Hamilton Beach microwave! It matches my red kitchen decor nicely. ( I like the style of this model better than the previous Hamilton Beach microwave model listed on Walmart.) It is a 1000 watts, compared to my previous old red microwave that was 900 watts, so it cooks faster, and the inside has a large plate, & is very roomy. I use this microwave everyday. The dimensions are correct if you count the 3 inches that over hangs on the back for the depth. (My Hamilton Beach red toaster oven dimensions are the same way.) The red color on this microwave is only on the front, with the sides & top in black. I've tested all the cooking & timer features, and everything works correctly. When using the defrost feature, you will need to weigh the food in ounces, so I recommend using a digital kitchen scale for better accuracy. If the food is 10.2 oz, round up to 11 oz for a perfect defrost. This microwave is heavy enough so that it doesn't move around when opening or closing the door. I really like that it's the kind that doesn't have the push button door. This microwave was shipped to my local walmart double boxed, with good packing so it arrived in perfect condition. I wish all kitchen appliances were shipped this way! The only things I don't like about this microwave is that it doesn't let you know if you forgot to remove a cooked item. (but then again it doesn't say anything about having this feature in the description) The other thing is that on the door where the red color meets the control panel (on the inset part, not the top or bottom edge of the door) it has sharp edges instead of being slightly rounded. A child, or older person like me with thin skin could get scratched, when removing food. So exercise caution with those parts of the door. Overall, I am very pleased with the color, price, size, wattage, & features, so I can recommend this microwave as a really good purchase. I hope you found my review helpful!
wbf47
1 year warranty = 1 year functionality
I purchased this unit because I needed a white appliance and it was the only one available without waiting 10 days to have one shipped or spending $150+. I initially was quite satisfied, and had I reviewed this in the first year of ownership I would have given it 4 stars, even though it does take longer to heat than expected (the preset buttons don't manage to do what they promise, it always takes an additional 30-60#. One year in, the unit simply stopped heating. The lights, turntable, etc. work, but, as many other reviewers have stated, it no longer cooks food. I've owned many Hamilton Beach products and they've always been a good budget option. I don't expect them to last forever, but I did expect more than a year #my prior Sharp brand lasted 15!). Bottom line, if you need something quick and don't need it to last, this may be fine at the price point. If you plan on it being your go-to appliance you should probably look elsewhere.