Petnation Port-A-Crate Indoor & Outdoor Home for Pets, 32-Inch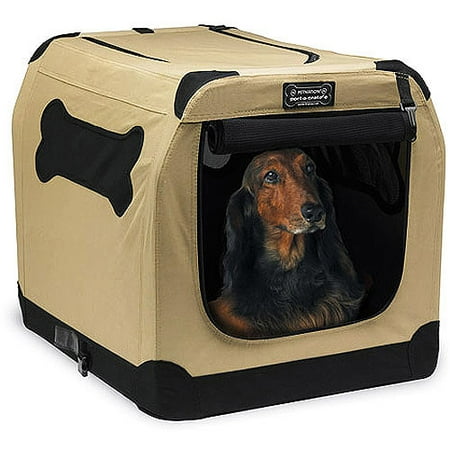 Sale :

$44.94

Sold & shipped by Walmart
Product Description

Additional Information

Reviews
Product Description
The perfect indoor/outdoor portable pet home that is great for traveling. The Petnation dog Port-a-Crate sets up easily in just seconds, folds flat for storage and has convenient padded carrying handles. There are top and front entry doors for easy entry and exit for your pet.

SMART ADVICE:Although this is an extremely well-made product, no fabric crate will contain an animal that chews or scratches to get out. This crate is not intended for use with aggressive, dangerous, or untrained animals. Do not leave your pet unattended for long periods of time. This portable pet home is not intended for airline travel. Always use good judgment and follow all instructions when using this product. If unforeseen damage occurs, replacement parts are available from the manufacturer.
Additional Information
Product Features:

The unique design keeps your pet safe and comfortable
Honeycomb window design maintains maximum airflow
Every model is water resistant and easy to clean
The steel frame provides strength and support
Comes in multiple sizes for all pets
Offers room for your pet to stand up, turn around and lay down
Size
Extra Small - 16"L x 11"W x 11"H
Small - 20"L x 13"W x 13"H
Medium - 24"L x 16"W x 16"H
Large - 32"L x 11.5"W x 23"H
Extra Large - 36" x 25" x 25"
Reviews
Unknown Customer
Perfect for a fat cat :)
My cat is 16 inches long and weighs 18 lbs, she loves this! I was worried it would be to small for her or she would fall out the bottom but when i got it and put her in she fit fine! I put her favorite blanket in the bottom of it for her to feel extra safe and not to feel her paws threw the bottom of it! :)
Bullwinckle
Multipurpose carrier.
I got this carrier to transport my cat for vaccines. It looked more secure and comfortable than the others. The mission was a success and Tigger chose it for his bed. A picture is worth a thousand words.
DoctahJ
playpen for small pets, comfort zone for larger
I have used the small version of this crate as my cat carrier for years and have recommended it to countless others. My cat LOVES her small Petnation crate. It is her house, her bed, her favorite hangout spot. A few years back, my boyfriend bought both the small and extra large versions for his cat; since he RVs, it's nice to have a larger enclosure for the cat so she can go out a little at RV parks. She loves it, too. Recently, I adopted an older dog with some bladder issues, mostly stress-related from being in the shelter. I ordered the extra large for her in case I need to crate her if the bladder issues do not resolve and aren't fully addressed with diapers when we travel. My cat has already adopted it as a "vacation home", and one of my other dogs loves hanging out in it as well. The intended resident only goes in when I go in with her, but she does not fear it. So we're off to a great start. The construction of these crates is excellent. They are very durable. NOT intended for animals with extreme anxiety or for aggressive animals, mind you. These crates are perfect for calm animals and for travel; my cat rides in hers across the continental US several times each year. They fold flat and take up no space at all. The mesh on the "windows" and front zipper flap is as advertised, extra strong. Zippers are solid and are also easily secured shut using a clip or small padlock. The funky new plastic smell dissipates quickly. Handles on the small model are perfectly balanced for carrying. And even though I'm not a Walmart shopper, Walmart is the only place to order these crates because they cost at least double everywhere else. Excellent product, and excellent value for the price.
NoHandles
No Carrying Handles!
I bought this 24 inch crate to carry my 2 cats in the car when moving. In the photo when I ordered it showed carrying hands to carry the crate open w/the cats in. I was sadly dissapointed when it arrived with no carrying handles! The only 'handle' it had was the one to use when the crate was folded. Doesn't do me much good when I have to carry my cats in the crate from the car to the motel.
starpath
Great Value
I, like you, read many reviews before purchasing a soft sided crate. I am well aware that they are not as indestructible as either a wire crate, or an airline style crate, and I didn't want to waste my money for something that would give me nothing in return. I show dogs (Vizslas) and wanted to be able to have something portable and convenient for my already crate trained dogs. This delivers to my expectations. The XL size is quite roomy and comfortable, with plenty of space for them to stand up and turn around. They are also able to lay down in their favorite positions. It is extremely easy to set up and take down; I think it took less than 5 minutes to set up the first time, without looking at the instructions. I would never use the Petnation Dog Port-A-Crate to attempt crate training, that would be a futile effort as it could easily be torn to shreds, but if your dog is crate trained and you want a safe haven within the home, or hotel/motel, it should meet the needs of both you and your dog. I recommend this product.