eos Visibly Soft Vanilla Mint Lip Balm, 0.25 OZ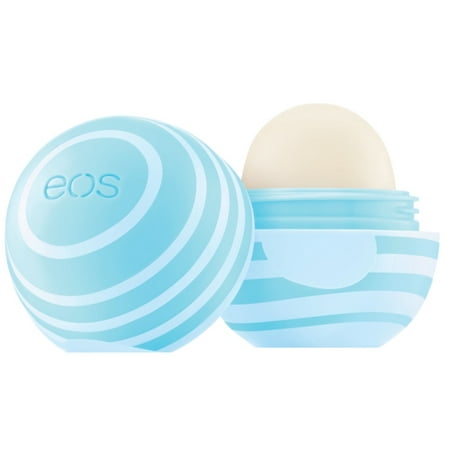 MSRP :

$2.96





Sale :

$2.59

Sold & shipped by Walmart
Product Description

Additional Information

Reviews
Product Description
eos Visibly Soft Lip Balm, enriched with natural conditioning oils, moisturizing shea butter and antioxidant vitamins C and E, absorbs to nourish lips for a softness you can feel.
Additional Information
EOS Visibly Soft Lip Balm Sphere, Vanilla Mint, 0.25 Ounce
Reviews
nowanico2403
I love eos!
I have been using eos lip balms for years! I was super excited to try their Visibly Soft Vanilla Mint Lip Balm with its new formula. It is a harder balm than it used to be, but still offers a great moisture and softness with continued use. I don't like however, that I have to push so hard to get any product to come off onto my lips. It feels a bit too hard compared to the old formula that was soft and smoothly applied. It has very high quality ingredientsI really love the vanilla mint flavor and find it works well for both men and women. This is the one balm that my fiancee will use because it doesn't have a fruity girly scent. He also prefers the firmer texture so that not as much balm goes on his lips at a time. I also really like the design of the container. I have however had it come open in my pocket before. Maybe a container that is just a little bit harder to twist would work better to prevent it opening by itself in a pocket or purse. I will definitely continue to buy these lip balms as they work wonders. [This review was collected as part of a promotion.]
PandaPuddin
My new favorite lip balm!
I tried the EOS visibly soft lip balm in the scent Vanilla Mint. The packaging on all of the EOS products are cute but I especially love the look of the striping on this kind. As an added plus, the shape and texture of it makes it really easy to locate when you're digging through your purse without looking. I haven't found a scent from EOS that I didn't like but I've fallen heads over heels for this one. The mint is very subtle and the combination of the vanilla with the mint reminds me of walking into a confectionary store. The product itself is pretty amazing, too. You don't get a lot of product on the first swipe which is probably the only con to this product but once you get enough it is very long-lasting. It also makes your lips feel very smooth and soft; even through eating and drinking the hydration stays with you. You definitely don't get that with a lot of other brands. I would absolutely recommend and purchase this. [This review was collected as part of a promotion.]
Eva
JUST OKAY
The EOS Visibly Soft Lip Balm - Vanilla Mint Package is unique, and it is very cute.  The Vanilla Mint flavor is very light and refreshing. I was aware of this product, and I was actually a big time users of the EOS Lip Balm old formula, and I liked the fact that it kept my lips feeling moisturized all day.  This new formula doesn't make my lips feel moisturized.  It seamed like I had to apply it every hour to keep my lips moisturized.  It goes on dry, and it doesn't prevent my lips from feeling dry.  I really wanted to like the EOS Visibly Soft Lip Balm new formula.  I liked the fact that the formula is almost 100% natural, but if the improved natural formula doesn't make my lips feel hydrated, then the natural formula doesn't mean much.  I, also, would have liked to see SPF protection as part of the improved formula.  I prefer lip balm that feels wet, and I doesn't need to be applied every hour to provide hydration.  Full disclosure, I received this free sample for my honest evaluation.  For now I will continue to use my current lip balm, since I only need to apply it once or twice per day. [This review was collected as part of a promotion.]
genna
eos visibLy Soft vaniLLa mint Lip balm = AmazebaLLz !
I received a free sample of visibLy Soft vaniLLa mint Lip baLm from eos for testing purposes & i must say I'm extremeLy gratefuL! aLthough im not the biggest fan of ANY vaniLLa scented stuff, this product actuaLLy works wonders! I Live in New EngLand&it's the middLe of the winter, so my Lips tend to get VERY chapped. I received this FULL SIZED FREE sampLe just in time 2heLp my chapped/peeLing Lips get some of the heaLing they so desperateLy needed! Like I said, im not a fan of anything vaniLLa scented, but the mint+vaniLLa paired together actuaLLy smeLL reaLLy good! It reminds me of those chochLate mints you'd get on your piLLow whiLe staying at a fancy hotel! The amount of moisture my Lips received after appLying this for the 1st time was astounding...i seriousLy did NOT think this wouLd heLp heaL my NaSty chapped Lips at aLL but BOY was i wRonG ! Thank you eos, iLL 100% be using this as my everyday aLL-year round Lip baLm from now on! HighLy Reccomend this to ANY1 Looking to add a cute subtLe gLow to your Lips or anyone who needs some added extra moisture for dry winter chapped Lips too! < 3 [This review was collected as part of a promotion.]
Cozy cabin
If you like eos lip balms, this is a decent flavor
I've purchased eos lip balms several times prior to receiving to vanilla mint flavor to review. Of all the flavors I've used over the years, this has been my favorite. For a regular lip balm, I like the feel of this. It's light and not overpoweringly flavored. I usually gravitate toward a thicker more medicated lip balm like carmex or blistex in the drier months, but I could see myself using this more in the summer. I am not a huge fan of the round product packaging of this lip balm, because I feel like you lose a lot of product - I would never use this down to the bottom because it gets so wide with the ball shape; however, a lot of people seem to like this sort of packaging. I prefer the stick form, which I have used the eos "stick" shape before, as well, and I prefer it to the "ball". If you like the ball shape, definitely try this out. [This review was collected as part of a promotion.]