eos Visibly Soft Lip Balm, Vanilla Mint, Deelp Hydrates for Softer Lips, 0.25oz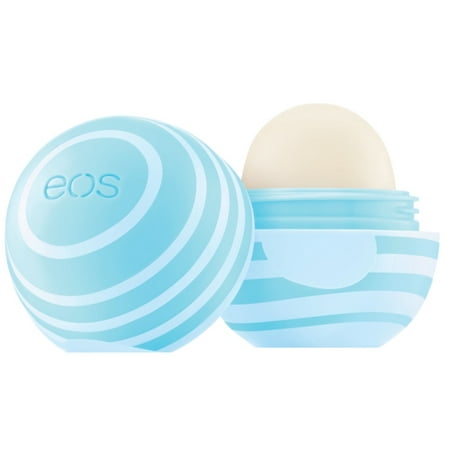 MSRP :

$3.29





Sale :

$7.4

Sold & shipped by Vitabox
Product Description

Additional Information

Reviews
Product Description
Smooth on deep hydration while delighting in the buttery softness of this delicious vanilla mint lip balm. eos Visibly Soft Vanilla Mint flavored Lip Balm is enriched with rich cocoa and shea butters, plus a blend of four moisturizing oils, for softer, smoother lips.
Additional Information
Deeply hydrates for softer lipsNourishing cocoa & shea buttersContains sustainably sourced ingredientsDermatologist testedHypoallergenicParaben & petrolatum-freeGluten-free0.25 oz
Reviews
Cowgirlmom
I love this lip balm!!!
I love the smell and lightness of it.
Orchid Cai
One of my favorites!
Lately I've been having an obsession with coconut-flavored things, be it ice cream, body soap, etc. This is one of the best lip balms Evolution of Smooth has ever made. Visibly Soft is my favorite line of lip balms, because they last the longest for me, and also they feel like they have a higher quality than the Organic line. Buy this!!
Genna
AmazingLy moisturized feeLing Lips!
-i received a totally free full sized sample courtesy of EOS of a VisibLy Soft VaniLLa Mint Lip BaLm for testing purposes. The packaging was great! Easy to open & directions made clear. Product shown as is under clear wrapper. Baby blue -to -aqua-ish color & white swirls. Upon opening & smelling the product, i saw the word vanilla in the title and was already expecting it to not have such a good smell / scent. To my surprise, it smelt amazing & it also actually reminded me of the Italian chochlates you get after a nice Italian meal (or) those minty chochlates you get on your piLLow in certain hotels! Haha! Anyways, when I put the baLm on my Lips, it didn't feel greasy, nor dis the products texture bother me at all, in fact my winter chapped Lips felt much better/more moisturizerized after using this product. I would for sure reccomend it to anyone who feels their lips could use some extra moisture, or anyone who has chapped Lips, anyone who loves smoother looking and being Lips! Thanks again EOS! [This review was collected as part of a promotion.]
Tiffany
I USED IT ALL THE WAY TO THE BOTTOM!
I've tried so many lip balms in my life, but This, actually feels like its doing something! Its quick and super soft, A lot of Balms goop up on my lips, but This one doesn't do that AT ALL! Its smooth and soft and super hydrating. You'll see and feel results in minutes!!! :))
aagner
amazing
I used to be hooked on EOS chapstick because of the convenient little pod that I could easily find in my purse. I LOVED the scents, especially the coconut milk, but I noticed that the chapstick actually dried my lips out more. I would have to reapply every five minutes, more often than I would with any other chapstick or without chapstick at all. I also started noticing this black line of buildup on the cap and the threads of the plastic container. I assumed it was just a little grit and dirt that came from the lining of my purse, but I started noticing it on my chapstick at home. I looked online and saw a lot of people claiming it was a black mold that develops on the chapstick. I immediately threw out all of my EOS chapstick and haven't noticed that grime on any of my other brands/tubes of chapstick. Burt's Bees is much better for keeping your lips moist all day, without reapplying every fifteen minutes. I do still use EOS hand lotion, but there's nothing special about it except the convenient packaging [This review was collected as part of a promotion.]