Dream On Me 3" Foam Carina Collection Pack N Play Mattress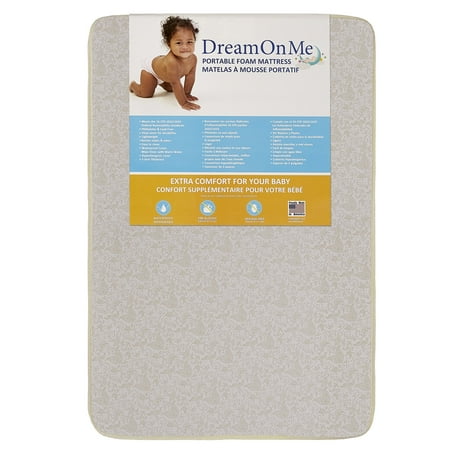 MSRP :

$48.66





Sale :

$39.99

Sold & shipped by Walmart
Product Description

Additional Information

Reviews
Product Description
This three-inch foam mattress fits most Graco Pack-n-Plays. It's constructed to create a comfortable environment to play and sleep. This exceptional mattress features an antibacterial, waterproof cover that wipes clean with mild soap and water and aids in the prevention of mold, mildew and odor.
Additional Information
Please ensure mattress is well fitted in Play Yard without any gaps around perimeter or pliable sides. Make sure not to use the item and return it asap in case of any gap
This product is intended to be used for babies from age 6 months and above only.
This product is recommended to be used for play time only under the supervision of a parent/grown up.
Dream On Me promotes a safe sleeping environment, Babies should always be placed in a crib (Mini, Portable or Full Size) that meets the current CPSC standard. Keep all foreign objects out of the sleep environment including pillows, quilts,comforters, cushions.
This mattress is not intended for any other use except for being snug fit at the bottom of the Play Yard surface. Never use this mattress on the top level of Play Yard.
Please visit and join the conversation @www.babysafetynetwork.org for more info on safe sleep environment and how you can keep babies safe from SIDS (Sudden infant death syndrome) and potential suffocation.
Dream On Me recommends this mattress to be used with the below listed Play Yard
Fisher Price Ultra-Lite Day & Night Play Yard #CBV60
Chicco Lullaby LX Play Yard# 06079059500070
Baby TrendNursery Center Play Yard# PY81400
Graco Pack 'n Play Play Yard with Automatic Folding Feet #1801373
Chicco Lullaby LX Play Yard #06079059500070
Graco Day2Night Sleep System #1907179
FUNSPORT? DELUXE PLAY YARD PY384
All Dream on Me mattresses are GreenGuard Gold Certified for a healthy indoor environment for your baby

Dream On Me recommends this mattress to be used with the below listed "Play Yards:"
• Fisher Price Ultra-Lite Day & Night Play Yard #CBV60
• Chicco Lullaby LX Playard # 06079059500070
• Baby Trend Nursery Center Playard # PY81400
• Graco Pack 'n Play Playard with Automatic Folding Feet #1801373
• Chicco Lullaby LX Playard # 06079059500070
• Graco Day2Night Sleep System #1907179
• FUNSPORT® DELUXE PLAY YARD PY384

• When using this mattress, please make sure it fits tightly in play yard without any gaps between mattress and side walls of the play yard.
• NEVER use this mattress on the top level of Play yard in its bassinet position.
• KEEP ALL FOREIGN OBJECTS OUT OF THE PLAY YARD Including:
o Pillow
o Quilts
o Comforters
o Cushions

**Or any other object that is not intended to be used inside a play yard**

Reviews
JAS4769
A must have for graco pack n play.
Just got this mattress in the mail. shipped fast and looks great! it has a nice firm but comfy cushion to it. My boy is a month old. He is about 13 lbs. now so we decided to put him in his big boy bed and out of the bassinet but we currently have him in the down stairs bed room with us. His upstairs nursery room is not completely painted and there isn't a lot of space in the down stairs bed room so we needed to go the pack n play rout but the mattresses that come with the pack n play is so thin! I wouldn't want to sleep on it. This dream mattress is nice and thick. It makes me want to get a new mattress for my own bed. He sleeps so good on it. he was sleeping 3 hours on the bassinet and is now sleeping 4 :). He also falls back to sleep sooner. as for bedding we only had the regular crib size sheets so I ordered Garanimals - Set of 2 Play yard Sheets in solid White and the Little Bedding by NoJo Dreamland Teddy 3-piece Portable Crib Bedding Set. Both fit great with this mattress :) I'm very pleased and so is he.
BlondWahine
Extra Cushion for any Pack-N-Play
This is the second Dream on Me 3" Foam Mattress I am buying. Due to limited space (and safety concerns as I find Pack-N-Plays safer than cribs) I use Pack-N-Plays exclusively as baby's crib. I bought my first foam mattress 18 months ago for my 18 month old when he was born. We used the bassinet until he was too big and then laid him on this mattress in the Pack-N-Play. It fits snug and provides firm support, which you want with infants. He is now 18 months an 27lbs. The mattress has held up pretty well, but it has lost about 1/2 inch of "cushion," which I suppose is to be expected over time. He will probably only be in there another 4-6 months before we move him to a bed. We are expecting our 3rd in a few weeks, and bought this same mattress for a second pack-n-play. Very happy with it. We have a Graco Pack-n-Play and a Dream on Me Pack-N-Play. The mattress fits both very well.
Kt32
Great for grandparent visits!
Am visiting my parents for a month and didn't think pack and play would provide enough sleep. support for my one year old daughter. I was actually looking for an inexpensive crib for her to use and stumbled across this mattress. It works great and fits our graco pack and play perfect. It is firm but with enough give. We put a graco pack and play quilted sheet around it and do not have any trouble with her sweating as mentioned in other reviews. I also checked for an odor when it arrived because i read about that. It was scent free and the graco shhrr had more of an odor than this matress did! But of course we washed that before putting it on. I would highly recommend this product... especially for the price. My daughter is sleeping much more soundly and comfortably now.
paul1985
Wish I knew about this earlier!
Before we bought this, whenever my wife and I would travel with our daughter, she wouldn't sleep very well in her pack n play. She would wake up all of the time and as a result we wouldn't get sleep either. One night when she wouldn't sleep I Google searched for a product like this and ordered it. Our 11 month old has slept on this mattress 3 times since we've bought it and it is a night and day difference. Our daughter slept incredibly well on the mattress and we couldn't be happier. My only regret about this is that we didn't find it earlier. I would absolutely recommend this for everyone who owns a pack n play.
Marissa
Worth buying for your pack n play!
I used the thin lightly padded board that comes with the pack n play for 3 years. Was a pain and broke after the first year but I still continued to use it. My son comes to work with me and slept in pack n play for nap time. He is 4 now and still uses it for nap time. I just bought the mattress and i should have bought it a long time ago! It is great, so much thicker and sturdy. My son likes the mattress a lot better for his short nap. I'm about to have my second son and it will be nice to have this mattress. Worth the money! I put it off because I didn't want to spend $ but it would have been better if i did a long time ago, now i don't have to go through the annoyance of the old thin pad with this next kid!