Bella Cotton Candy Maker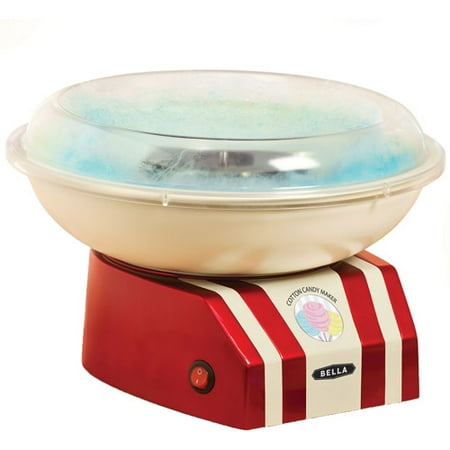 MSRP :

$39.99





Sale :

$30

Sold & shipped by Walmart
Product Description

Additional Information

Reviews
Product Description
Bring a piece of nostalgia home with the Bella Cotton Candy Maker. It works with granulated sugar, sugar-free and hard candy, and it comes apart for easy cleaning. This hard candy maker includes three plastic cones, a measuring spoon and fun flavor combinations. It features a backlit power switch that's easy to see. The bowl, lid, cones and rotating disk are conveniently safe to run through the dishwasher. It is ideal for use at a birthday party, a holiday or many other special occasions. Spin your favorite delicious cotton candy at home and watch each batch being made with the translucent bowl on top. Use this fun Bella Cotton Candy Maker to entertain kids during school breaks or snow days for a delicious treat without having to leave your house.
Additional Information
Bella Cotton Candy Maker:

Hard cotton candy maker works with granulated sugar, sugar free and hard candy
Comes apart for easy cleaning
Backlit power switch
Electric cotton candy maker
Includes 3 plastic cones, measuring spoon and fun flavor combinations
Dishwasher-safe bowl, lid, cones and rotating disk
Model# BLA13572
Dimensions: 12.99"L x 12.99"W x 6.81"H
Reviews
Hermit58
A great little unit that works quite well.
Make sure you're on a hard level smooth surface. It uses suction cups to keep it from wobbling too much when not perfectly evenly loaded. Heat the unit up for at least five minutes. Use two JR hard candies per use. Cut each JR candy in half, for a total of four pieces. Stop the unit, let it coast to a full stop. Quickly, but evenly, distribute the four pieces (mix and match flavors!) and then let 'er rip! Almost instantly, you get perfect carnival-style cotton candy. I find it best to just keep the cone at a 45 degree angle, place it about half-way into the unit, and rotate the cone in my hand. It makes a great serving of yummy cotton candy! Not at all hard to clean. I'm not sure why so many reviews mention a poor fitting lid. Ours works fine. This is a great little unit, perfect for parties and movie night.
Cottoncandyhappy
Great Product-Happy Mom
I did my research for cotton candy machines and for the price, age appropriate, and reviews I bought it for Christmas. Easy to clean. Any little hard candy (I used candy canes since it was Christmas) and reg sugar works great. I had blue sugar for cake decor works great even Jolly Ranchers, as suggested. Let it build up a little and roll it up on the stick across the machine instead of sticking it in worked best for me. I never took my eye off my son, who is 8, when making cotton candy. It does get hot, spin fast and can hurt someone who is careless!! GREAT BUY!!
Deb4now
makes really yummy fluffy cotton candy
Good little machine but takes a bit of time. I had 13 kids waiting for some so make in advance if you have a group. There is no sugar included in this one so be aware. I ordered some cartons off amazon plus some paper cones and the sugar worked great. The machine is great for $20 !
Mom2
Bowl
Works great and a great price. Only negative would be the bowl. It doesn't securely sit on the machine, so as it begins to spin the bowl wobbles. Not so much that it comes off but enough to create a noise. I had my daughter help me by holding the bowl firmly in place. Cotton candy tastes great! Would definitely recommend.
MediumCottonCandyMaker
Works great made fare.
Great cotton candy maker for kids it's not too small it's about a medium size also there suction cups also on the bottom to help it stick to countertop. I was I'll let Leary of buying a cotton candy maker and looked at several reviews of several different kind of candy makers. This one is great and great priced the only thing I wish as that they made it easier to clean where you have to put the sugar in it but I'm sure that's all cotton candy makers. It also seems pretty sturdy not cheaply made I was wondering how it was going to be only paying $20 for it but it actually seems for the most part to be a great product so far also read the instructions it says two pieces of candy or one scoop so I let it warm up I turn it off then evenly pour sugar. Turn on and in seconds it will start making. I used the round peppermint that was weird taste so great but the texture was almost like insulation. I was Leary about the round hard caramel candies them turned out great and tastes great I even trying Dum Dum suckers and Jolly Ranchers of course pretty much anything that's hard candy works it seems and it tastes just like the candy but each candy will have a different texture to the cotton candy when we use regular sugar it tasted a mixture of the different candies in different spots it was kind of funny overall it's a great product my kids love it.