11.6" Chromebook, 4GB Memory, 32 Hard Drive, Bluetooth 4.0, 1.0MHD WebCam - Blue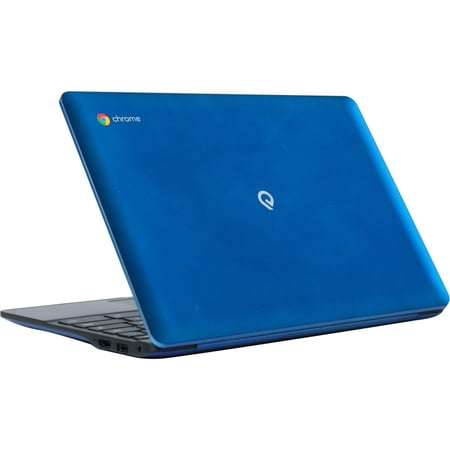 Sale :

$149

Sold & shipped by Walmart
Product Description

Additional Information

Reviews
Product Description
Additional Information

11.6" Chromebook, 4GB Memory, 32 Hard Drive, Bluetooth 4.0, 1.0MHD WebCam, Blue:
Teqnio 11.6" Chromeboook
4GB memory
32 hard drive
Bluetooth 4.0
1.0 MHD
Blue Chromebook has a built-in webcam
Available in blue, red and white
Reviews
EmaticProTabletUser
High Quality Chromebook
Really surprised by the quality of this Chromebook. The keyboard feels nice, trackpad works great and the updates were smooth. The unit is fast and loads websites like a desktop. Another surprise happened after the browser updated, Google Play was installed. I now have access to the apps on Google Play. I didn't expect that! So, if you want to install Word and Excel, go get 'em, they're free. YouTube plays well in 720P but has a problem playing 1080P. The screen appears to be the weakest link. The contrast and colors are OK but improve when you turn the brightness up. That said, for the price, it's respectable. Finally, when I first got it and took it out of the box, I hit the power key and it didn't come on. So, I plugged in the charger and when it powered up, the battery showed around a 3/4 charge. I then took the charger out of the wall after 15 seconds and the Chromebook continued on battery power for a couple of hours. After I shut it down, the power button works just fine. So, I don't know if this was some kind of safety feature the mfr. put in so the unit would not accidently power on during shipment?? Overall, this is a keeper !
EmaticProTabletUser
totally awesome computer i give it a 10
all i can say is wow.i was amazed how solid and well built it is.the computer is fast as lightning, im serious ive never seen a computer so fast..i put on youtube to see how the videos the hd was beautiful.the colors,its like watching 3-d i did allot of reserch between windows and chrome..the chrome is everything they say it is and more,so easy to use..ill never go back to windows..this is a great computer..the price was so low,for the way its built and the way it runs,i dont know how they are making money on them..yes get this computer you wont regret it..
techguruatl
No better buy for the money
I purchased this item because it was exactly the same as a Hennessy Chromebook that I have purchased several years ago that has held up very well over the years. Not sure why this is another name but it is exactly the same unit with the exception of more RAM and double the storage space. You cannot get a better unit for the price. I have been looking for the last 6 months and I'm extremely happy with this purchase! Received the unit in one day after I purchased it it was supposed to be 2 day shipping but I received it the following day, Simply Amazing
Chromebook
Nice Chromebook
For the price this little chromebook is awesome. It's super fast and light weight. Only wish it had a touchscreen. Very easy to set up and use.
Renee
Great value
So far, so good. I've had my laptop for about a month now, I have used it for school research and some things I've been working on from home, so far I'd say is it a great product for the price. I think down the road I am going to get my son one as well.