14" Full HD IPS screen Laptop, Ultra-Slim Laptop, Windows 10, Intel Atom Quad Core Processor, 2GB RAM, 32GB Flash Storage with a Carry Case included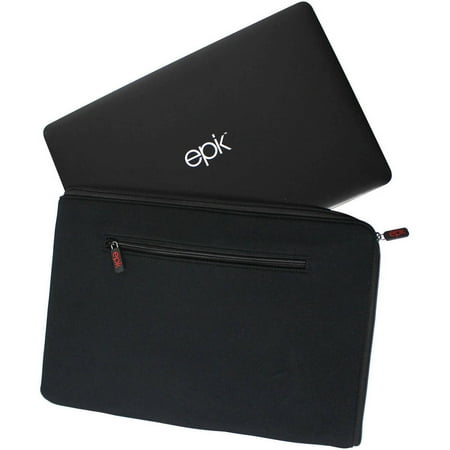 MSRP :

$217





Sale :

$205.56

Sold & shipped by Walmart
Product Description

Additional Information

Reviews
Product Description
Ideal for work or play, the Epik ELL1401 14" Full HD IPS, Ultra-Slim Learning Laptop features an Intel Cherry Trail Z8300 processor and 2GB of memory. Store photos, music, movies and more on the 32GB flash storage drive.
Additional Information
Epik ELL1401 14" Full HD IPS, Ultra-Slim Learning Laptop: Key Features and Benefits: 14" Full HD IPS Panel displayLED Backlight, Full HD Display Intel Cherry Trail Z8300 quad-core processor1.44GHz 2GB DDR3 SDRAM system memoryGives you options for surfing, video conferencing, documents, basic photo editing and simple computer tasks 32GB flash storageStore 21,000 photos, 9,000 songs or 16 hours of HD video and more 10 hours of battery lifeLong-lasting battery life gives you all day to access your photos, videos, music and documents Weight: 3.15 lbsThin design you can easily take on the road 802.11b/g/n Wireless LANWirelessly connect to a WiFi signal or hotspot with the 802.11b/g/n connection built into your PCAdditional Features: 0.3MP webcammicroSD card slotBluetooth 4.0Standard keyboard1 x USB 3.0 port, 1 x USB 2.0 port, 1 x microHDMI port, 1 x headphone jack5600mAh batteryDimensions: 13.75" x 0.45" x 9.25"Color: BlackSoftware: Genuine Microsoft Windows 10 Home5GB of Microsoft OneDrive Cloud StorageOffice 365 (1-month trial)Support and Warranty: 1-year limited hardware warranty; 24/7 technical assistance available online or toll-free by phoneWhat's In The Box: Power cord and AC adapterRechargeable batteryQuick Start GuideTo see the manufacturer's specifications for this product, click here. To see a list of our PC Accessories, click here. Trade in your used computer and electronics for more cash to spend at Walmart. Good for your wallet and the environment - click here.
Reviews
Angelo
Great deal. Very good laptop.
It came ontime. It all came in one box. The case and laptop. Works fine. Happy customer.
bigdoggrulzz
Worst computer every
I bought this for my 11 year old so he wouldn't need mine so much. Its very light wait and very thin, which would be perfect for him to carry back and forth to school. I set it up with no problems, charged well and started quickly. He got it Christmas morning and was very pleased and so was I. Within 3 or 4 days he was back using mine when every I wasn't on it. I asked him what gives and he gives me this whole list of things that was wrong with the laptop. battery life sucked, touch-pad was hard to use, system parameters seemed to change without notice. Loaded 2 games and started getting low memory warnings. Volume control was poor and staticy and then the machine started to breakdown physically with keys not working or popping off. I thought he was imagining things so took it to work with me for a couple of days and found it to be the most frustrating experience I've had with a computer. The thing is next to useless and a complete waste of money. How anyone could give this thing above 1 star is beyond me.
Tyler
Broken and Paper Thin
My nephew received this for Christmas, and he seems satisfied with it. But there have been a few problems he's mentioned to me after toying around with it for awhile. First, the touchpad is broken and glitches out often. (Minimizing and closing browsers, hopping from one side of the screen to another, shrinking and expanding browser's screen when using mouse button and touchpad simultaneously) Second, works well within Chrome with basic browsing and viewing YouTube videos. But if you attempt to play any games in-browser, the processor overloads, and the touchpad begins to jump all over. Third, paper thin and flimsy design. Some might think the lightweight and thin design is perfect for mobility. But it always feels as if the screen will break off the hinges if I even adjust it an inch. Cheap plastics. Fourth, clunky and small keyboard. Enough said. The only good thing I can say about this laptop, is that it's perfect for simplistic browsing. If you're thinking of purchasing this for that reason only. Wait until the Holidays, and grab it for $99.
Momov2
Nice Laptop PC for the price.
Bought 2 for kids for Xmas. We have been using chromebooks for several years so it was time for Windows based as they are getting older and school needs have changed. I suggest unboxing and setting them up prior to Xmas day. Windows and Security needs to update and it will take a good hour to sign in, make your kids windows live accounts, add them to the family tracker and adjust the safety and security settings. I pinned Roblox and added Minecraft accounts so all they have to do is log in on thier own accounts as users on Christmas day. If your kids have been using chromebook you may want to let them know that windows based pc taked longer to load, not the 20 seconds they may be used too. I bought ours for $169 , missed the $129. sale . I would not pay more then $200 for these. They will do the job the kids need them for though. The screen is nice and videos and movies look great for the price. Great first time laptop.
UnsatisfiedCustomer
Horrible
I purchased this computer during the black Friday sale in November. I bought this laptop to do school work on and have probably used it a total of 20 times since purchase. It is by far the worst computer I have ever owned. The keypad is awful, you can be typing one second and the mouse will jump to another paragraph without warning. MS does not come installed on it, like most computers. The computer will literally shut down (fully charged battery) with no warning, so please save all work constantly. And now, as if things can not be worse, my adapter no longer charges my laptop for some unknown reason. I thought I was getting a deal with this laptop, thankfully I kept my old laptop and now that's what I am back to using. My advice, spend a little extra money for a better product. It's not well built and only cause stress. DON'T BUY THIS PRODUCT