Drive Medical Scout Compact Travel Power Scooter, 4 Wheel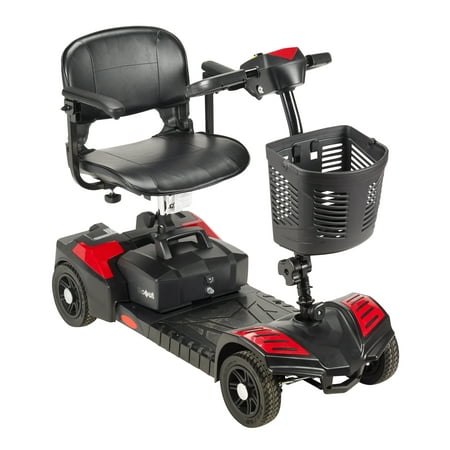 MSRP :

$798.27





Sale :

$699

Sold & shipped by Walmart
Product Description

Additional Information

Reviews
Product Description
The Spitfire Scout transportable scooter combines easy and convenient mobility with superior value. The Spitfire Scout is compact, lightweight and easy to disassemble-perfect for taking wherever you want to go, either around the neighborhood or far from home. It can be disassembled quickly and easily into five easy-to-handle pieces for loading into a car, truck, or van and taking shopping or on vacation. The four-wheel version of the Spitfire Scout allows for enhanced stability on rougher outdoor terrain. The Scout also offers great features like a quick connect battery pack and a delta-style tiller to make operating the scooter easier for those with limited strength or dexterity. This model comes with color-through panels to hide scuffs and scratches and black wheel rims.
Additional Information
Quick and easy disassembly
Interchangeable color panels hide scuffs and scratches
Armrests are padded and adjustable
Quick connect batteries
Ergonomic throttle control
Height-adjustable swivel seat with fold-down backrest
Flat-free, non-marking tires
Large, plastic carry basket
Easy-to-adjust tiller
Anti-tip wheels
Delta tiller
Easy freewheel operation
Overall Product Length: 42.5"
Overall Product Height: 35"
Primary Product Material: Steel
Primary Product Color: Red
Seat Width: 16.5"
Seat Depth: 16"
Seat To Floor Height: 17" 19"
Number Of Wheels: 4
Max Speed: 4.25 Mph
Anti Tip Wheels: Yes
Rear Wheels: 8" X 2" Flat Free
Batteries: 2 12v 12ah
Battery Weight: 20 Lbs
Base Weight: 58 Lbs
Brakes: Electromagnetic
Charger: Offboard, 2a
Climbing Angle: 6 Degrees
Controller: Cte 45a
Maximum Range: 9 Miles
Motor: 24v X 270w X 4700rpm
Front Wheels: 8" X 2" Flat Free
Ground Clearance: 2.5"
Seat Weight: 16 Lbs
Turning Radius: 53.75"
Product Weight Capacity: 300 Lbs
Actual Product Weight: 94 Lbs
Overall Product Width: 20.5"
Heaviest Piece: 39 Lbs
Reviews
Rochelle
Runs like a champ
Easy to set up! Easy stuff to figure out. I got the extended battery!! Runs like a champ! Super pleased!
care662
Scout Compact Mobility Scooter
I purchased the Scout compact scooter for my husband who has mobility issues. My son-in-law said it was easy to put together; however I can't comment on taking it apart as we haven't done that yet. My first reaction was to return it because I think it's too small for him (he is 6', 190 lbs. and there is VERY little room for his knees); however, since it isn't something he will be using every day, he decided to keep it. Pay close attention to the specs; the highest setting for the seat is only 21 inches. The next model up only provides an additional 2 inches. I contacted the company to see if I could purchase a higher seat post but they don't offer one and any modifications to the scooter void the warranty. If you are tall, or have larger feet (my husband wears a size 10 shoe and his feet just fit) my suggestion would be to find a retailer in your area and "try it on for size" before purchasing. I gave it 4 stars because mechanically we've had no issues and it has given my husband the ability to get out and about in the neighborhood.
MsKat
The Spitfire Scout (aka) Kat Mobile!!!
I am in love with my scooter. i've only had it for only a couple of weeks and I have been able to get out and enjoy going places more then I had before in the last couple of years. It is easy to disassemble and load into your car or truck. And very easy to operate. Now i can go shopping with ease...lol. One of the best investments I ever made. I am looking forward to more outings and adventures with the hubby and grandson. I wouldn't recommend this model for exstinsive mobility needs for that you need something more heavy duty. But, for people with bad feet, knees or leg trouble and for just minor commutes like going to the mall, sports stadium, conventions, etc. places you have to doing prolong walking this model is perfect. Don't forget to pull out the wheel lock to unlock the wheels(at the bottom of the steering column) GREAT SCOOTER!!
mosquito88
Scout Medical Scooter
I purchased this because my insurance turned down my doctor's recommendation for a scooter to help me get around. I absolutely love this scooter! While outside I put my cell phone on my wood bench by the house and forgot it. Our house is located on a bit of a hill. While riding the scooter I realized I could not find my phone and started retracing my steps. I went from the sidewalk up the hill to the bench without any difficulty. A few days later I went to own town's fest and drove all around for over 5 hours. Then I went to a Super Wal-Mart to shop with my son and while there the battery finally started to go down. The only thing I did do was add one of my bamboo seat cushion due to my back injury to make it even more comfortable. The seat swivels so getting on and off is easy. Great product at a fantastic price.
Ohio
Like it very much.
Purchased this about two years ago for a 87 year old female who was unable to walk to go shopping at the mall or super store. It is easy for me ( In my 40's) to take app art and reassemble to transport in a truck of a Chevy Malibu and a Chevy equinox . I can have it out of the car and assembled ready to use in about the same time it takes for the rider to get out of the car. Yes a tall person may feel a little cramped with leg room but is the trade off for having something lite weight and small enough to transport in a car trunk. The battery life is much longer than expected. I would guess she could go to a Walmart Superstore 2 or maybe 3 times to shop before needing a recharge. Very happy with it and wish we had purchased one much sooner. If something happens to this I will buy another right away.