Drive Medical Four Wheel Rollator Rolling Walker with Fold Up Removable Back Support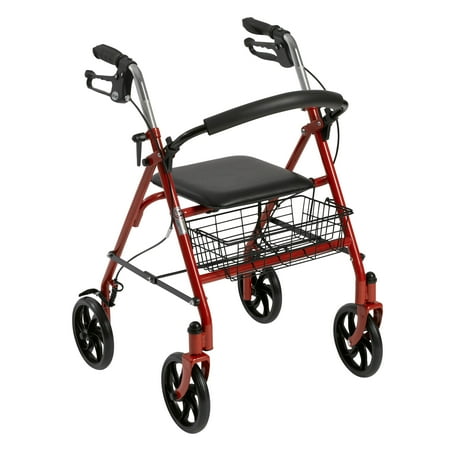 MSRP :

$64.99





Sale :

$55.58

Sold & shipped by Walmart
Product Description

Additional Information

Reviews
Product Description
Supreme Durability, Safety and Quality In keeping with Drive Medical's tradition of fine craftsmanship and unmatched value, this Four Wheel Rollator Walker with Fold Up Removable Back Support continues to lead the charge when it comes to design, quality and value. The Four Wheel Rollator Walker comes complete with a padded backrest. The 7.5 inch non-marring wheel casters are ideal for both indoor and outdoor use. But that's not all; you also get ergonomic handles that can be adjusted according to your height, making the gripping of handles especially convenient and comfortable, while eliminating undue stress on hands and joints.With the Four Wheel Rollator Walker as your travel companion, there is no need to overstretch yourself, because this rollator doubles as a comfortable and welcomed chair, giving you an opportunity to rest and refresh yourself anywhere and at any time. Go ahead...Experience the Drive Difference Now!
Additional Information
7.5" non-marring casters are ideal for indoor and outdoor use
Easy-to-use deluxe loop locks
Lever allows for independent handle height and angle adjustment
Durable steel frame
Comes with durable, padded seat
Removable, hinged, padded backrest can be folded up and down
Comes with a basket to store personal items
Actual Product Weight: 20 Lbs
Casters: 7.5"
Handle Height (Max): 37"
Handle Height (Min): 31"
Number Of Wheels: 4
Overall Product Height: 31"
Overall Product Length: 25.5"
Overall Product Width: 23.5"
Primary Product Color: Red
Primary Product Material: Steel
Product Weight Capacity: 300 Lbs
Seat Depth: 8.5"
Seat To Floor Height: 21"
Seat Width: 15"
Reviews
Wally
the little red walker that could.
I bought this walker because I was scheduled for a hip replacement operation. I reviewed over 20 walkers on the Walmart web site before I chose this one. It had larger wheels, a basket, a locking break, a seat, a backrest, and it does fold up to a degree. It has proven to be much sturdier than a cheeper model, in that it doesn't flex at all. This lends a sense of security when I use it. It does come fully assembled and ready for use. The only assembly is to attach the hand break mechanism with a bolt and nut. The height of the whole walker is easily adjustable with spring loaded buttons and holes in the legs. The seat folds up which allows more room in the basket for large objects. It maneuvers well in close spaces. Other than that, it fills my needs. When it arrived the box was damaged but the walker inside was not.
BobnRobin
Four Wheel Rollator Walker with Fold Up Removable
We purchased this walker for my mother in law. Pros: It is very well built. It is very easy for her to manurer. It has a nice seat with back support. It sells through Walmart at a very reasonable price. Fast shipping Cons: It's a little heavy to lift into and out of the trunk of the car. The basket has tobe removed to fold up the walker. The brakes are very hard to set or work for someone with arthritis. It doesn't fit through some door ways. This about all I can say.
blanchie2
great rollator
My husband loves this product he was using a traditional walker when he got the Rollator he is more confident with walking and he can also rest when he tires.
Stingray
Didn't like it, until she tried it!
The wife took a bad fall that was the result of a severe pain in her knee, couldn't get up. After three of us tried to get her up we finally succeeded. I told her I will get her a walker to avoid that happening again, and bought this Drive 4 wheel walker after reviewing other models. It was more than double the cost, but in looking at the features, I felt it would be well worth the extra cost. When it arrived assembly was very easy. I adjusted the grip height for her, and she tried it for a minute, then said she didn't like it, return it and get the money back. I didn't do that, and the next morning she was really having problems, so I brought it in to her and told her to grab ahold and USE it. She did, AND SHE LIKED IT! She discovered that the 4 wheels made moving from room to room a breeze as she didn't have to lift it with each step as she would have with a conventional walker. The she discovered that the brakes made getting up and down our steps very easy, and with the basket she could bring things with her such as a cup of coffee and her favorite magazines. Now, she just can't stop praising my choice, she won't be without it! For what it is, and the added features, it's the best investment we could have made for her peace of mind and convenience! I HIGHLY RECOMMEND this for anyone needing a safe and easy to use device for mobility! Well done!
JJofTN
Drive Medical 4-wheel Walker Rollator
Purchased this for my brother who has had several hospital visits and surgery in the last two years. He has mobility problems and needs to carry some medical supplies with him when he leaves the house. The basket accommodates his bags and packs, and the walker aids him with his balance and mobility. Downward pressure on the hand grips locks the wheels in place, and the walker is sturdy enough for him to sit when he gets tired - it is very sturdy, and it folds for storage at home or in a vehicle. The instructions state that is is not to be used as a wheelchair. The walker arrived within a week of ordering in good condition. Only minor assembly was required, and I managed to accomplish that myself without help (I am a senior lady - 66 years old). I recommend this walker for anyone with mobility issues - if you can stand and walk with support, you can probably use this walker.