Drive Medical Deluxe Two Button Folding Walker with 5" Wheels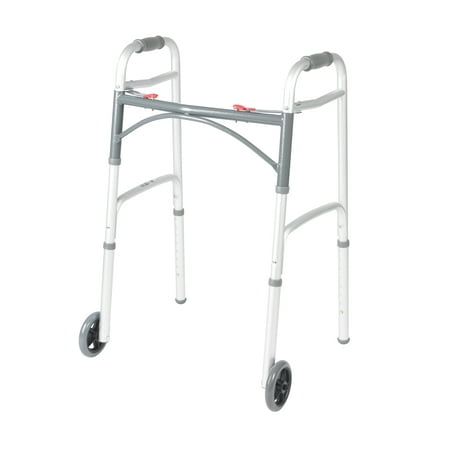 MSRP :

$34.16





Sale :

$29.24

Sold & shipped by Walmart
Product Description

Additional Information

Reviews
Product Description
For a safe, convenient aid to performing daily activities, a walker can be the ideal solution. Drive's new Deluxe Folding Walker combines the strength and durability with lightweight ease of use. The walker features a unique push button mechanism for easy folding. Its U-shaped frame offers greater clearance while its enhanced cross-frame design provides you with greater stability. The Folding Aluminum Walker offers 5" wheels and newly designed rear glide caps for use on many types of terrain, while the contoured hand grip and adjustable height make the Folding Aluminum Walker comfortable to use.
Additional Information
Comes with wheels (Replacement wheels Drive model # 10109)Each side operates independently to allow easy movement through narrow spaces and greater stability while standingEasy push-button mechanisms may be operated by fingers, palms or side of handNewly designed rear glide cap allows for walker to slide easily and smoothly over most surfacesSturdy 1" diameter aluminum construction ensures maximum strength while remaining lightweightVinyl-contoured hand gripActual Product Weight: 7.5 LbsBase Depth: 17.5"Handle Height (Max): 39"Handle Height (Min): 32"Inside Hand Grip Width: 17"Overall Product Height: 32"Overall Product Length: 17.5"Overall Product Width: 24"Primary Product Color: SilverPrimary Product Material: AluminumProduct Weight Capacity: 350 LbsWidth Inside Back Legs: 20"
Reviews
unhappy
Quality control is poor, got two left side wheels
The walker came with two left wheels, so one wheel is facing the outside and one wheel is facing the inside which make it unstable. Left and right wheels are on interchangeable. Quality is good, but the quality control in packaging the item parts is very poor. Not acceptable when you need to use it right away after surgery. Will return the item for refund.
AnneinUtah
2-wheel walker
I purchased this to use during my recovery from a total hip replacement. The only required assembly was to put on the adjustable portion of the legs. Works well, folds easily. Half the price on Wal-Mart.com than I would have paid at the medical supply places I shopped at first. Perfect for someone who will only need it for a few months.
rabidbasset
Not a bad walker but one glaring fault.
This walker is sturdy, light, and does the job. However the external buttons and release hardware are exposed to be easily damaged. Once you bend either side metal tabs, it's all over and the walker is junk. Instead buy the trigger button model for a few more bucks and you won't look back.
Beetle
Walking
We moved the wheels to the inside to save space, as our health care workers suggested. We put an "x" cut in 2 old tennis balls and attached them to the back legs to slow it down. Works great. Is sturdy.
Suzette
Great deal for the money
I needed something small and light to use around the house and out on the back porch. This fit the bill. It is not much wider than I am, very lightweight but sturdy and secure. It maneuvers easily and stores in a relatively small space. I also like that it was already assembled when I received it and all I had to do was to adjust the height. The range of adjustment was impressive and I would think a tall person would have no problem using this. I think this walker would also work well for traveling, since it is very lightweight and would fit in smaller spaces.