Coleman SaluSpa 4-6 Person Inflatable Portable Massage Hot Tub Spa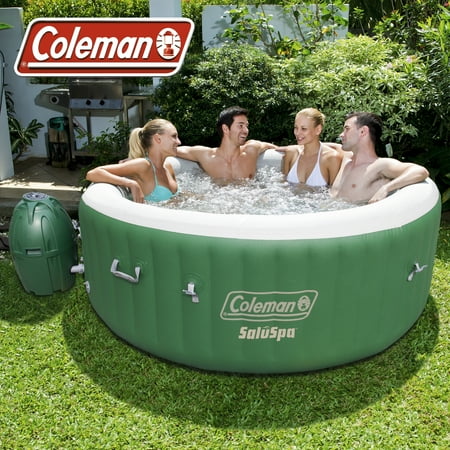 Sale :

$329

Sold & shipped by Walmart
Product Description

Additional Information

Reviews
Product Description
Experience convenience and relaxation with the Coleman Lay-Z Massage Portable Spa for 4-6 People. With quick and easy setup, it lets you enjoy water temperatures up to 104 degrees Fahrenheit with less commitment than a permanent installation. It comes with the Lay-Z-Massage system for added control of the device. The Coleman Lay-Z spa has a digital control panel that makes setting it up quick and easy. A rapid-heating system ensures you get to your desired temperature while saving power. The water filtration system assures pure and clean water every time you want to jump into this portable inflatable spa. A cushioned floor offers a convenient quick-drain system, and a ground mat keeps water temperatures warm. The leatheroid cover with lock-clips and built-in air chamber provides additional insulation. This Coleman Lay-Z spa comes with a chemical floater, setup and maintenance DVD, a heavy-duty repair patch, a repair PVC sheet, glue and a wrench for better management.
Additional Information
Coleman SaluSpa Massage Portable Spa for 4-6 People:
Inflated Dimensions: 77" x 77" x 28"
Water Capacity: 242 Gallons
Weight When Filled: 2,103 lbs.
Pre-tested pump and pre-tested spa pool
Inflated walls are made from 3 layers of leatheriod material providing ultimate durability and comfort
Relax with these neat features:
SaluSpa Massage system
Rapid-heating system
Integrated water filtration
The Coleman SaluSpa has cushioned floor with convenient quick-drain system
Coleman spa's ground mat keeps water temperatures warm
Leatheroid cover with lock-clips and built-in air chamber for insulation
Inflates using the spa's pump
Digitally controlled pump with soft-touch control panel
Due to state restrictions this item cannot be shipped to California.
The package also includes:
Chemical floater
Heavy-duty repair patch/repair PVC sheet/glue
Pressure Gauge
Filter cartridge (VI)
Wrench
Ground mat
ETL approved inflatable spa
Reviews
HeatherW
OMG Get one! We love ours.
I'm not going to repeat everything else people have said but I do have some points to add. 1. Why did we decide on this one? I mean your checking them all out right? I did...obsessively. Here's the thing, this one has the least failure rating right out of the box. Period. Trust me I researched it. 2. Ok, 6 people is a stretch but it is bigger. I think the walls are thinner which gives it more interior space. Check out the stats. It has on average about 40 more gallons. That's a bathtub people. That's a lot when your talking about a small hot tub. That's a whole person's worth of extra space. 3. Customer service is Waaaaayyy easier to deal with. I called about the repair patch (I didn't need it, just had a question) and I got a human instantly. Instantly! I haven't read that about the other ones. Now about the filters, I found that if you wash them with a paint brush, warm water and good old dish liquid you can make them last for months. When they start to look grungy, soak them in bleach water. You'll want two sets to make all of this easier. Finally, lets talk about this below 42 degrees business. I decided to throw caution to the wind and chance blowing my warranty. I want a hot tub when it's cold don't you?! I simply had to figure it out. Ping went the light bulb! An insulated box. That's what the big dogs have. I made a box out of treated plywood and some corner studs to hold it together. Then insulated it and stuffed the inside with bubble wrap to close up all of the air space nice and tight. The box is open on the bottom and on the spa side but closed in on the sides and a lid on top. **If you attempt this, make sure not to cover the air holes on the unit which are located on the spa side at the bottom. That makes the bubbles. ( Don't forget to remove all that bubble wrap when it gets warm!) I also insulated the pipes. I set this up last year in early November and it's still going strong. I will say that I live in the southeast but it does freeze and snow (a little) here. I'm not sure I would attempt this in the far North. I can tell you that after this experience, and doing the math, I will never spend thousands on a fancy model. I've been in plenty and I like this just as much. None of them last forever and for the price of this little guy you can afford to buy a new one when it quits. Every person I know with one has paid well over this price for repairs...and one still doesn't work. And to be honest, I like not having molded seats. I like being able to move around a bit, kick my feet, flip around and hang on the surprisingly strong walls. I love you Coleman :) Good Job!
AZmonkee
If I could give this a 10 star review I would.
Wow! Seriously, wow. This spa is a high quality product. It took about 20 minutes getting it ready to fill. It took a total of 30 minutes to fill, and we have terrible water pressure. Within 20 minutes of turning on the heating unit it was notably warmer. The controls are easy to use and the pump set up is clearly labeled and ready to hook-up. The only thing I had trouble with at all was spreading the pool out after removing it from the box but that is because the material is heavy duty. It didn't matter anyway, once I connected the pump and started filling the body with air. It filled no problem in minutes. I am still impressed with the fortitude of this material. I decided to set the tub up on my patio slab. There is a pillar behind the tub and when I wasn't paying attention the tub pushed into a small thin wire that protrudes through the stucco. This would have been a big problem in a lesser tub. The very sharp piece of metal mesh did not penetrate at all. I am over 200 lbs and can sit on the walls no problem. I am also in love with the connections to the pump/heater. There wasn't a single drop of water leaked and hasn't been since. I sincerely wish that Coleman made an above ground pool. With this simple, effective design you really can't go wrong. I didn't need a single tool or to rig anything to make it work right. I'm impressed. There is a drainage tube off the pump side of the tub. Make sure that before you fill it with water it is near wherever you'd like to drain. I don't know the weight with water or people but you do need two people to move the box if it's full. Once you unpack it though the pieces are manageable. Now, I live in Arizona so the coolest it gets here at night is about 35F. If you live in a cooler climate consider putting this indoors. It took about 9 hours for this to warm from 86 degrees to 104 degrees. Not bad if you ask me. However, if it were colder it would be more work and take considerably longer. Make sure to put the bubble pad underneath to insulate from the ground. The maker suggests changing the water weekly or more depending on use. They also recommend changing the filter cartridges weekly depending on use. You need to do this and they aren't free. Consider the overall cost if you want to use this regularly. The filters cost between $10 and $14 dollars apiece from what I can find. Countering any possible negative you can find here is the simple fact that this tub comes with you wherever you go. Indoor, outdoor, rental or property owner this thing IS going to meet the need. Also you can comfortably sit 4 200 lb. adults in here.
rgcc
the online purchase of the item was a nightmare
the online purchase of the item was a nightmare but item itself was well constructed except for the not so MINOR detail that the spa should not be left out in temps below 40 degrees
DropDeadCurious
Impressive for a portable spa!
At first, I had my doubts that an inflatable structure could function well as a spa. However, the Coleman Lay-Z Spa exceeded my expectations in almost every way. It truly doesn't take any tools and is ready to fill in minutes! Unlike a traditional spa, this one can be stored away during winter and moved easily if you change residence. Pros • The instructions come in written and video form, and for the most part are useful. (It took me a minute to realize that the buttons are toggles and to deactivate you must press again, this little bit of information was buried in the section on the pump instead of noted in the set up. And it also doesn't mention the ground liner in the written instructions.) • It includes a chemical floater, which is a nice inclusion, but I would have been really happy if it came with a starter chlorine tablet. • The pump functions as the inflator (in this capacity, it is quite noisy, unlike when it is attached to the spa). • The pump also has a built in GFCI, which is a nice feature. • There's a pressure gauge included to make sure it's inflated to the proper pressure. • I like the inflatable part of the cover because it floats on the water and is very neat in appearance as well as acts like an insulator while heating. • The inflated spa is a simple cylindrical shape inside and out, and the interior diameter is approximately 60 inches. I have to say that even empty of water, the sides of the spa are very rigid and even my husband could sit on them. There's no sagging or collapsing. • There are two filters that go on the inside of the spa. They are about the size of a small cantaloupe, and house a filter that you can clean by hosing them off or replacing. • Attaching the pump to the spa, I needed the help of my husband as I wasn't able to get the fittings tight by hand. But the fittings haven't leaked or anything. • While heating and filtering, the pump is so quiet!! • While making the Lay-Z Massage bubbles, the noise from the pump is very reasonable – the noise of the water is louder. • There is a soft ring, made from the same material as the spa, around the inside of the spa at the bottom which is where the air is pumped to create the Lay-Z Massage bubbles. I was pleasantly surprised at the amount of turbulence it created – there was much more than I anticipated. (Watch the video to see the bubbles in action.) Cons • Keep in mind, when choosing a location for your spa, that it will need a flat surface that can support the weight and an electrical outlet. • During the unboxing, I did need the help of my husband because the deflated spa was heavy for me. • The pump is quite loud while pumping air to inflate. (But don't worry, when pumping the water or bubbles it isn't loud at all.) • Because I received my spa in the fall, the weather was chilly. So the concrete was cold and the water from the hose was cold. With these conditions, the heater took several hours to raise the water temperature a few degrees. I let the heater run over night and when I woke up it was at 104. So unfortunately, I don't have a good idea of how long the heating takes during warmer weather. But once it's heated, it maintains the temperature well.
Snowmaker60
Great tub and my electric cost using it every day
The tub is great. Very sturdy side walls. The is no problem sitting on the top rail. The only thing I find lacking is the pump. There is not a lot of suction pulling thru the two filters. Also if your wondering what the cost to run this tub is. When the heater and filter are running it consumes 1285 watts = 1.285 kw if your paying 0.15 per KW then its costing you .19 cents for every hour your running it. Keep in mind that the heat rises the water 2 degrees per hour. I shut mine down after using it then turn it back on 8 hours before I plan on getting into it. I lose approx 1 degree of temp per hour and my Hot tub is located inside my house during the winter. So I use my hot tub every day and it cost approx. $46 per month based on $0.15 kwh You could use it less then once a day but keep in mind your tub will lose a degree per hour until it reaches a mean temp which might be 60 degrees. Now your looking at approx 24 hrs to reach your temp. All in all this is a great tub for the price, I payed $299.00 on black Friday